The Best Fall/Winter 2022 Fashion Campaigns To Inspire You Before You Shop
You'll want to see Versace's new bag.
Tory Burch/Jamie Hawkesworth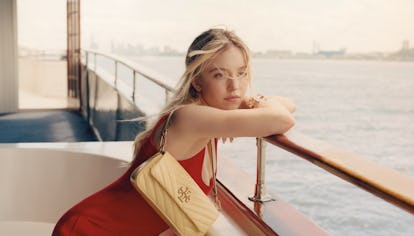 Although the Fall/Winter 2022 season is still a little ways out, it never hurts to refresh your memory on what will trend in the upcoming months, especially if you plan on adding a new bag or coat into your wardrobe. For the CliffsNotes way to gather all this intel, take a peek at the new Fall/Winter 2022 fashion campaigns. Thankfully, designer labels such as Fendi, Prada, Versace, and more have already released their latest ads — and sneak peeks of their new products — ahead of Sept. 22 (the first day of fall).
Devout fashion aficionados will note that oftentimes, the labels rely on the power of celebrity influence to draw you into their campaigns. This season is no exception. So far, the Fall/Winter 2022 menu of celebrity casting includes Bella Hadid, Hunter Schafer, and Gigi Hadid, who posed for heavy-hitters like Fendi, Prada, and Self-Portrait, respectively. At any rate, the Fall/Winter '22 campaign season is far from being over — so you'll want to keep an eye out for even more A-lister appearances in the weeks ahead.
To avoid the risk of falling behind on the latest trends, read on to familiarize yourself with what your favorite designer brands have in store for the season ahead. Then, bookmark this post and check back here often as TZR will update with more fall campaigns as they're released.
Celine
Once again, Celine tapped Kaia Gerber to front its Fall/Winter 2022 campaign, thus cementing her status as Hedi Slimane's go-to muse. (Celine's creative director enlisted the model to front the fashion house's advertorial for the fourth season in a row.) In the campaign, titled "Dans Paris," Gerber sports a variety of French women-chic looks: Think oversized jeans with a black cashmere turtleneck, or a pair of knee-high boots with a cropped white tank, boxer shorts, and all-black sunnies. Both looks were finished with the newly launched handheld accessories from Celine's Fall/Winter 2022 line: a white Trapeze Triomphe bag and a black Chain Box Triomphe bag, respectively.
Tory Burch
Tory Burch/Jamie Hawkesworth
Tory Burch released the first drop of its Fall/Winter 2022 collection alongside a campaign photoshoot, starring Sydney Sweeney. This season, the American fashion label zeroed in on its signature Kira handbag, showcased by the Euphoria actor while on a fictitious cruise around New York City. The new advert includes a total of three iterations of the iconic handbag: a classic shoulder bag, a compact mini bag, and a brand-new square crossbody style, all adorned with beveled Double T hardware. All three styles possess that distinct urban, sophisticated appeal and encapsulate Burch's core design philosophy: to create beautiful, effortless pieces you can wear often and keep forever.
Balmain
Lila Moss stars in Balmain's Fall/Winter 2022 campaign, alongside other esteemed models like Aweng Chuol and Chu Wong. Lensed by photographers Mert Alas and Marcus Piggott, the ad images are set against a desolate, almost other wordly landscape and include a set of green stairs for a surprise element. The new campaign is accompanied by a hopeful message from the fashion house's Creative Director Olivier Rousteing: "We need not be defenseless in the face of toxic pile-ons, if we can depend on individual honesty, collective empathy, and shared hopes for progress."
Miu Miu
The fashion house's Fall/Winter 2022 campaign totally jibes with its title, "Character Study." The project comprises a series of portraits, captured by the fashion photographer and filmmaker Tyrone Lebon, that feel simple at first glance but reveal their more complex and emotive side upon closer examination. The cast includes "exceptional figures [that are] innately tied to the brand [and] its ideology" — think A-listers like Emily Ratajkowski, Sydney Sweeney, Emma Corrin, and Demi Singleton, alongside professional models like Maty Drazek, Amber Later, and Jade Rabarivelo. Through photographs for this new advert, each of the characters reveal their more introspective sides, as well as attitudes and mindsets.
Ports 1961
Ports 1961's Fall/Winter 2022 campaign takes you to the streets of Brooklyn, New York. Fashion photographer maestro Steven Meisel captured a cast of all-star models, including Bella Hadid, Vittoria Ceretti, Sora Choi, Mila Van Eeten, and Achenrin Madit. The resulting series of black and white images spotlight a range of bold, eye-catching pieces from the label's newest collection — think white, fluffy shearling coats, extra chunky sweaters, frilly leather skirts, and towering platform boots. In sum, the campaign conveys the energy of a free-spirited attitude and individual, cutting-edge style.
Opening Ceremony
Opening Ceremony/Alien Wang
Cultural themes of fashion and food go hand in hand in Opening Ceremony's Fall/Winter 2022 range. The idea was born in 2021, when the label's Co-Creative Director Humberto Leon and his family opened a Chinese-Peruvian restaurant dubbed Chifa. Located in his hometown of Los Angeles, the eatery offered a diverse menu that represented his family's multicultural heritage. Inspired by his first six months at Chifa, Leon developed a graphic theme for the collection that centers on the dining experience, as well as other food-adjacent cultural phenomena like dietary restrictions.
The range comprises a medley of cheeky, food-related references and illustrations that are emblazoned on oversized T-shirts, sweatshirts, and hats. (Think: "No pain" — which can be interpreted as "no bread" or as a punny take on the phrase "no pain, no gain" — and various dietary preferences like "gluten-free," "no milk," and "carb-free," which Leon encountered during his interactions with the customers at Chifa.)
Fendi
Fendi's Fall/Winter 2022 range was an ode to the late Karl Lagerfeld — particularly his Spring/Summer 1986 and Fall/Winter 2000 collections for the Italian fashion house. In his Fall/Winter 2022 collection, Kim Jones took the geometric pattern from the 1986 range and added a sense of lightness found in pieces from the 2000 season. All in all: the lineup was a true family affair: Accessories were designed by Silvia Venturini Fendi, and the jewelry was crafted by her daughter, Delfina Delettrez Fendi. With the superstar model Bella Hadid added into the equation, it's safe to say that this campaign is a must see.
Prada
For the second season in a row, Prada enlisted Euphoria actor Schafer to star in its womenswear campaign. The label's Fall/Winter 2022 images center on celebrating an individual's unique qualities and life experiences. Thus Schafer, as well as a cast of superstar models like Kendall Jenner and Sora Choi, are all pictured with a still-life photograph that reflects their personal experiences and emotions. (Fun fact: All models featured in the campaign also walked the Fall/Winter 2022 runway show for the house back in February 2022.)
Versace
Versace/Mert Alas & Marcus Piggott
PSA: Versace just launched a brand new Greca Goddess bag. The star of the label's new Fall/Winter 2022 campaign, Lily James, went full goth mode and traded her beach-brunette locks for jet-black, blunt bangs and bleached eyebrows for the project. The actor, who is no stranger to dramatic hair transformations, looked absolutely fierce while donning a corseted black dress with matching black latex gloves — and, of course, the new Greca Goddess bag.
Moschino
For Moschino's latest Fall/Winter 2022 campaign, the house's Creative Director Jeremy Scott selected a star-studded cast of models: Imaan Hammam, Iris Law, Mariacarla Boscono, Mila van Eeten, Shalom Harlow, and Sora Choi. The project includes a medley of flamboyant, hard-to-miss elements like sculpted gowns, brocaded corsets, and exaggerated headpieces (candelabra hat, anyone?).
Self-Portrait
Self-Portrait/Zoë Ghertner
Following in the footsteps of her sister, Gigi Hadid fronts Self-Portrait's Fall/Winter 2022 campaign. The model was photographed over the course of a day in New York City, as she transitioned outfits from day to night. The collection is already available for purchase and includes everything from lacy LBDs to coordinated tailoring ensembles. In other words, there is something for everyone.
Alaïa
Take a look at Alaïa's Fall/Winter 2022 campaign, which is built upon a clever play between the light and the shadows, the bodies and the clothes. In sum, the imagery puts the spotlight on accessories such as Alaïa's newly-released Le Papa bag, as well as the Le Cœur bags and matching heart-adorned Cœur heels. Comprised of a series of black and white images, the ads feel elegant, free, and assertive.
Y-3
The color orange is the main theme in Y-3's Fall/Winter 2022 campaign. (FYI: The hue has been the primary color of the label's logo for many years.) In addition to this color theme, the campaign includes sartorial references to football — a sport that influenced adidas' and Yohji Yamamoto's vision for the brand for years. The result? An athletic range of multi-functional layering pieces, bags, and footwear.
This article was originally published on