The Spring 2021 Campaigns Are Here To Show You The Season's Most Important Trends
See Megan Thee Stallion in Calvin Klein.
Megan Thee Stallion stars in Calvin Klein Spring/Summer 2021 campaign.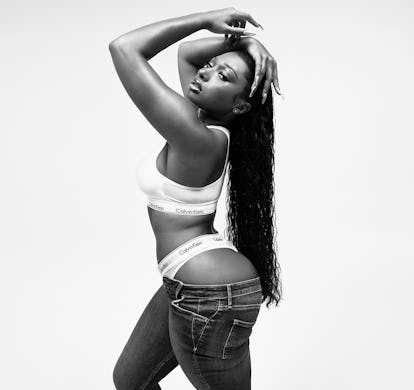 In fashion, the spring and summer seasons signal the shedding of heavy winter layers for lighter, trendier warm-weather pieces. It's always refreshing to swap out your rigid jeans (though, this year, it was more like sweats) and chunky knit sweaters for balloon-shoulder maxi dresses and a pair of barely-there strappy sandals. Leading the way into these sunny-day vibes are the Spring/Summer 2021 campaigns from major fashion houses.
Brands such as Louis Vuitton, Fendi, Versace, and more have released their latest campaigns and newest products ahead of spring. For those counting down the days, the change from wearing your UGG boots and cashmere gloves to the aforementioned vernal pieces will be on March 20, the first official day of spring. Key trend-setting styles for the season will be funky floral separates, neutral tones across all ready-to-wear categories, and classic polka dots.
Just in case you missed any of the campaign launches, ahead is a roundup of the best ones. Be prepared to not only draw outfit inspiration from the imagery, but also keep tabs on the must-buy spring and summer pieces. Lastly, bookmark this story for reference as more campaigns will be added throughout the month.
HEAVEN By Marc Jacobs
The second season of HEAVEN by Marc Jacobs (a polysexual collection from the label that first launched in Sept. 2020) draws fans into the world of youth subcultures. There are tons of '90s vibes as evidenced by the baby tees and babydoll dresses in addition to future collector's items like 3D gummy jewelry and bear backpacks. Supermodel and '90s icon Kate Moss stars as one of the faces in the campaign along with Georgia Palmer as heavenly creatures incarnate. The collection celebrates those who dare to be different and expressive with their fashion.
HOOD BY AIR
Returning to the fashion stage is HOOD BY AIR, which first launched in 2006 but was put on pause in 2017 by founder Shayne Oliver. Now in 2021, Oliver has reintroduced the brand by releasing a fresh ready-to-wear campaign featuring supermodel Naomi Campbell. Titled The Prologue, the campaign debuted its first theme called Mother (the other two themes will be Veteran and Merch). Campbell models the Mother collection, which paid homage to the maternal figures in Oliver's life like his grandmother. "[The collection] is kind of based on my grandmother and what she brought to the table, which was always the beauty, but then also, she is how I learned how to physically sew and make clothes," Oliver said to Vogue. The designer also shared in the same interview why he selected Campbell to front the campaign: "[Naomi Campbell] is such a mother figure to [so many people in fashion] and has always been so outspoken about Black people in fashion, Black identity, and Black creativity." Keep watch on HOOD BY AIR as the label releases more exciting announcements.
Burberry
For Burberry's Spring/Summer 2021 campaign, the focus is on duality. "I wanted to create this incredible experience bringing together fashion, art, music, technology, live performance and to then explore the dialogue they have with each other," said Chief Creative Officer Riccardo Tisci in a press release. In looking at the imagery, you'll notice the juxtaposition of indoors and outdoors or nature and fashion. "This campaign is all about continuing that examination of different perspectives, contrasting the rawness of the internal environment with the ever-blooming nature of the outdoors," said Tisci. As for what to expect, and shop, from this collection, Burberry fans will love the incorporation of denim into its iconic trench coats and embrace design details such as delicate chiffon and crystal embroideries.
Celine
For those who tuned into Celine's Spring/Summer 2021 runway show and couldn't wait to get their hands on a piece from the collection, you can now shop your favorite pieces. Starring in Celine's seasonal campaign is model Kaia Gerber, who also walked in the brand's Spring/Summer 2021 show. This time, Gerber is back modeling the fashion house's Triomphe Shoulder handbag, which is the latest update to the Triomphe line. She showcases the power of the accessory, which can be paired with any outfit. For your casual, laid-back days, style with your favorite crop top and jeans. For a dressier feel, the bag complements an evening dress.
Calvin Klein
Calvin Klein's Spring/Summer 2021 campaign is bringing everyone back to the idea of owning the essentials like the perfect white t-shirt or archival, classic denim silhouettes. The label tapped a diverse cast of faces to model these foundational pieces such as rapper Megan Thee Stallion and those part of a skate collective in Los Angeles called Queer Skate LA. Calvin Klein fans will want to slip into the cozy undergarments, which are perfect for any WFH look, and invest in some of the neutral tanks and tees ahead of summer.
The Marc Jacobs Spring/Summer 2021 Campaign
For The Marc Jacobs' Spring/Summer 2021 campaign, the brand tapped Lola Leon to showcase its latest accessories for the season. The 24 year old, for those unfamiliar with her name, is none other than Madonna's daughter. The fashion house released a statement on why they chose Leon for the campaign, stating, "she perfectly encapsulates the youthful spirit and uncompromising sense of individuality central to this younger expression of the brand." The partnership also came naturally as designer Mar Jacobs is friends with Madonna, who has attended his New York Fashion Week shows over the years and has even collaborated on projects with the designer. The Marc Jacobs — not to be confused with the designer's namesake label Marc Jacobs — was launched in 2019 as the more affordable line, which offers clothes, bags, shoes, jewelry, and other accessory items to a youthful customer base.
Heron Preston Spring/Summer 2021 Campaign
Heron Preston showcases both womenswear and menswear for his Spring/Summer 2021 collection, focusing on workwear aesthetics, sustainability, and motif play though the brand's orange tab logo. "I looked at our best performing pieces, and pieces that had become emblematic of what we do," said Preston in a statement. "Even before [the] COVID-19 [pandemic] hit, I felt that I was doing too much, too much, too much. This collection is smaller, with a greater focus on our core strengths." Fans of the label can expect raw denim jacketing and jeans, padded and pocketed parkas, patchwork denim, knit amethyst-hued hoodie for the guys, and handbags that resemble drill kits or field-use computer cases. As for the earth-friendly portion of the collection, Heron Preston's fleece and jersey pieces are made of organic cotton while the activewear items are knitted in recycled nylon yarn.
Louis Vuitton Spring/Summer 2021 Campaign
Louis Vuitton's Artistic Director Nicolas Ghesquière has a hand in everything, from designing the runway collections to shooting the models for the fashion house's campaigns. Ghesquière once again played photographer, this time capturing Louis Vuitton's ambassadors and friends for the Spring/Summer 2021 collection. The stars appearing in the ads include tennis champion Naomi Osaka, Oscar-winning actress Emma, and singers Halle and Chloé Bailey. You can see the full lineup here. The talents also showcase the latest leather bags from the Spring/Summer 2021 line such as the Coussin and the Rendez-vous, which will both launch worldwide by Feb. 26, thereby giving fans a sneak peek of what to add to their wishlists for the season.
MICHAEL Michael Kors Spring/Summer 2021 Campaign
The MICHAEL Michael Kors Spring/Summer 2021 campaign brings the brand back to its jet set roots while acknowledging the times. Hence, you'll recognize familiar landscapes in the ads like the New York City skyline. "As Diana Vreeland famously said, 'the eye has to travel' — and during these times when we might not be able to experience new destinations, we have to find other ways to change our eye and imagine different possibilities," said Michael Kors in a press release. "Whether it's looking back at old photos, flipping through a travel book or visiting places in your city or neighborhood, we all need that momentary escape to decompress and feel inspired." As for what you'll want to wear while exploring your local neighborhood favorites, the brand offers pieces such as laidback denim, chain crossbody bags, sporty separates, and striped signature logo accessories.
Kate Spade New York Spring/Summer 2021 Campaign
Kate Spade New York's Spring/Summer 2021 campaign launches with a year-long initiative titled A Love Letter To New York. For its seasonal ads, the brand recruited a diverse group of models such as Japanese comedian Naomi Watanabe, model Lindsey Wixson, and local New York couples to serve as the faces of the campaign. According to a press release, the short video and imagery that accompany the campaign were "inspired by the people and everyday beauties of New York ... [they] capture the essence of the city through the smallest of magical interactions we experience in the streets." If you're feeling nostalgic about NYC in pre-pandemic times, the video will remind you that the magic of the Big Apple is never lost.
Givenchy Spring/Summer 2021 Campaign
For Givenchy's Spring/Summer 2021 campaign, Creative Director Matthew M. William called on models such as Kendall Jenner and Anok Yai to give their own style spin on the fashion house's looks. "To me, fashion expresses a point of view where formality and informality, construction and comfort co-exist. My ethos is about the luxury of infusing clothes with your own personality, not being worn by them," said Williams in a statement. "In each of these portraits, a strong character wears a look that reflects who they are: they're the ones who bring the clothes to life." Jenner looks almost unrecognizable in all-red while Yai rocks a crinkled leather jacket and trousers against an acid green background. The backdrops were chosen to accentuate each person's personality and mood.
Ulla Johnson Spring/Summer 2021 Campaign
Models Ajok Madel and Effie Steinberg star in Ulla Johnson's Spring/Summer 2021 campaign, which was shot by fashion photographer Yelena Yemchuk and styled by April Hughes.
Tommy Hilfiger Spring/Summer 2021 Campaign
Tommy Hilfiger's Spring/Summer 2021 campaign centers around the theme of "Moving Forward Together," in building a better future. As part of this message, a cast of activists and advocates shared their stories on Tommy Hilfiger's website and starred in the campaign. "As we stand at one of the most pivotal moments in history, we must move forward together to build a future for the next generations," said designer Tommy Hilfiger in a statement. "I am proud that our Spring 2021 collection is represented by a such an incredible and diverse group of people who embody this message. Throughout the season and beyond, I am confident they will inspire fans to drive meaningful, long-lasting change."
Tory Burch Spring/Summer 2021 Campaign
Tory Burch's Spring/Summer 2021 collection is all about ease and simplicity in dressing, whether that's slipping on a printed one-piece swimsuit for the pool or the brand's logo low-top sneakers for a quick run to the grocery store. It's not difficult to appear effortlessly dressed up as the season's latest offerings come in bold abstract basket weave geometric prints and colors with names like spring blue and fresh coral. You can wear any piece alone or layered together to recreate your favorite look from the Tory Burch Spring/Summer 2021 runway.
Michael Kors Collection Spring/Summer 2021 Campaign
Michael Kors Collection's Spring/Summer 2021 campaign was shot in the New York Restoration Project Bronx Community garden to bring forth the idea that even if one lives in a bustling big city, one can find small moments of reprieve through nature. "The importance of urban green spaces, and the work that New York Restoration Project does to bring them to all five boroughs in New York has become even more important during the pandemic," said designer Michael Kors in a statement. "No matter where we live, we all crave nature, and the joy of watching spring come to life is always reaffirming." As for what you can expect in the spring collection from the fashion house, think luxe knitwear and hand-woven accessories.
Louis Vuitton Spring/Summer 2021 Twist Campaign
First appearing in the Louis Vuitton 2015 Cruise show, the Twist bag has become an iconic staple to the fashion house. For its Spring/Summer 2021 campaign, actor Laura Harrier models the latest silhouette in this category in various shades such as your everyday black handbag in addition to showing off more fun hues, which speak to the warm weather on the horizon: think tender pink and luminous turquoise. The handbag can be worn on its fine chain, broad shoulder strap, which is embroidered with monogram flowers, or carried by the leather handle. You'll find versatility and functionality in styling the Twist however you desire.
Versace Spring/Summer 2021 Campaign
Donatella Versace introduces you to the "mythical world of Versacepolis" for Spring/Summer 2021. The underwater fantasy-inspired campaign features familiar model faces such as Kendall Jenner and Precious Lee, who debuted the label's new La Medusa handbag. "With these images I wanted to portray the modern Medusa. Or better, to highlight how her many faces can be drastically different from one another and every woman can actually be Medusa," said the Italian fashion designer in a statement. Take notice of the Medusa head on the bags as this design is the same one that's on the doors of Via Gesù, 12 — the brand's first headquarters in Milan.
Coach Spring/Summer 2021 Campaign
Coach's "Coach It Forward," campaign centers on the message of expressing gratitude and love for the important people in your life. To spearhead this message, the campaign features familiar faces to the brand such as Jennifer Lopez, Michael B. Jordan, and Yang Zi. The celebs were invited to "pay it forward" by selecting their friends and family to be part of the campaign through a series of stills and short films, which will appear on the brand's social channels. "At the start of a new year and new chapter for so many, it's important to put ourselves out there and support and recognize one another," said Coach Creative Director Stuart Vevers in a statement.
Fendi Spring/Summer 2021 Campaign
Fendi's Spring/Summer 2021 campaign was shot by photographer Nick Knight in his London studio. The soft colors in the images reflect the palette in the collection, designed by Silvia Venturini Fendi, which features, according to a press release, "natural shades like wheat and milk" that are then broken up by brighter hues such as "cardinal red and sky blue." The accessories showcased in the campaign include Fendi's iconic PeekaboolSeeU bags and invite fans to invest in a Fendi piece of their own.
adidas by Stella McCartney Spring/Summer 2021 Campaign
For adidas by Stella McCartney's FUTUREPLAYGROUND campaign, the label handed over the creative reins to female directors and activists. Director Anna Pollock, photographer Monika Mogi, and filmmaker Netti Hurley casted a diverse group of people — such as Olympic archer Ren Hayakawa and mental health/BIPOC advocate Georgia Moot — as models for the ads. As McCartney is a fierce advocate for the environment, the performance collection features pieces such as a parka and pair of sandals made from recycled materials that were gathered from coastal communities.
Jimmy Choo Spring/Summer 2021 Campaign
Creative Director Sandra Choi used the energy of springtime in Paris as her inspiration for Jimmy Choo's Spring/Summer 2021 campaign. French model and artist Sharon Alexie was tapped to debut the latest accessories from the label, ranging from a striped leather knee-high boots to a black bucket bag. The images were shot on location in Paris by photographer Tim Elkaim.
Moncler Spring/Summer 2021 Campaign
For Spring/Summer 2021, designer Veronica Leoni focused on creating a tonal palette, as evidenced by the warm beiges and cool creams, for the 2 Moncler 1952 women's collection. The performance clothes are utilitarian enough for everyday wear yet still statement worthy thanks to the details such as dropped shoulders, curved drawstring hemlines, and voluminous sleeves. In the spirit of striving for a more sustainable future, the brand incorporated recycled Japanese ripstop nylon into its collection.
Jil Sander Spring/Summer 2021 Campaign
Last fall, the label designed an ongoing seasonal campaign centered around themes of intimacy, friendship, and touch. For the second installment in this project, the latter — touch — is showcased in the brand's Spring/Summer 2021 campaign. Husband-and-wife duo behind Jil Sander, Lucie and Luke Meier, tapped photographers to interpret the word into their images. This project for the brand will ultimately cumulate into your next must-have coffee table book (a release date for this has yet to be announced).
Miu Miu Spring/Summer 2021 Campaign
For Miu Miu's Spring/Summer 2021 campaign titled Mind Mapping, the images feature "nonconformist and idiosyncratically individuals" shot by photographer Steven Meisel. You might recognize some of the featured women like British actor Emma Corrin or singer and classical multi-instrumentalist Kelsey Lu. Everyone featured has a distinct point of view when it comes to style, which contributes to the label's current focus on highlighting multi-talented faces.
Tanya Taylor Spring/Summer 2021 Campaign
Tanya Taylor is known for her original hand-drawn prints that are featured in her namesake label, often coming in bold color palettes. For the Spring/Summer 2021 collection, the label's focus was on channeling a feeling of hope and optimism. This was achieved through the collection's vibrantly fun pieces like a tangerine orange floral skirt and a dress featuring strategically placed neon yellow and purple yacht motifs. After all, a boating excursion, when possible, is peak summer vibes.
This article was originally published on