Here Are The Best Spring/Summer 2022 Fashion Campaigns
You'll want to see Chanel's new bag.
Courtesy of Chanel/Inez & Vinoodh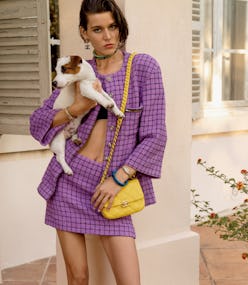 There's an easy way to decide what to shop for and what trends to follow for this summer — simply tune into the Spring/Summer 2022 fashion campaigns. You'll notice the imagery from brands often highlights a particular shoe, handbag, or even a full runway outfit that they predict will blow up for the season. Themes like maximalism (note Moschino's elephant-sleeved dress) and joyful colors (see Salvatore Ferragamo's shoes) will continue to be in play for 2022 and fashion houses have already tapped its top muses to show off the designs.
Take Prada, for example, who photographed actor Hunter Schafer for its Spring/Summer '22 campaign. Schafer stars in the ads while rocking a spring '22 look fresh off the runways: a lace-up leather shirt styled over black shorts. Meanwhile, UGG tapped Cher, an iconic entertainer in every form, to front its 2022 ads. (The power of celebrity talent in drawing you into the campaigns can't be ignored.)
In addition to the adverts serving up major outfit inspo, they're also providing you with the ultimate escapism from your 9-to-5 gig. Imagine yourself slipping into a white midi dress for a tropical getaway or wearing a black cutout gown for a summer wedding reception (thank you, Michael Kors). Before too much is revealed, scroll ahead to see all the spring/summer '22 campaigns and take note of what will trend.
Heaven By Marc Jacobs
Courtesy of Heaven by Marc Jacobs/Harley Weir
Courtesy of Heaven by Marc Jacobs/Harley Weir
For Spring/Summer 2022, Heaven is tapping into three different stages of youth. "Punk playgrounds of adolescence, teenage rebellion, and psychedelic daydreams of the young at heart," reads the press release. Marc Jacobs recruited stars like Nicki Minaj and model like Paloma Elsesser to showcase the seasonal edgy pieces, from a micro cardigan that gives off Y2K vibes to a baby tee. (Bella Hadid recently wore the shrunken knit with a white tank while out in NYC.) As always, the Heaven lineup taps into the now with a slight nostalgia for the past.
Chanel
Courtesy of Chanel/Inez & Vinoodh
Courtesy of Chanel/Inez & Vinoodh
Model Vivienne Rohner stars in Chanel's Spring/Summer 2022 campaign, wearing two-piece skirt sets and rainbow-colored cardigans from the fashion house's new seasonal collection. The colors are bright and fun, which speaks to the overall mood of spring as everyone is eager to get out and soak up the sunshine. Accessory fanatics will want to note that the luxury label's new CHANEL 22 bag drops this month — the large tote in shiny leather is ideal for carrying all your summer essentials.
Kate Spade New York
Courtesy of Kate Spade New York/Cass Bird
Courtesy of Kate Spade New York/Cass Bird
Kate Spade New York's Spring/Summer 2022 campaign is centered on all the feel-good energies that spring brings. According to a press statement, the ads are "set to a modern rendition of the classic anthem of self-expression 'She's A Rainbow' and features models Birgit Kos, Mayowa Nicholas, and Dilone Altagracia, who come together across six vignettes to portray the colorful spring season. Photographer Cass Bird shot the stunning imagery while Stella Greenspan styled all the looks. For fans who spot a piece they love from the campaign, you can now shop the spring 2022 drop on katespade.com.
Net-a-Porter
Go bold is the theme in Net-a-Porter's Spring/Summer 2022 ads. The campaign highlights all the trending optimistic shades for the year, including tangy oranges, bright magentas, and Barbie pinks. As part of the launch, the retailer has also partnered with leading female creative technologist, Ommy Akhe, to create an exclusive and interactive AR filter, which uses AI to extract colors from the campaign via Instagram. According to a press statement, users can apply the interactive filter to add a dynamic rainbow haze to their surroundings and select their favorite palette using a scroll function. They can then record and share their video by tagging @netaporter."
Givenchy
Courtesy of Givenchy/Heji Shin
Courtesy of Givenchy/Heji Shin
For Givenchy's Spring/Summer 2022 campaign, the fashion house tapped Korean-born German photographer Heji Shin to photograph the likes of Kendall Jenner while American artist Josh Smith brought a hint of subversion to the ads with his colorful, freestyle brushwork. Jenner carries Givenchy's purse of the season: the Kenny, which is a supple, intricately constructed bourse-style bag. Hand-draped folds and embellishments evoke the label's couture savoir-faire while the signature G-Cube element anchors the piece as a Givenchy special.
Balmain
Olivier Rousteing worked with photographers Mert and Marcus to capture behind-the-scenes imagery at the Balmain Festival from last fall in order to also use them for its Spring/Summer 2022 campaign. "I love what Mert and Marcus were able to capture from that moment — it's a true behind-the-scenes peek at what was happening on the day before the big day," said Rousteing in a statement. "The duo's photos have a raw, honest and snapshot-like quality, as the models [like] Naomi Campbell ... pose casually in front of backdrops of concert seating and the towers of suburban Paris." The ads perfectly complement the seasonal collection's theme of honesty, healing, and a joy-filled atmosphere.
Saks Fifth Avenue
Courtesy of Saks Fifth Avenue
Courtesy of Saks Fifth Avenue
Lupita Nyong'o stars in Saks' Spring/Summer 2022 campaign while wearing the season's brightest and boldest styles from the likes of Versace, LaQuan Smith, and Brandon Maxwell. As part of the campaign, the actor spoke with the retailer about the highs and lows of her career, her experience working with Chadwick Boseman, and her most memorable red carpet style moments. "[I approach my red carpet style] with curiosity and a sense of humor. I love dressing up, it just reminds me of being a kid and like, coming up with outfits from sheets and towels and things. It's a chance to make believe and to just live at a higher level. So, I have fun with it," said Nyong'o in a statement.
Fendi
Courtesy of Fendi/Craig McDean
Courtesy of Fendi/Craig McDean
Fendi's Spring/Summer 2022 campaign celebrates joyful irreverence and empowered femininity. The models were shot against graphic backgrounds, in white fading to blue or featuring solid red cloud-like shapes. According to a statement, "the inspiration came from a logo hand-sketched by visionary fashion illustrator Antonio Lopez, drawing upon the artist's liberated sensibility and Studio 54 surroundings found in the Fendi archives." The shirting and leather intarsia in the collection also received the same elegant abstraction drawings of Lopez while the bags become canvas for his graphic artwork.
Burberry
Courtesy of Burberry/Mert & Marcus /Chris Rhodes
Courtesy of Burberry/Mert & Marcus /Chris Rhodes
The fashion house's Spring/Summer 2022 campaign explores the power of self-expression. This manifests in how the photographers captured the images for the seasonal imagery. Raw studio shots by photographer duo Mert and Marcus are contrasted with intimate, candid shots by photographer Chris Rhodes, which were taken backstage at the Burberry presentations. "As we come out of lockdowns around the world, I wanted this campaign to make people feel something, free to dream, free to feel youthful and alive again. It is a beautiful dance, a very raw energy that's powerful and full of life. Like an awakening," said Chief Creative Officer Riccardo Tisci in a statement. "The Spring/Summer 2022 menswear and womenswear shows had this visceral energy that was contrasted with really beautiful soundscapes. I wanted to continue this dialogue in the campaign."
Versace
Courtesy of Versace/Mert Alas & Marcus Piggott
Courtesy of Versace/Mert Alas & Marcus Piggott
The Hadid sisters are back in the spotlight for Versace's Spring/Summer 2022 campaign. Photographers Mert Alas and Marcus Piggott shot the two, alongside Donatella Versace herself. "Family is always at the heart of everything I do, which is why I love Bella and Gigi so much," said the fashion designer in a statement. "They perfectly exemplify the strength between sisters, and they share that message to our Versace sisterhood worldwide. I want this campaign to be a warm hug to the global Versace family at the start of 2022!" The Hadid sisters' bold, coordinated looks emphasize the strength in togetherness.
Miu Miu
Courtesy of Miu Miu/Tyrone Lebon
Courtesy of Miu Miu/Tyrone Lebon
Miu Miu's Spring/Summer 2022 campaign features young creatives who embody the fashion house's rebellious esprit. Stars such as Hailey Bieber and Emma Corrin lead the charge in showcasing Miu Miu's selection of miniskirts (first spotted on the Spring/Summer 2022 runway) and crop tops. The images were shot and directed by photographer Tyrone Lebon.
HUGO BOSS
Courtesy of HUGO BOSS/Mikael Jansson
Courtesy of HUGO BOSS/Mikael Jansson
Courtesy of HUGO BOSS/Mikael Jansson
HUGO BOSS' star-studded campaign features models Joan Smalls and Hailey Bieber in addition to a cast of diverse talent, ranging from South Korean actor Lee Min-ho to Italian tennis champion Matteo Berrettini. The Spring 2022 campaign served as a way for the brand to announce a new, modern brand identity, which according to its press statement, will be "focused on a younger and more global demographic. The new seasonal collection, too, will center around a "more playful and casual aesthetic while staying true to the brand codes of dressing excellence."
Coach
Courtesy of Coach/Tyler Mitchell
Courtesy of Coach/Tyler Mitchell
For Coach's Spring/Summer 2022 campaign, Coach Creative Director Stuart Vevers worked with photographer Tyler Mitchell to reimagine the label's iconic Horse and Carriage code and first-ever house logo in a pop palette. "Joyful and optimistic, Spring 2022 celebrates our house codes through the point-of-view of a new generation," said Vevers in a press statement. "It expresses what I've always loved about Coach, which is the way our heritage can be a platform for individual expression and bold ideas that shape the future." The "That's My Ride" imagery, which evokes nostalgic ride scenes in movies and music, stars Jennifer Lopez, Megan Thee Stallion, Noah Beck, and more.
Jimmy Choo
Courtesy of Jimmy Choo/Pierre-Ange Carlotti
Courtesy of Jimmy Choo/Pierre-Ange Carlotti
As the star of Jimmy Choo's seasonal campaign, Hailey Bieber debuts a variety of outfits and accessories for the luxury label. The photos were shot on location in Los Angeles by photographer Pierre-Ange Carlotti against a backdrop of the city. Bieber showcases new silhouettes of the label's signature VARENNE bag in addition to modeling the BING in color pop lime and the SATYA floral scarf sandal.
Prada
Courtesy of Prada/David Sims
Courtesy of Prada/David Sims
Prada's Spring/Summer 2022 campaign continues to explore the themes set forth from Prada's previous runway show: desire and sensuality in fashion. Shot by photographer David Sims, the new images capture the fashion house's muses like actor Hunter Schafer and model Julia Nobis in the act of dressing and undressing. In one scene, Schafer is pictured lacing up a leather shirt and in a different image, Nobis shows off the plunging back of her dress. The photos capture the intimate moments between person and garment while acknowledging the sexiness inherent in the spring '22 pieces.
Michael Kors Collection
Courtesy of Michael Kors/Inez van Lamsweerde and Vinoodh Matadin
Courtesy of Michael Kors/Inez van Lamsweerde and Vinoodh Matadin
Designer Michael Kors never hesitates to use New York City as his playground for fashion inspiration. For his label's Spring/Summer 2022 ads, Kors tapped photographers Inez van Lamsweerde and Vinoodh Matadin to capture Kendall Jenner on the roof of Prospect Tower in Manhattan. Jenner poses against the base of the Tudor City sign, with the imagery paying homage to the strength and timeless romance of NYC. "When I think about what endures, it's love — romantic love, but also love for your friends, your family and for your city," said Kors in a statement. "With this campaign, we wanted to bring to life urban romance and the unique juxtaposition of the strength and grit of New York City with the love that it inspires time and again."
UGG
Courtesy of UGG/Neil Favila
Courtesy of UGG/Neil Favila
For UGG's Spring/Summer 2022 campaign, it's all about how one feels. The lifestyle label tapped global superstar entertainer and humanitarian Cher to star in the new ads while wearing iconic silhouettes from UGG (the Classic Mini boot and Coquette slippers, to be exact). "How you 'Feel' is the most authentic part of you as a human being," said Cher in a press release. "I chose to be an artist. But the hard part is succeeding and failing in front of the entire world...I've spent a lifetime of people either hating me or loving me; and I mean, you want to be loved, but finally it's like 'f*ck it.'" The singer was photographed by Neil Favila in her Malibu home and she spoke to the cameras about her career, her passion for the planet, and her wisdom on being herself.
Salvatore Ferragamo
Courtesy of Salvatore Ferragamo/Hugo Comte
Courtesy of Salvatore Ferragamo/Hugo Comte
The Salvatore Ferragamo Spring/Summer 2022 advertising campaign includes a series of images (shot by photographer Hugo Comte) and a video produced by director Amalia Ulman. The focus is on drawing you into a Mediterranean universe. The idea of planning your next seaside escape and plotting the outfits you'll wear will momentarily help you escape the winter blues. If you're not sure what to wear, just take a look at what's on the models for inspiration. Ferragamo highlights woven mules and silky separates as must-have pieces to pack in your travel bag.
Moschino
Courtesy of Moschino/Steven Meisel
Courtesy of Moschino/Steven Meisel
If you caught Moschino's show last season, you'll recognize the runway outfits in its Spring/Summer 2022 ads. The collection is an homage to "ladies who lunch" meets "nursery rhymes," so in designer Jeremy Scott's own words: "it's baby lady." In an interview with Vogue, Scott stated that his seasonal lineup was also influenced by The Nanny because "Fran Drescher wore so much Franco Moschino, iconic little suits that were such a signature of the brand and that moment." Scott kept the spring/summer campaign imagery rather straight forward — letting the clothes speak for themselves.
7 For All Mankind
Courtesy of 7 For All Mankind
Courtesy of 7 For All Mankind
Model, actor, and philanthropist Cara Delevingne stars in 7 For All Mankind's Spring/Summer 2022 campaign. According to a press release, the spring 2022 collection "is a delicate tease of the romantic '70s clashed with a hint of minimalist '90s to create a distinctly modern interpretation suited for now." You can find everyday staples from a white blazer and distressed jeans to matching denim sets perfect for spring.
This article was originally published on