31 Affordable Accessories Celebrities Wear Over & Over Again
Gift an item on this list to your celeb-obsessed BFF.
Chris Jackson/Getty Images for TLA Worldwide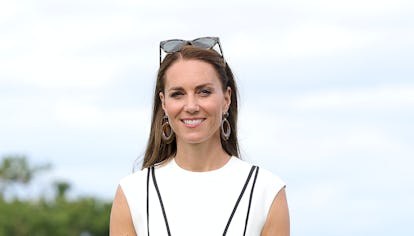 We may receive a portion of sales if you purchase a product through a link in this article.
Hollywood's top stars have access to shop all the major designer houses, which oftentimes can make their style feel more aspirational than achievable. Thus, whenever celebs incorporate more modestly priced pieces into their looks it can feel refreshing, and this allows their fans the opportunity to dress like their favorite idols. Take Selena Gomez, for example, who often wears Reformation or Gigi Hadid and her beloved UGG shoes. It's easy to track down their exact pieces and purchase them for your own wardrobe — or for that pop culture fanatic in your life.
If you're searching for a gift to give someone who stans Kendall Jenner or the royals this season, present them with the exact item (or at the very least, a similar one) that their favorite celebrity owns. For instance, the Jenner-approved adidas Originals Samba sneakers currently retail for around $100. Other stars like Hailey Bieber, Sophie Turner, and the Olsen twins are also big fans of this versatile shoe. Meanwhile if they love Hadid's style, you will definitely want to purchase her Frasier Sterling necklace ($28), which she often mixes and matches with her more luxe accessories. And if your friend is obsessed with Zendaya — and who wouldn't be? — gift them the actor's go-to beanie from Patagonia.
Shop the affordable and star-approved accessories ahead, which range from handbags and jewelry to hats and socks. These wallet-friendly finds will make the perfect present for any celebrity style aficionado in your life.
Kate Middleton's Sézane Earrings
The royal has an excellent eye for a wallet-friendly find. In particular, she has a soft spot for chic and affordable earrings from Sézane.
Kendall Jenner's adidas Samba Sneakers
For those who closely follow Jenner's off-duty style, you know that the adidas Originals Samba sneakers are her trusty go-to for casual outings.
Anne Hathaway's LILYSILK Scarf
Hathaway is a pro at using accessories to spice up her casual everyday outfits. Here, she tied a floral silk scarf to her black tote bag to give the look an elegant touch.
Gwyneth Paltrow's Kendra Scott Necklace
Sometimes, even celebrities with seemingly unlimited budgets can't resist the appeal of affordable jewelry finds — and Paltrow is living proof. Her necklace stack includes a personalized pendant necklace from Kendra Scott, which retails for $65.
Victoria Beckham's Feather Brooch
Take one look at Beckham's style portfolio and you'll notice that she wears her own brand 95% of the time. This red and gold feather brooch, which the A-lister wore to an after-party in September 2022, is of course from her own label — and available to purchase.
Jennifer Lopez's Charles & Keith Bag
As of late, it seems like the stylish A-listers have collectively developed a penchant for the affordable accouterments from Charles & Keith, Lopez included. Her most recent budget-friendly purchase was an elegant (and incredibly versatile) hobo bag from the brand.
Laura Harrier's String Ting Phone Charm
Harrier is a big fan of String Ting's beaded phone charms. The nostalgic accessory often makes a cameo in her selfies on Instagram.
Selena Gomez's Mejuri Hoops
Mejuri is one of Gomez's most beloved fine jewelry brands. She has a collection of necklaces, rings, and earrings from the Toronto-based label. However, the Daily Hoops are her most treasured pair — she even wore them in a campaign photo for her beauty line.
Hailey Bieber's UGG Slippers
Everyone has a pair of easy-to-wear slides by their front door. Bieber favors her comfy UGG Fluff Yeah Sandals when she's on the go.
Meghan Markle's Missoma Ring
Markle has a penchant for gold jewelry and one of her favorite places to get these pieces is from London-based brand Missoma. Back in 2018, she was spotted wearing the label's classic signet ring, which is still in stock to this day.
Olivia Rodrigo's WOLFORD x Amina Muaddi Socks
Rodrigo's style is a mix of Y2K fashion items and preppy pieces like knee-high socks. One of the singer's beloved pairs is a sheer black style from Amina Muaddi with crystal embellishments. The singer likes the socks so much that she even wore it to Variety's Hitmakers Brunch and to the Teen Vogue Summit Block Party.
Gigi Hadid's Frasier Sterling Necklace
Hadid's worn jewelry from Frasier Sterling since 2016. She used to gravitate towards the brand's minimalist gold necklaces and earrings. In 2021, however, she prefers whimsical and colorful pieces. Her collection of beaded necklaces now includes this Mesmerized Choker from the label.
Bella Hadid's Short & Suite Chunky Ring
The model loves maximalist jewelry. Although her collection of playful and eclectic rings is everchanging, Short & Suite's Chunky Gem Ring pops up as a constant favorite. She owns both the canary yellow and ocean blue baubles.
Zendaya's Patagonia Beanie
Zendaya is a casual dresser when she's not rocking glamorous gowns on the red carpet. Here, she styled her laid-back affordable beanie with more luxe pieces like her Fendi handbag.
Lizzo's CISE Bag
Lizzo's archive of colorful mini purses is a never-ending one. One of her favorite handbags is CISE's powder-blue bag that reads "Protect Black People." She's a paradigm leader in advocating for racial justice and often shows it through her fashion choices.
Jennifer Aniston's Ray-Ban Sunglasses
Aniston always wears sunglasses when she's out running errands. This fits with the Hollywood star's low-key aesthetic of not wanting to be in the spotlight all the time. A classic pair she loves is Ray-Ban's aviator style, which is part of her wardrobe staples.
Kerry Washington's Kitsch Hair Clip
Celebrities don't always wear lavish hair accessories to red carpet events. For the 2020 Vanity Fair Oscar after-party, however, Washington opted for $12 beaded bobby pins by Kitsch. The dainty clips can easily be worn as a daily hairpiece or for a more formal occasion like an engagement party.
Michelle Obama's BYCHARI Necklace
Obama wore a gold "VOTE" necklace from BYCHARI during the 2020 Democratic National Convention Committee livestream. She owns multiple delicate necklaces from the Black-owned jewelry brand, which also has a star-studded fan base that includes Angelina Jolie and Vice President Kamala Harris.
Rosé's Casetify Phone Case
Blackpink's Rosé is an avid fan of whimsical phone cases and she often switches between various styles. The go-to brand that she shops for this accessory is CASETiFY. Fun fact: she even designed a few for Blackpink's line of CASETiFY cases.
Zoë Kravitz's Telfar Bag
Kravitz paired her casual attire of a tank top and skirt with the sought-after Telfar bag. The mini tote is a fashion girl favorite.
Emily Ratajkowki's JW Pei Bag
JW Pei's signature Gabbi Bag is a vibrant statement piece, which you'll spot on Ratajkowski and other models like Jenner, the Hadid sisters, and Bieber.
Beanie Feldstein's BaubleBar Headband
Feldstein channeled elegant vibes with her shimmery headband at the 77th Annual Golden Globes. Her exact one isn't available anymore, but there is a sophisticated white beaded option to shop.
Angela Bassett's JLANI Jewels
The actor loves wearing delicate gold jewelry. Here, she's pictured in JLANI's stunning baubles for a press day.
Rihanna's R13 Baseball Hat
Rihanna is a fashion icon who regularly incorporates laid-back accessories with her polished attire. For instance, she usually styles her R13 baseball cap with one of her two-piece ensembles and heels.
Lili Reinhart's Swarovski Stud Earrings
The Riverdale actor knows how to put together graceful ensembles for the red carpet. At the 76th Annual Golden Globe Awards, Reinhart paired her red tulle dress from Khyeli Couture with dazzling Swarovski stud earrings.
Emily Blunt's Sam Edelman Heels
Blunt's pink Michael Kors Collection gown fit right in at the 25th Screen Actors Guild Awards as the shade was a red carpet color trend. She wore her signature Sam Edelman heels, which she relies on for award shows and events.
Tracee Ellis Ross' From St Xavier Clutch
A clutch is key for formal events. Ross' purse from St Xavier is an affordable option that would work for any occasion, whether it be for a birthday party or wedding.
Awkwafina's Jenny Bird Earrings
Delicate gold hoop earrings elevate any outfit. Although her exact color is sold out, you can grab the silver version ahead.
Dua Lipa's Cowgrl Crochets Hat
If you're an avid fan of Lipa's style, you know she loves a crochet fashion moment. One of her favorite craftcore pieces is this patchwork hat from Cowgrl Crochets.
Elsa Hosk's Le Specs Sunglasses
Celebrities love Le Specs sunglasses and they're affordable, too. Hosk, in particular, gravitates towards the cat-eye style.
Reese Witherspoon's Birkenstocks
Celebrities love to style Birkenstocks in a variety of ways. In the summer, Witherspoon likes to pair her easy slip-ons with a gingham printed dress and green pullover.