These Are The Affordable Jewelry Brands Every Minimalist Should Have On Their Radar
Astrid & Miyu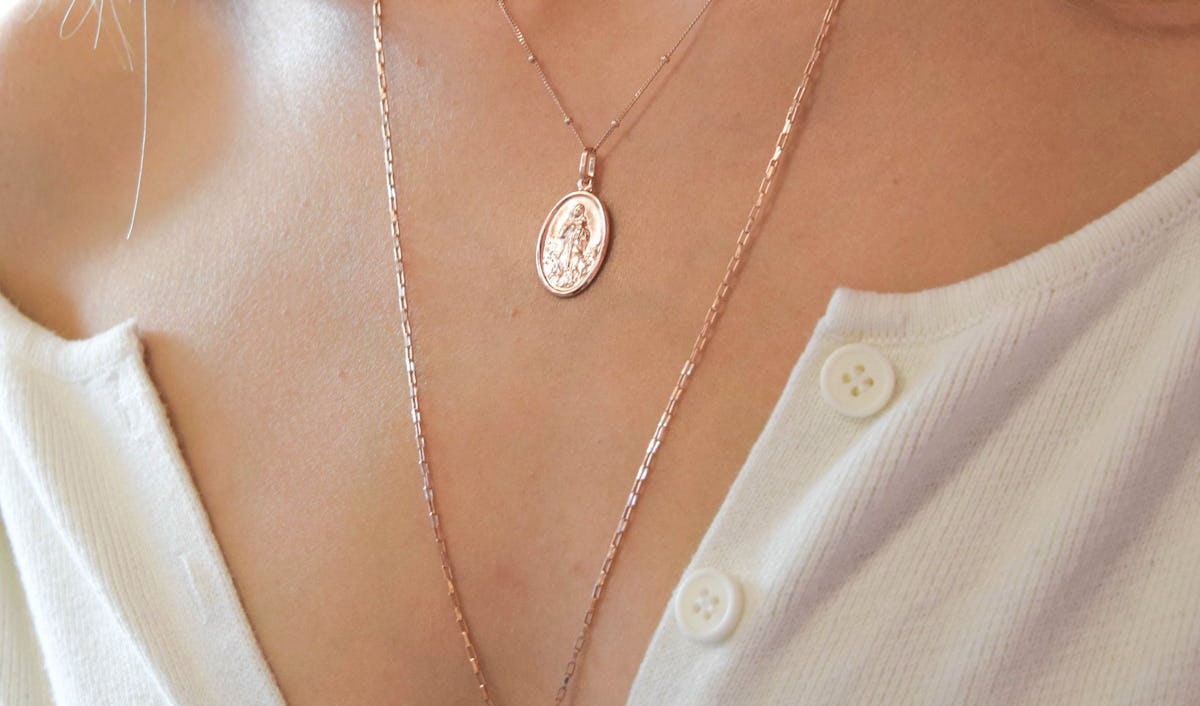 There's no shortage of minimalist jewelry brands these days. Thanks to the Instagrammable nature of pretty, simple pieces, a seemingly endless amount have popped up on the scene, each one more beautiful than the next and constantly tempting you to whip out your wallet to buy the latest pretty necklace or ring. The reality is, though, many of the brands aren't wallet-friendly, which is understandable — it's jewelry, after all, which is an art form in itself and often made by hand with expensive materials. However, though, there are a few affordable minimalist jewelry brands out there making styles that won't break the bank and will still look just as refined as the more pricey pieces. Even better, each of the brands are just as Instagram-friendly as the more expensive stuff.
Continue on to shop 8 brands serving up luxe-looking jewelry without the high price tag.
Gorjana
Love to layer? Take a peek at Gorjana's delicate necklaces. The simple designs are made to be worn together and won't put a big dent in your budget, with prices averaging around $65. As for your ears, fingers, and wrists? The brand has you covered there too with a range of timeless silhouettes that often have a feminine feel.
Astrid & Miyu
Astrid & Miyu's pieces manage to find the balance between being both dainty and eye-catching. If you're after sleek signet rings, easy-to-wear necklaces, and timeless hoops, you should bookmark the London-based jewelry brand STAT. And, while some styles can hit above the $100 mark, majority of the offerings fall well below.
Modern Citizen
You may have already visited Modern Citizen for its elevated and affordable clothing, but if you've never popped over to the jewelry selection, frankly, you've been missing out. The retailer delivers a diverse selection of unique pieces that though minimal, will still likely cause friends to ask, "where'd you find that?" And, once you answer, don't forget to mention how much you paid for it to really wow them.
Miranda Frye
While Miranda Frye does have styles that you could put in the statement-maker category, there are plenty of other pieces that maintain a more minimal vibe. Within the selection you'll find effortless pieces that provide that little extra something: think slender stacking rings with special details and delicate bracelets adorned with tiny pearls.
Above Average Studio
Turn to Above Average Studio for pieces that maintain a simple shape but bring the luster of pearl or the subtle color of a stone. Right now the selection of styles includes a collection of understated, chic pieces that you'll turn to time and time again. Scope out sets of swoon-worthy earrings and elegant pearl necklaces that'll undoubtable become mainstays in your jewelry box.
Bolino Jewellry
Bolino Jewellry offers a wide selection of styles to shop, however, within the mix are standout pieces that'll make a minimalist's heart skip a beat, especially once you set eyes on the astonishingly low prices. Currently, you can scoop up a sleek geometric ring and a pair of petite pearl danglers for under $100.
Somme Studio
Based in Melbourne, Australia, Somme Studio's pieces offer fresh shapes to clean silhouettes while other styles give off a vintage feel. No matter which item you select, you'll be getting a piece that you'll wear for years to come.
Jewels & Aces
Head over to Jewels & Aces when you're on the hunt for everyday, modern earrings. From hoops and studs to ear jackets, majority of the pieces available to shop right now are under $100. So, you might as well pick up a couple of pairs because these duos will have you covered from work-to-weekend.