Classic Beauty Looks Get The French Girl Treatment At Paris Fashion Week
The city has a certain je ne sais quoi.
Claudio Lavenia/Getty Images Entertainment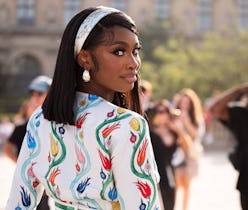 After a whirlwind few weeks, Paris Fashion Week has finally arrived. Each city brings its own personality and style to its respective schedule of shows, but Paris is always in a lane of its own. As the grand finale of the entire month, the city has some of the most highly-anticipated presentations and events. Along with the excitement over the runway fashions and covetable beauty trends, the scenes outside the shows are just as captivating. This season, the best PFW Spring/Summer 2024 street style beauty looks are embracing the quintessential elements of the city's stylish scene — and some entirely new ones.
The Parisian streets are chock-full of classic hairstyle inspiration year-round. However, during fashion week, attendees are putting a fresh twist on traditional looks. Copper hair colors, for example, are proving to be the new brunette — soft to vibrant shades alike are one of the top standout looks so far. Space buns and other Y2K hairstyles are also an unexpected but refreshing look sported by guests as they bop about the city.
But it wouldn't be PFW without some quintessential French beauty elements like stained lips, swingy blunt bobs, and inky wing eyeliner. The shows may be over, but the guests' looks are still serving major makeup and hair inspiration at every turn. Keep scrolling to see the best beauty street moments from PFW S/S '24.
Moody Makeup
Come fall, moody lip colors reign supreme. Though a few shades fit the bill, deep burgundies and dark wine tones, are at the top of the list. Perfectly lined and matte, this guest's vampy lipstick look adds an autumnal flair to their all-white outfit.
Contrary to popular belief, moody makeup can be achieved in a subtle fashion. This attendee sports a deep clay-colored lipstick and soft brown eye that make her minimalist look appear sultry and alluring. Paired with a not-so-simple LBD, it brings the drama in a low-key way.
Headbands
Sporty hair accessories, like this stretchy head wrap, make partaking in the athletic fashion trend a walk in the park. Keep the look grounded by choosing a soft black color, simple hairstyle, and classic ensemble.
Whether on the red carpet or on the screen, Ashley Park is no stranger to charming the cameras with her glamorous style. Spotted outside of Zimmermann's S/S 24 show, she tops her curled updo with a crystal-embellished headband for a prim, romantic look.
When in doubt, use a beautiful printed scarf to hold your hair back like Coco Jones. Simple and elegant, there's no way to fail with this look.
Electric Eyeshadow
This guest's electric blue eyeshadow makes a compelling case for bright pigmented hues during fall. Instead of a simplistic wash of color, the shade is used to create cool graphic lines that complement her playful look.
While neutral tones are the go-to choice this time of year, soft colorful eyeshadow shades have proven to be a popular choice this fashion month. If you're trying the trend for the first time, go for a matte color and a monochromatic outfit to really make your eyes pop.
Bold Nails
A rainbow set of nails instantly takes this guest's neutral look to a cheerful place. The idea is to go bold without going overboard. To do so, opt for a shorter length and natural nail shape.
Similar to a bright red lip, nails in the same hue add just the right amount of pop to any outfit. Thought the classic color will look great on any length, short nails have a classic look that's refreshing and stylish.
Red Lips
While there are many shades of lipstick that can elevate a simple outfit, few are more compelling than a bright cool-toned red. Even when paired with opulent accessories, as seen on this guest, the hue still stands out as the star of the look.
Nothing says power quite like a bold matte red lip. For an extra commanding effect, this guest wears a double-breasted ensemble in the same shade. The result is nothing less than stunning.
A lob and a red lip are a tried-and-true combo that never fails during PFW. With slightly ruffled hair and minimal makeup, the look exudes classic French girl style and turns more than a few heads, like this attendee outside of the Dior show.
Metallic Hair Accessories
Think of these metal hair clips as the sleek older sister to your basic bobby pins. They're designed to smooth down the hair and keep it secure but they also make a great accessory that combines function with style.
This guest demonstrates why basic barrettes truly are the ultimate standout hair accessory. Not only are they easy to find and use, they can quickly transform a hairstyle to create a one-of-a-kind look. Here, they're placed in a single file line along the hairline.
Graphic Eyeliner
With an inky black liner in the upper crease of the lid and fiery orange lipstick, this guest's makeup oozes main character energy. It's also the perfect fit for her cut-out mod dress in the same bold hue.
Graphic white eyeliner is an easy way to make a statement with your makeup. The trend may seem difficult to execute, but opting for a simple style using a crisp shade can make it much more wearable. This guest's take, for example, gives the classic cat eye a bold new look.
Simple winged eyeliner always results in a great makeup look. To up the ante, this guest sports a thick graphic shape that delivers a bold yet classic feel.
Classic Bangs
Talk about Parisian chic. This guest's soft brown hair and eyebrow-grazing fringe are the complete package. A natural nude lip and gold jewelry finish off the look, making it feel chic and uncomplicated.
Baby bangs are more wearable than you think. Just take a cue from this guest's hairstyle, which features a micro fringe and cool chin-length bob. Together, the look is as edgy as it is alluring.
Y2K Hairstyles
Of the many hairstyle trends the 2000s spawned, money piece highlights are one of the most unforgettable. When worn with other standout elements from the era, such as spikey buns and tube tops, the look feels nostalgic and cool.
Space buns and undercut hair colors might just be two of the most exciting trends from the early aughts. However, seen on the streets of Paris, this guest's hairstyle has a playful and edgy appeal.
Copper Penny Hair
Recently, copper has made waves as one of the most noteworthy fall hair colors. The hue ranges in tones, but a penny shade, such as this guest's, has a subtle softness that makes it easy to wear.
Much like a penny itself, this standout hair color has many variations. On the vibrant end of the spectrum sits this brilliant copper shade that's both bold and bright. While it may not be everyone's aesthetic, it is certainly one of the most alluring options.
Braided Ponytails
While Milan Fashion Week saw intricate and imaginative braided ponytail hairstyles, Paris stayed true to its classic nature with an array of simple but chic options. This guest's uncomplicated braided look is the ideal accessory no matter what the day brings.
If you want to make a statement with your braided ponytail, take a cue from this decorated look spotted on a guest in between shows. Adorned with pearl-like beads, similar to the viral raindrop braids, the ponytail is a vision of art. Even better? It's an easy way to update your style for a fresh new look.
There's more to this pony than meets the eye. Placed in the middle of the head, the flowing blonde braid is entwined with strands of leather that wind down to secure the loose ends. Paired with an embellished dress and silver drop earrings, it adds a cool, downtown vibe.
Slicked-Back Short Cuts
Short haircuts of any kind allow you to embrace the elements of your face. Add to that the precision of slicked-back hair and your best features are on full display. This unique style isn't about hiding or holding back. Instead, it gives the final look a commanding edge that's perfect for Fashion Week paparazzi.
Short haircuts are beloved for their ease of styling. Just a prominent, sharp side-part, as shown on Wallis Day at Dior, is all that's needed to make a statement.
Berry Stained Lips
Red may be the classic Parisian choice, but berry-bitten stains are just as becoming. Here, this attendee dons a ripe color that feels fresh and modern.
Coordinating your lipstick and your ensemble is a surefire way to turn heads, as this guest demonstrates. The perfect blend of plum and rich red, her lip look is just as glamorous and bold as her outfit.
Cornrows
Fulani cornrows have an artistic pattern that's rooted in the culture of the Fulani tribe. The detailed parts and design of the braids also allow for a range of different styles. This guest's mid-length look gives a regal vibe that's exceptionally fitting for her olive-colored gown.
This guest's traditional cornrows get a major upgrade with the distinct layers and clear glass beads. The sharp contrast of each length also proves to be the ideal pairing for her bleached denim coordinating set.
Blunt Bobs
True to form, bobs of all sorts are everywhere this PFW. This guest sports a chin-grazing blunt version that perfectly frames her face.
A soft, flowing bob is one of Aimee Song's many signature hairstyles. Falling just just above the shoulder the cut appears lightweight and allows for movement as she makes her way to a show.
White Nails
It may be September, but there are no vampy nail colors to be seen here. Instead, many guests were spotted with a crisp white polish. Unlike the deep shades of fall, it feels clean and surprisingly appropriate for the season.
Even against a bright red gown, these short white nails have a stunning effect. Much like nude polishes, this off-white shade adds a subtle pop to this guest's overall bold look.
Baby Bangs
Bangs are the ultimate hair accessory that can transform any style. Slightly cropped and lightly grazing the eyebrows, they add an edgy flair to this guest's tight ponytail.
Though curtain bangs are usually long, full of volume, and flowy, this guest makes a strong case for a micro version. With the same curtain-like shape, these baby bangs frame the face in a unique way and give subtle movement to her style.
Natural Curls
Long, natural curls offer an endless amount of styling options. But this voluminous look with face-framing fringe is a true show-stopper.
Embracing the natural shape of her curls, this attendee's voluminous style with a simple black blazer and white tulle skirt. Together, it exudes effortless French flair.
This article was originally published on