Dior's Spring 2024 Collection Will Bring Out Your Inner Gloomy Girl
She's still chic, though.
Pascal Le Segretain/Getty Images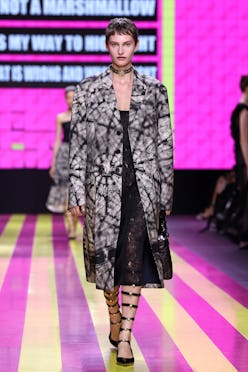 Maria Grazia Chiuri knows that Dior's runway shows are both an opportunity to showcase beautifully crafted clothes and serve as her platform for conveying important messages. Since her debut Spring/Summer 2017 collection, where the creative director released the iconic "We Should All Be Feminists" tees, women empowerment has been a reoccurring theme for the maison. Through her previous collections, she has honored revolutionary female figures like Mexican painter Frida Kahlo and Spanish flamenco dancer Carmen Amaya; she has also worked with artists like Claire Fontaine, who designed signs like "Patriarchy = Oppression," for Chiuri's Fall/Winter 2020 presentation. And this week at Dior's Spring/Summer 2024 show, the designer, once again, charged forward with her mission to explore the link between femininity and feminism.
This was the most apparent through her set decor at the Tuileries Garden. Chiuri tapped visual artist Elena Bellantoni to create a giant video installation for the show, titled "Not Her," which served as the backdrop on the pink and yellow striped runway. As models strutted down the catwalk in Dior's latest ready-to-wear, bygone sexist advertisements that read "Save your marriage, iron properly" flashed on the LED screens along with counter phrases from a feminist's point of view. The opposing copy read "Not Her" and "I am not only a mother, wife, daughter, I am a woman."
The flashing lights and images no doubt drew the audience's attention away from the actual clothes and accessories at times, though perhaps this was all part of Chiuri's plan. In the show notes she said the Spring 2024 collection starts "from a reflection on the meaning of the present. A present in which past and future must coexist simultaneously." One could interpret this to mean that while yes, everyone in the room was there to indulge in all the pretty garments, one also mustn't forget the social and political issues happening right outside of the fashion bubble.
Stephane Cardinale - Corbis/Corbis via Getty Images
For all the brightness of the decor, the ready-to-wear collection mainly stuck to a color palette consisting of black, white, and beige. The creative shared in a statement that she was inspired by rebellious, independent women, including witches, for the seasonal collection. "Witches [are] custodians of the knowledge of the mother-goddess, who pass on the science of plants and respect the time of nature," she said in the show notes.
How did this translate into fashion? One model wore an apron dress that depicted the movements of the sun along with various, indistinguishable images of medicinal herbs. Another person rocked a lace skirt with a similar sun pattern; not to mention, there were copious amounts of LBDs paired with chokers. These gothic looks coincidentally tapped into the gloomy girl fashion trend permeating through social media this fall. Additionally, the bright florals one may usually associate with Dior's romantic pieces were absent in this lineup, instead replaced by moody mille-fleurs that appeared on the tailored coats and poofy skirts. (We'll save you a Google search here: the French translates to "thousands of flowers" and is used to describe patterns or backgrounds of many tiny flowers or plants).
Pascal Le Segretain/Getty Images
Pascal Le Segretain/Getty Images
Giovanni Giannoni/WWD via Getty Images
As Chiuri typically does with her work, she blurred the lines between what is considered masculine and feminine silhouettes throughout the line-up. Lacy, doll-like dresses were paired with sturdy black combat boots while the button-down shirt was often subverted with a sultry, one-shoulder neckline. The designer also played with destruction by creating ruffled lightweight tops that appeared shredded or torn apart then pieced back together. This latter design also popped up on the Milan Fashion Week runways at labels like Ferragamo, Tod's, and Bottega Veneta, so prepare for that "something's off" aesthetic to hit your wardrobes in six months.
Ahead, take a closer look at how Chiuri incorporated her show's message into Dior's Spring 2024 collection.