These Short Nail Art Looks Will Convince You To Ditch Your Extensions
Whether you're a minimalist or maximalist.
@peachinails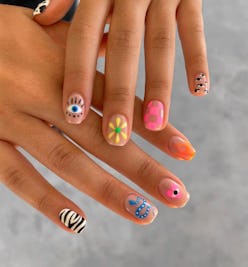 In terms of nail art, long nails continue to reign supreme thanks to a heavy endorsement from celebrities. From Hailey Bieber to Cardi B., the statement-making length is beloved because it allows for both bold and intricate nail designs. But the 'clean girl' aesthetic is bringing back the allure of short nails. Despite what you think about foregoing extensions, you actually will have enough real estate for a variety of nail art looks. Plus, since the length is low-maintenance, you'll spend time (and money) maintaining your manicure at the salon. So if you're in the mood to experiment with creative and artistic looks, the internet is teeming with short nail art ideas that show off your natural shape.
To set the record straight once and for all, natural nails offer just as good of a canvas as extensions. Whether you consider yourself a minimalist or lean into more extravagant nail art, there's a design that will suit your taste. Ahead, TZR gathered 10 of the best nail art ideas for short digits to inspire your next manicure.
Milk Nails With Delicate Florals
When it comes to nail art, floral designs are always a top option. The delicate look above, which features tiny daisies around the outer curve of the nail, is ideal for those who prefer a cleaner manicure style. When paired with the creamy milk bath trend as a base, the manicure becomes a minimalist's dream.
Rainbow Ombré
If you're looking for a fun way to play with color, this rainbow ombré look was made for you. At first glance the design may seem simple, but it's actually a work of art with each finger sporting two colors that are artfully blended to create an ombré effect.
Watermelon Nails
Watermelon nails are one of the summer's hottest nail art trends and the look is showing no signs of slowing down. Aside from its growing popularity, this design was made for shorter lengths, thanks to the natural top curve of the nail which is used to create the rind of the fruit.
Abstract Art
This design uses the nail as a canvas to create a look that is truly one of a kind. Here, the idea is to lean into creativity and play around with colors, brush strokes, and even flecks of gold leaf or foil. There's no wrong way to achieve the design and each individual nail is made to be different.
Polka Dots
Traditional black and white polka dots are a great option for all-over nail art. But if you're feeling extra bold, this whimsical goldfish design is fun twist on the simple dotted look. Created with varying shades of blue, the dots become an artistic base for a school of goldfish that are scattered about the nails.
Negative Space Neons
Yes, bright colors scream summer, but you don't have to go full neon to embrace the vibrant shades. Instead, opt for a negative space design that features several hues. On short nails with a nude base, this simple design feels artistic and right on time for warm weather activities.
Grape Jelly Gradient
Jelly polishes are the perfect pairing for short nails because they add a subtle yet fun effect. This season, get creative and blend berry-toned polishes for a look that is juicy and alluring. Whether you choose to go bold with slivers of silver on top or keep things simple with the gradient effect, this design is a nice way to shake up your manicure routine.
Reverse French Manicure
Despite its minimal design, a French manicure can take on a bold look with long white tips. But when done on short nails, the design has more of a natural appearance that feels effortless and inherently French. If you're looking to spice up the original design, try a reverse version that highlights the inner curve of the nail. For this take, be sure to select polishes that have a natural feel like nude instead of pink for the base and a clean white to top (er, bottom) things off.
Chrome Accents
Chrome accents feel particularly artistic on nails because they're usually hand-painted. To really make the look pop, pair your chrome design with a metallic polish for a complete show-stopping manicure.
Stamped Hearts
Looking for a manicure that's simple but still enticing? Why not try a stamped nail art look like this heart design. The beauty of this look is that it can be done with a range of accents like flowers, smiley faces, clouds, and more. What's better, it can also easily be recreated with stickers and art decals.