The Double-Braided Ponytail Trend Will Get You Out Of Your Style Slump
Christian Vierig/Getty Images Entertainment/Getty Images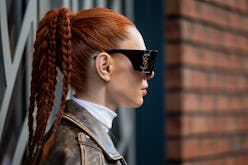 Ponytails exemplify ease. Not only are they the key to creating an effortless style with week-old hair, but they're quick to do and will always be on trend. Though a simple version is tried and true, it's nice to spice things up every now and then — and for that, the internet never disappoints in delivering some fresh inspiration. The latest to come to light is the double-braided ponytail. A twist on the classic, it features two plaits that extend from the pony for a look that's every bit as edgy as it is elegant. Though the style has picked up steam on TikTok and Instagram, true beauty fans will know it took center stage when the ultimate icon, Rihanna wore it for her 2023 Super Bowl halftime show performance.
Recently, the style has been embraced by stylists all around the country, who've put their own stamp on the trend. Even better? A number of celebrities have given the look their seal of approval, including Barbie star Issa Rae. But if that's not enough to get you excited to give this hairstyle a try, maybe the curated collection below will do the trick. Ahead, 11 ultra-chic ways to wear the double-braided ponytail. Whether you opt for an extra-long version or multi-braids, this is one trend you're definitely going to want to test drive.
Copper-Colored
So you've taken the plunge and gone all-in with a copper hair color. Now get ready to show off your new look with a sleek high ponytail. To put the focus fully on the braids, add a tiny baby part in the middle of the crown that will draw the eye upward and elongate the face.
Extra Long With Baby Hair
In general, braided ponytails are adored because they're simple and effortless. But for special occasions or a girls' night out, it's fun to play around with extreme lengths using extensions. For the ultimate polished style, slick down the baby hairs around the face to frame it and leave a few curls loose in the back.
Zig-Zag Middle Part
There's no denying the timeless appeal of a middle part, but sometimes it's nice to shake things up just a bit. That's where a fun part comes into play. Instead of a simple straight partition, try using a zig-zag pattern to give your style some edge.
Mixed Textures
You know you're headed in the right direction when you show up at the salon with a Rihanna look as the reference material. During one of the most televised performances of the year, the beauty mogul and artist took to the stage sporting a flowing ponytail with braids floating throughout it. Fast forward to mid-summer and it's no wonder the trend is still going strong.
Jumbo Low Ponytail
While most takes on this trend feature medium braids that taper off at the end, a jumbo style can be just as interesting. However there is one catch when it comes to wearing larger braids, and that is positioning them. Due to their size, it's best to place the ponytail at the nape of the neck to keep the style from looking too weighed down.
Side-Swooped Bang
When it comes to slicked-back hairstyles, a side-swooped bang is just as iconic and easy to achieve as a middle part. It works well with low buns and ponytails, but is really complementary when paired with the double-braided style because it brings symmetry to the look. Instead of relying on one long rope of hair that's swept over the shoulder opposite to the bang, you can split your pony and create the illusion of two sleek pigtails.
Curly Ends
Whether your style is fresh or a few weeks old, curls can be just the thing you need to zhuzh it up and give you a statement-making look. Unraveling the braids at the end will add some nice texture, but will need extra attention to ensure the hair doesn't tangle. To keep the curls looking fresh, try wrapping them with rods and a dollop of curl cream before heading to bed.
Shoulder Length
Don't let length keep you from test-driving this trend. A medium-length style, as sported by Millie Bobby Brown, is a perfect way to give your go-to ponytail an edgy street feel.
Multi-Braids & High Ponies
Why stop with just two braids? This high pony features four and is just as glorious as the double versions. Plus you can also wrap the braids around the root to create a regal top knot bun.
Intricately Twisted
Kerry Washington and celebrity hairstylist Kim Kimble can do no wrong, and this braided ponytail proves it. In the style, individual plaits come together for a delicate look that's completed with inches of free-flowing hair.
Double Side Parts
Changing up your part is a quick way to make this trend your own. If you're looking for a unique variation from the standard middle or side options, give this double-side part a try. Not only will it highlight your sleek edges, but it's sure to be a one-of-a-kind style wherever you go.