10 Cozy Fall Nail Polish Colors To Try Now
Ditch your over-worn shades.
@disseynails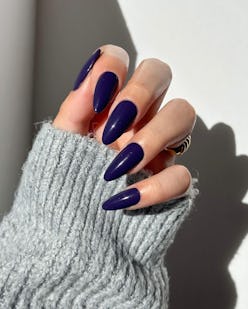 We may receive a portion of sales if you purchase a product through a link in this article.
Join TZR editors for Main Squeeze, the series dedicated to sharing beloved beauty products — be they bold, effective, or simply fun — that make our week just a little bit better. Ahead, Team TZR spotlights their favorite fall nail colors of the moment.
It's hard to say goodbye to summer, but the excitement for fall makes it a little easier. Though the season doesn't officially begin until the back end of September, the first few weeks of the month bring the first taste of autumn. Sure, the weather may still be warm, and yes, you're probably wearing sandals a few days a week, but with pumpkin spice drinks and cozy sweaters in stores, the feeling of fall is in the air. Perhaps the easiest way to lean into the season is with a fresh manicure. Unlike spring's floral-inspired colors and the neon bright shades of summer, the best fall nail polish colors celebrate the hues of the months to come. Think rich earth tones, like burnt sienna and clay, or dark jewel colors, like deep ruby and navy.
Like many of the season's beauty trends, this fall's top nail colors have something for everyone — whether you prefer an understated nude manicure or a vampy wine-toned one. While options are never a bad thing when it comes to nail polish colors, it makes it difficult to try a new one. When you do find some you like, it's easy to stick to what you know. But if you're looking for a refreshing way to take on the season, this collection of colors from TZR editors will help narrow down your choices.
"As my summer tan fades and I get in the mood for warm colors, I gravitate towards nail shades that complement my autumnal outfit choices like this semi-sheer, pinky terracotta shade. Instead of classic nudes, I like to opt for neutrals that have deeper undertones."— Kathy Lee, editor in chief , TZR
"I was really into the sage green nail trend a while back, and this moss-colored shade is giving me those same vibes. It's earthy with subtle olive undertones that feel organic and unpredictable. Though it doesn't yield a super glossy finish, I like how natural the shade looks against my skin, and how well it complements the hues of the season." — Jessica Fields, beauty writer, TZR
"The next time I go in for my mani and pedi appointment (I leave this job to the professionals as I don't have a steady hand) I'm definitely asking for a deep red or brown color. I like to wear moodier shades come fall/winter, so when I see the hue painted on, I instantly get those cozy sweater/apple cider vibes. There's a great nail salon near my workplace called Sundays Studio, so I'm eyeing this shade from them for my next visit."— Marina Liao, senior fashion news editor, TZR
"I typically stick to shades of red or black for my fall manicures, but I'm hopping on the milk chocolate nails trend as a result of my TikTok and Instagram feeds. This Chanel shade caught my eye because it's not too dark – the perfect color for fall's transitional weather." — Erin Lukas, deputy beauty editor, TZR
"Color me predictable, but I'm strictly a burgundy pedi, pinky-beige mani kind of girl. This season, though, I've been convinced to slightly switch things up with this lovely terracotta shade (it's giving fall foliage!) — it's an excellent complement to a warm cocoa or creamy tan."— Alison Syrett, deputy fashion editor, TZR
"Early fall is when I start transitioning to more decadent shades of red. The first color of the season for me is always the OPI classic Malaga Wine — I've been using it for years. It's a beautiful, autumnal red that sets the tone for the season ahead, before moving on to deeper and darker tones in the colder months."— Rebecca Iloulian, director, newsletter revenue and marketing
"Post Labor Day, I lean all the way into traditional fall vibes, starting with this rusty orange shade that reminds me of seasonal foliage. I love the semi-shine finish that makes for a super glam mani. I can't wait for my next nail appointment!" — Angela Melero, executive editor, TZR
"TBH, I rarely paint my nails (I'm more of a makeup and skin care gal!). But, if I have a special occasion on the calendar, like my friend's wedding in a few weeks, I'll typically reach for a fun, bright color. This punchy coral shade will look so chic with the citrusy yellow slip dress I'm wearing to the ceremony." — Kelsey Stewart, associate fashion editor, TZR
"Come fall, I'm all about channeling the changing foliage with warm, cozy colors found in nature. This Ten Over Ten shade, somewhere between an earthy red and a toasty brown, feels perfectly autumnal but still bright enough to act as a little mood-booster. As a bonus, the super-glossy finish makes even my DIY manicures feel salon-level." — Amanda Ross, beauty editor, TZR
"In lieu of summer whites, I'm embracing this creamy opaque shade. Somewhere between greige and nude, it feels fresh without the starkness of a crisp white or washed-out beige. The formula is also incredibly nourishing and even includes rosehip oil to ensure that my nails stay healthy underneath the polish." — Fields