The Beauty Looks At Milan Fashion Week Are Giving Italian Romance Vibes
Edward Berthelot/Getty Images Entertainment/Getty Images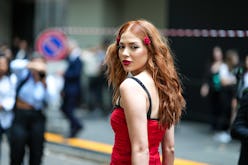 September is one of the busiest times of the year for the fashion industry. Filled with glamorous runway shows and a range of spectacular after-parties and events, the month is a whirlwind of jaw-dropping sartorial moments — and smack-dab in the middle of the chaos is Milan Fashion Week. Year after year, the city seizes the world's attention with its top-tier designer shows and stunning hair and makeup looks. But off the runway, the streets are also brimming with inspiration. This season, the Milan Fashion Week Spring/Summer 2024 street style beauty looks embody the city's vivacious energy and flawless sense of style.
Yes, in true Milanese fashion, the attendees are showing up and showing out. Chic hair and bold lips are often standout beauty moments at MFW, and this season isn't any different. Cameras are capturing slicked-back buns and vibrant hair colors as guests make their way from one fashion show to the next, along with accessories of all sorts, including bows, ribbons, and headbands. On the makeup front, striking color choices across the spectrum have been front and center, like barely-there nude lipsticks and retro pops of blue eyeshadow.
Ahead, the best beauty street style looks from Milan Fashion Week S/S '24.
Blunt Bangs
Curtain, micro-sized, piecey — bangs have the ability to transform a simple hairstyle into a look that's high fashion. Take this blunt-cut version seen on a guest outside of the Bally show. Bangs add shape and instant allure to her simple, mid-length shag.
Though often paired with longer styles, blunt bangs have a way of bringing sophistication to shorter hair. Pixies, for example, are forever timeless. But with the addition of a full bang, the edgy cut looks soft and subdued.
Combining several street style trends into one is never a bad idea. Here, these guests sport punky technicolor bobs with blunt bangs as they make their way from one show to the next.
Hair Bows & Clips
Bows and ribbons have resurfaced as one of the top beauty trends of the season. From the NYFW runways to the many celebrities seen sporting them, there are endless ways to wear the look. For a stylish grown-up approach, opt for a simple black ribbon and a large bow with trailing tails.
You can never go wrong with roses in your hair — especially while wearing a matching red dress and stunning cherry lip. If you've been loving the rosette trend from the runways, this is how to pull off the beauty version.
Delicate black micro-bows prove to be the ultimate hair accessory to this guest's space buns. If you've been searching for an interesting way to wear the trend, try placing them along the outside of your favorite tied-back hairstyle.
Icy Blonde Hair
As the unofficial start of fall, fashion month is the best time to debut a new seasonal hair color. While rich butter shades were the popular blonde choices of spring and summer, autumn is all about embracing cool-toned, icier versions.
Blonde has a diverse spectrum of colors, including washed-out shades that can have a snowy appearance. This guest fully embraces the light-toned hue by pairing her beauty look with a complementing all-black ensemble.
Micro-Braids
Boho styles have all but taken over summer, but this guest proves the look is just as fitting for fall. Pulled up into a topknot with loose tendrils and free-flowing ends, these jet-black braids exude dark romance — especially worn with a black rose choker.
The beauty of different braided hairstyles is that they can be combined to create an entirely new look, too. In between her knotless boho braids, this guest has several micro-braids strewn throughout that help make the final look appear fuller and edgier.
Purple Lipstick
Vampy lip colors are one of the fall makeup trends beauty enthusiasts look forward to season after season. However, this guest's eggplant shade feels exceptionally timely and unique against her porcelain skin.‌
This deep plum lip is anything but basic thanks to subtle brown undertones and a natural satin finish. If you're new to wearing moodier lipstick shades, try pairing them with simple eye makeup to allow the color to be the focus of your look.
Braided Ponytails‌
This MFW attendee creates a show-stopping look with an interesting take on a low, braided ponytail. With the hair tightly pulled back into a loop, two silver rings hold an extra-long braid that sweeps the bottom of that robin's egg blue coat.
Braided ponytails are meant to be whimsical and fun, as this guest proves outside of the Tod's show. Along with the high ponytail that trails over the shoulder, two micro-twists entwine with contrasting strands of white hair.
Worn over the shoulder, a low braided ponytail has a completely different effect. Despite being paired with a classic middle part, this guest's simple hairstyle feels fresh thanks to a single loose curl at the temple.
Chunky Headbands
Headbands of all sorts were alive and well on the streets of MFW. But these aren't prim ones from your high school days. Instead of keeping the hair off the forehead, these bands act as an accessory, instantly injecting a dose of style to a simple hair look.
Perhaps one of the chicest ways to wear a headband is to simply pair it with a low ponytail. This guest demonstrates how transforming the hair accessory can be when used as the focal point of the hairstyle.
Sleek Side Parts
The Milanese fashion set knows the power of a good slicked-back hairstyle. Elegant and modern, the classic look is forever timeless, especially when paired with a neat side part. The best part of this style is that it can easily be worn with any hair length.
Whether pulled back into a low bun or ponytail, the side-part makes a cool addition to an otherwise simple look. But the stray, slicked-down curl of this guest's style is an example of how to amp up the edge.
With the hair styled in a sleek, long braided ponytail, the side part gets a new life.
Nude Lips
Red lips are great, but nude shades make a statement all their own. This guest's creamy flesh-toned lipstick is the ideal finish for her breezy monochromatic ensemble.
Peachy nudes can be hard to master, but when done right the result is stunning. Here, one guest shows how whimsical the shade can be with a matte finish.
Variation is the name of the game when it comes to donning a nude lip. By blending a natural lipstick shade with a deeper brown one, as shown on the guest above, the look is balanced and beautiful. The muted color also allows her feathery halter mini dress to be the star.
Slicked-Back Tight Buns
Looking for a new way to wear the classic bun? Why not take a cue from this guest's look, which features the hair pulled back in delicate layers. The result is an interesting yet beautiful twist on the traditional hairstyle.
If you're going with the no-pants option, a soft turtleneck and side bun are a good idea. Together, the look is casual without being overdone.
An Olivia Palermo fashion week look never disappoints. Seen outside of Alberta Ferretti, the star sported a cool half-up, half-down hairstyle complete with a baby bun.
Blue Eyeshadow
A splash of colorful eyeshadow is all that's needed to accentuate a simple makeup look. This guest's take features a concentrated amount of bright blue on the inner and outer corners of the eye for a playful yet fashionable vibe.
To really make the color pop, this guest paired her powder-blue eyeshadow with a set of thick, fluttery false lashes. Worn on both the top and lower lash line, they act more as a bold accessory and perfectly complete her fanciful makeup look.
Technicolor Hair
Fashion week always brings a rainbow of hair colors including a spectrum of pinks. The delicate blend of the hue in this guest's hair ranges from bubblegum to pastel shades and even strands of strawberry blonde for a final look that's completely wearable.
Fashion week always brings out the coolest hair colors. While the streets of Milan are known for gorgeous brunettes and softer shades, this guest's ice-blonde hair with electric blue tips is a refreshing change of pace.
Fiery orange hair is the best way to go bold. Add in natural curls with lots of volume and you've got one magnificent look.
This article was originally published on