6 Medium-Length Protective Styles To Try When Long Hair Isn't Your Thing
@tupo1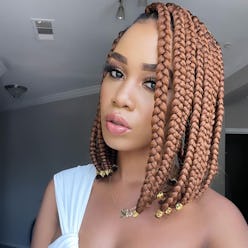 For naturals, summer is the ideal time to step away from hot tools and embrace styles, such as braids, that keep hair tucked away. And while waist-skimming versions can be enticing, their extreme length isn't for everyone. Take it from someone who knows first hand, a medium-length protective hairstyle can be oh-so versatile and flattering for a range of face shapes. Whether resting on the collarbone or falling below the shoulders, this not-too-short, not-too-long look is ideal when you're seeking a break from everyday styling but still want some length and versatility. Take, for instance, the long bob (also known as the lob), which has remained a go-to haircut for years for exactly this reason — it perfectly frames the face while also highlighting your décolletage.
"These medium-length styles are particularly handy when dealing with the long, hot days of seasons with warm weather," says Jess Rutana, celebrity braider and founder of luxury braid boutique Zuri Hair Studio. A shorter length can mean less day-to-day maintenance, which is ideal when sticky humid temperatures threaten frizz by the minute. But perhaps one of the best reasons to opt for a shoulder-grazing protective hairstyle is the time you'll save from having it installed.
Ahead TZR spoke with two stylists for insight on the top medium-length protective options to try this season. Read on —there's a ton of inspiration for your next look below.
Middle Part With Beads
Middle parts bring symmetry to a hairstyle and have a classic appeal that's hard not to love. Many people tend to wear long braids cascading over one side. But, when ending slightly past the shoulder, this chic length is perfect for a middle part look. This otherwise simple style presents a great opportunity for adding accents like beads, which can be too heavy on longer hair.
Butterfly Locs
Butterfly locs give the appearance of curls freshly loosened from a twist-out – without the added work. With the medium length and texture, the final look has a touch of volume and feels more natural. To properly your strands before your appointment, Rutana strongly recommends getting a hair treatment a week prior to your install. "If you're completely heat-free, we suggest just twisting the night before to keep the hair from tangling after washing," she says.
Asymmetrical Long Bob
From TikTok to Instagram, boho braids have been trending everywhere for spring, and you better believe the breezy look is sticking around for summer. If you're not into long hair, you can still try the technique with an asymmetrical long bob. To keep the curls intact, Atlanta-based hair artist and educator Pearl Ransome recommends using a foam at least twice a week either in the morning or just before bed. "The idea is to keep the hair hydrated in order to prevent the braids from tangling and make sure they stay fresh," she says.
Showering with curls can also be tricky, but Ransome has a foolproof method for maintaining frizz-free curls. "First put your braids up in a pineapple-like style, then cover with a silk scarf, tied in the front, and finally cover with a bonnet," she says.
Knotless Bantu Braids
Unlike, boho or small braids, thicker knotless braids allow for versatility when it comes to securing the ends. "Bantu knots are becoming a popular way to seal larger braids that have the width to uphold them," says Ransome. But contrary to their sturdy appearance, the knotted ends are easy to maneuver and give simple hairstyles like ponytails an edgy look. "This type of closure is actually perfect for a medium-length style that are meant to hit at, or just below, the shoulder," she says.
Passion Twists
Before the dainty mini styles were popular, passion twists were a favorable protective style that offered volume and a unique look. In a similar fashion to box braids, these rope-like twists can quickly provide versatility like the chic yet casual half-up half-down hairstyle. The medium-length look can also last just as long (up to eight weeks) with the right type of upkeep. "A good leave-in conditioner and water in a spray bottle will always come in handy," says Rutana.
Cornrows With Bantu Knots
If you simply can't do length of any kind, cornrows are one of the best options and can be just as versatile as single braids. It's also an excellent way to let your strands breathe a bit from being tightly tucked away. "Protective styles are great, but if you're not giving your hair a break from being compressed, and properly caring for it with deep conditioning treatments and regular trims, it can be just as damaging," says Ransome. A style with large cornrows, like the one above, puts little tension at the root of the hair and yields fewer braids that are less compact. In that vein, she suggests beginning each long-term style with a light snip to remove dead ends and ensure the protective period is healthy.