Break Out Of Your Rut With These 10 Stylish Hair Accessories
@emijayinc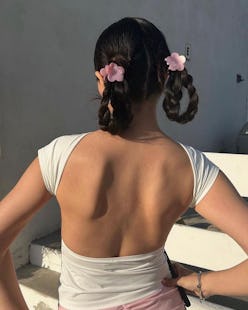 We may receive a portion of sales if you purchase a product through a link in this article.
Join TZR editors for Main Squeeze, the series dedicated to sharing beloved beauty products — be they bold, effective, or simply fun — that make our week just a little bit better. Ahead, Team TZR spotlights their favorite hair accessories of the moment.
At some point, everyone falls into a hair rut. Whether it's wearing the same slicked-back bun for two weeks straight or never veering from your trusted middle part. In those moments, you might have an impulse to undergo a dramatic transformation, such as a bold new hair color or a jaw-dropping cut. But once you've cleared your head a bit, you might find that adding a chic adornment to your typical looks is just the change you've been searching for. From nostalgic options like claw clips and scrunchies to romantic bows and ribbons, the best hair accessories can bring new life to your current go-to hairstyles.
But perhaps the biggest draw of building a hair accessory collection is their ability to turn a week-old blowout into a new hairdo in a snap. Sturdy clips and barrettes are great for tying hair back and adding an artful feeling to your style, while scrunchies are a must for securing ponytails and buns without the risk of breakage.
Ahead, TZR editors gathered the hair accessories they turn to to spice up their looks. Whether you're in the market for a show-stopping piece for a special occasion or a soft wrap to live in for the summer, there's an option for everyone.
"When the temperatures go up, so does my hair! I need a big, comfortable claw clip to keep my long, unruly hair off my back during hot, sticky days, and this Emi Jay pick will be my summer go-to. It's big enough to hold all my hair up in a twist, yet isn't too big that it couldn't still be used for a half up-half down look. I love the bright tangerine hue for a little summer fun!" — Rebecca Iloulian, director, newsletter revenue and marketing, BDG
"I am all aboard the hair bow and ribbon trend, and even more so when they're attached to easy-to-use scrunchies. This patterned Loeffler Randall pair adds some sweet, retro dimension to summer outfits, but the textured, fabric-covered elastic makes throwing your hair up into a ribbon-accented ponytail incredibly simple. They make me feel so wholesome, like I'm ready for a picnic or some good ol' fashioned field frolicking." — Amanda Ross, beauty editor, TZR
"I'm full on leaning into a '60s Ibiza vibe this summer with crochet swimsuits, loose linen pants, and this ethereal beaded hair tie. I love the texture play between the ribbon, alpaca yarn, beads, and crystals in various shades of cream. I'll tie it around a low ponytail and let the strands hang freely in an undone way."— Kathy Lee, editor-in-chief, TZR
"Since scrunchies regained relevancy a few years ago, I've amassed quite the collection of them. While a black silk version of the hair accessory will always be my default, I reach for my Good Squish ones whenever I want to make a statement with my buns or ponytails. The UK-based brand makes their scrunchies with various deadstock fabrics, including white cotton and lace. I love how this jumbo one looks like I'm wearing one of my grandma's doilies in my hair, and the striking contrast it creates with my deep brunette strands."— Erin Lukas, deputy beauty editor, TZR
"I almost always wear a hair accessory to add flair to my looks. I have a few heart clips from Alison Lou lying around in my apartment, and I'm constantly reaching for the glossy piece. Nine times out of ten, I'll leave my hair down and pull the front strands back with the accent." — Kelsey Stewart, associate fashion editor, TZR
"Once the temperature in New York City hits around 90 degrees, I don't leave my apartment with my hair down. For that reason, every summer I find myself looking for ways to spice up my slicked-back buns. This rose hair tie from Sandy Liang is the perfect way to subtly channel the rosette trend, and will make all of my summer updos look so much cuter."— Maggie Haddad, senior social media strategist, TZR
"Since I got engaged, I've been thinking a lot about my future bridal looks, including what my headpiece would look like. I don't think I'll wear a veil for my courthouse wedding in October — it feels too formal and traditional for me — so I'm looking at various headbands like this one from Jennifer Behr, along with the brand's romantic tiaras. As I write this, I feel like I might just need to take the plunge and it to my cart!"—Marina Liao, senior fashion news editor, TZR
"Lately, I've been gravitating towards a very early aughts look that includes a slick, slightly flipped-out bob, parted down the middle. I'll usually pin down the front side pieces of my hair with fun little barrettes for a playful finish, so you can imagine the collection I've accumulated to keep my go-to 'do fun and fresh. This dainty, pearlescent pair from Emi Jay is so sweet and plays off the mermaidcore trend running rampant at the moment without going into 'cheesy' territory." — Angela Melero, executive editor, TZR
"Something about adding a soft, stretchy headband to any outfit instantly makes me feel like I'm Brigitte Bardot vacationing in the south of France. I got so many compliments when I pulled my hair back with a sleek black headband on a recent trip to Europe — and I've continued to wear it now that I'm back in NYC to continue my breezy vacation vibes (even if just in my head). This Free People version is wide, stretchy and instantly pulls together any look."— Faith Xue, executive beauty director, lifestyle
"Whenever I curl my hair, I turn to a classic claw clip to create a hairstyle that is easy and tension-free. I love the nostalgic look, but my hair is thick, and finding a cute one that holds all of my hair and doesn't strain or snap under pressure can be a challenge. At least, that was the case before I found Nolita's Mega Claw Clip. It features a wide grip that keeps my strands secured and I love the contemporary bubbles that give the tortoise shell print a playful vibe." — Jessica Fields, beauty writer, TZR