Raindrop Braids Might Just Be The Dreamiest Summer Style Yet
Swoon-worthy looks ahead.
@chrissyssalonspa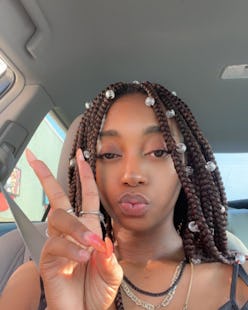 Despite the longstanding history of braids and protective styles, TikTok has become the go-to place for naturals on the hunt for new looks. This comes with little surprise as the platform has transformed the way trends — especially within the beauty space — arise. But when it comes to braids, the app has been a gold mine for artistic designs and options that breathe new life into the classic style. Raindrop braids are the latest trend that has surfaced and is quickly gaining steam among minimalists and maximalists for their versatility. First created by Maryland-based stylist Bethany Nche, the style is characterized by translucent beads which are woven into the individual braids, creating an allusion of falling raindrops.
Gaining popularity just in time for summer, the "raindrops" add a reflective appeal when caught by the sunlight and give traditional knotless braids a fresh feeling. The original look was made with clear beads, but just as the trend has grown online so have the creative takes on it. In fact, there are a number of ways to make raindrop braids your own and show off your personality. Ahead, the very best raindrop hairstyles the internet has delivered to inspire your own styles.
Boho Braids & Micro Beads
So, you're not ready for a fully beaded look, but you're still interested in spicing up your braids. If you happen to fall into this category, a raindrop style made with tiny glass beads might be just the solution. Unlike larger beads, micro-sized options can create a subtle glittering effect that adds a bit of enchantment – especially when paired with floaty boho braids.
Shades Of Pink
Whether in fashion or beauty, a gradient effect is always chic and elevated. Though this tonal style can be done with any hue, the assortment of pinks and purples feels timely with the anticipated debut of this summer's Barbie film. The key to really making this look stand out is utilizing beads of the same size and scattering the colors throughout the braids as though they'd been randomly placed.
Space Buns
You may think that styling braids with beads strewn throughout would be difficult. But there are a number of classic looks, such as this half-up, half-down look with space buns, that are easy to achieve at home.
Carmel & Medium Beads
Translucent beads pop nicely against carmel-colored hair, but to really emphasize your raindrops, try using beads that are slightly larger than the width of the braids.
Beaded Ends
One easy way to change up your knotless braids is selecting a unique closure for their ends. While often sealed with hot water or rubber bands, beads are also an excellent — not to mention stylish — way to keep the braids from unraveling. As an added bonus: it makes this raindrop style feel organic as the beads flow from the roots to the tip of the braids.
Blue Accents
For a monochromatic appeal, try placing a few braids with colored hair woven into them amongst ones adorned with opaque blue beads. The style may look simple from a far, but is sure to be admired for the subtle artistic touch these elements bring.
A Chic Middle Part
Just as the case with red lips and cat eyes, a chic middle part hairstyle with layers will never go out of style. In that vein, it's also the perfect style to experiment with. If you're most drawn to classic looks, try dabbling in a few beads to your braids to give them a modern appeal.
Colorful Jumbo Braids
Jumbo braids in watercolor hues are a statement style all their own. But with the addition of clear glass beads sewn throughout, the look becomes even more alluring.
Rainbow Beads
Although the raindrop style generally uses translucent beads, mixing in opaque versions in vibrant colors like pink, baby blue, and yellow have a distinct Y2K feel. For a style like this, you'll want to ensure that a few clear options are placed throughout the braids to keep overall look light and airy.
Jumbo Beads
For the complete maximalist, jumbo round beads bring the raindrop effect into a new dimension. However, it's good to keep the look balanced so it doesn't read too heavy. If you're opting for larger beads, be sure to keep your braids on the shorter side to really show off the raindrop aesthetic.