Colorful Eyeshadow Is The MVP Of My Summer Makeup Routine
@erinlukas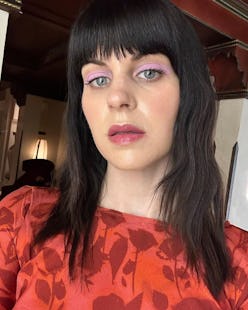 We may receive a portion of sales if you purchase a product through a link in this article.
As I approach my nine-year anniversary of moving to New York, I realize I've fully adopted the lifestyle associated with those who call the city home. My coffee? The stronger the better. My leisurely walking pace? Just slightly short of a jog. My wardrobe? Eighty percent black, 15% gray and white, and 5% statement pieces. While my outfits typically lean neutral year-round save for special occasions, I like to fully lean into bright, hazy summer days with my makeup routine, specifically with colorful eyeshadows.
After months of bundling up to walk to and from the subway to get to work and shlepping groceries in subzero temperatures, everyone in New York is outside enjoying the extra hours of light with picnics in one of the parks or happy hour drinks on a patio. The energy in the air of the city come summer is inescapable, so much so that I dust off the bright eyeshadow products I simply had to have when they launched, but have yet to fully play with. And while I'm into eye makeup looks that match my sunny disposition, I'm still a New Yorker, which means time is of the essence. I gravitate towards user-friendly products that are quick and easy to to apply and unfussy.
So if you're like me and looking to embrace color in your summer makeup repertoire, I've complied my favorite bright eyeshadows and tools to help you get started.