Sherbet Eyeshadow Is Actually A Groundbreaking Way To Wear Pastels For Spring
Inspo straight from Milan Fashion Week.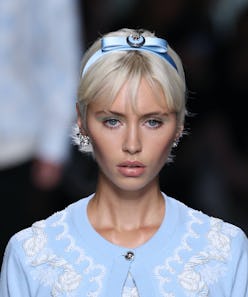 Like clockwork, once the first day of spring rolls around vampy burgundy nail polish gets swapped for soft pastel shades and bold liquid lipstick is set aside for glossy tints. You typically make a similar switch-up with your eye makeup, too. Suddenly, charcoal smoky eyes and Sharpie-like cat eyes are too dark and dreary, so you look to light shimmery shades that match your newfound sunny disposition as the days get brighter and more cheerful. While subtle, neutral eye makeup will never go out of style, the sherbet eyeshadow looks from the Milan Fashion Week Spring/Summer 2024 shows are an inspiring way to embrace the season's classic pastel color palette beyond your manicures.
Wearing bold color on your eyes can be intimidating, but as the lead runway makeup artists demonstrate, gentle, muted pastels are shockingly wearable. The trick is adding pops of these shades onto your eyes rather than coating your entire eyelids. A few examples? The seafoam green halo Dame Pat McGrath added just above the crease of the models' eyes at Versace. On the flip side, Maryling highlighted the inner corner of the eyes with a swipe of tangerine shadow.
For a full rundown on the trend, TZR has compiled all of the delightful takes on sherbet eyeshadow seen on the MFW runways.
Versace
Victor VIRGILE/Gamma-Rapho/Getty Images
Victor VIRGILE/Gamma-Rapho/Getty Images
Versace's S/S '24 Ready-to-Wear show pulled inspiration from its iconic S/S '95 Atelier Versace collection, but there's also overt references to the '60s, from the silhouettes of the mini dresses to the models' hair and makeup. Leaning into the sorbet color palette of the clothing, makeup artist Dame Pat McGrath added swipes of matte seafoam green or coral just above the crease of the eyelids. Others had doe-eyed Twiggy-esque lower lashes.
Prada
Victor VIRGILE/Gamma-Rapho/Getty Images
Victor VIRGILE/Gamma-Rapho/Getty Images
Prada's S/S '23 show not only demonstrated how creamsicle orange eyeshadow can be wearable, it also provided a sneak preview of the brand's revamped cosmetics and skin care line hitting the U.S. in early 2024. Global creative makeup artist, Lynsey Alexander, used nude, orange, and brown tones from Prada's eyeshadow palettes to create a customized shade that complemented the models' complexions. For the reflective finish, she tapped the brand's skin serum onto the eyelids.
Del Core
Arnold Jerocki/Getty Images
Arnold Jerocki/Getty Images
Tightlining with white eyeliner is a tried-and-true makeup artist hack for brightening tried eyes. However, the shade took center stage at Del Core, where some models wore sharp, dramatic wings along their lower lash lines. Others wore smudged muted red liner, perfectly matching the collection's monochromatic looks.
Maryling
If you're trepid yet curious about wearing bright eye makeup, ease your way into poppy shades by taking a cue from the look at Maryling. The show's models had a swipe of tangerine eyeshadow applied just above the crease, starting at the inner corners of the eye.