These 9 Manicures Prove Almond Nails Will Always Be In Style
The shape is a classic for a reason.
@pegi_nails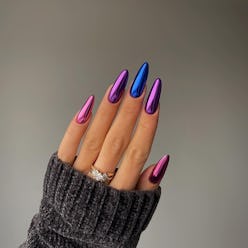 Thanks to Instagram and TikTok, there is no shortage of manicure inspiration. Yet in the sea of nail polish colors and artistic design trends that flood social media feeds, one shape never goes out of style. Almond nails have become a staple online and at nail salons because whether worn long, medium, or short, the shape is simple to achieve and works well with a wide range of nail art.
In fact, its versatility is exactly what draws nail artists and DIYers alike to the almond nail shape. "It's one of the easiest shapes to maintain at home," says Brittney Boyce, celebrity manicurist and founder of press-on nail brand Nails of LA. Another selling feature of this shape? Its ability to appear natural even when the nails are extensions.
With the oval base hugging the innate curve of the nail and narrowing silhouette, an almond shape gives the effect of healthy, nourished nails, and can be created with natural nails, acrylic nails, or press-on styles. Whether you're new to the nail shape or you're well acquainted, it's not hard to see why this classic shape remains an industry favorite. Ahead, TZR has tapped a few nail experts to share their tips for styling and maintaining almond-shaped nails.
How To Achieve Almond Nails With Natural Nails
For many, an oval-type shape occurs naturally with growth. With that in mind, achieving an almond shape requires little more than basic manicure tools. "For naturally long nails a sturdy nail file and good nail buffer are the ideal devices to form the almond shape," says Boyce.
Celebrity Nail Artist, Naomi Yasuda agrees. Though you may be tempted to initially use nail clippers, she strongly advises against them. "Emery boards and 240 grit nail files work best for shaping natural nails into almond shapes," Yasuda says.
How To Maintain Almond Nails
Once you've filed your nails into an almond shape, you'll want to maintain them, which can be a difficult task at times. "To best accomplish almond shape nails you need to sustain some kind of length, which is why I always recommend applying a nail hardener or using a gel polish," Yasuda says.
Additionally, Boyce suggests applying cuticle oil daily, even when using extensions, to keep nails looking hydrated. This simple act nourishes the nail and moisturizes the skin which can quickly become dry.
The Best Nail Art Ideas For Almond Nails
Thanks to its classic shape, the nail art options for almond nails are limitless. Think chic French manicures, varying shades of nude, contemporary patterns, and bright colors.
Rainbow French Tips
An almond tip provides the perfect contour for a classic French manicure. For a fresh twist on the traditional white tip, opt for a rainbow version instead.
Solid Colors
One of the chicest ways to style this shape is with a solid color. Be it bright or neutral, the shades instantly look elevated when applied to sleek almond-shaped nails.
Geometric
Geometric shapes in stark colors like black and white give the appearance of cutouts when paired with a nude base.
Chrome Finish
"I've been really into the chrome nails for almond shapes," says Yasuda. The sleek and shiny trend has been going strong since fall and shows no signs of slowing down. And the look reaches new levels when done in bold and bright colors.
Artistic Decals
"I love a nude nail decorated with art decals," Boyce says. They're a fun and easy way to style nails and have an artistic effect when scattered about the nail.
Ombré
Almond nails are the perfect base for ombré styles, where colors are airbrushed together, thanks to the narrowing and conical shape.
Bedazzled
Jewels like these round gems are a nice way to show off shorter length almond nails. For the ultimate minimalist look, use a simple coat of clear polish as the base.
Neon Accents
You can never go wrong with pops of color — especially when it's neon. Add the accents to a nude base to create an eye-catching contrast.
Glitter
Allover glitter can be difficult trend to execute, but the look reads more elevated on almond nails.