Styling My Curtain Bangs Has Never Been Easier, Thanks To These 10 Products
Foam rollers are seriously underrated.
Samantha Scott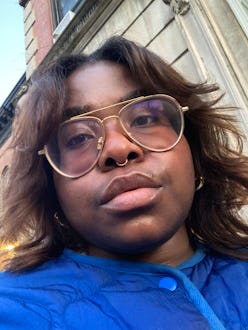 We may receive a portion of sales if you purchase a product through a link in this article.
I've tried bangs many times over the course of my 30 years. It all started in sixth grade when I gave myself a terrible straight-across fringe look out of pure boredom. After letting professionals take the reins and correct my haircut fail, I was left with a sickening side bang that carried me through the latter half of middle school into my early high school years. I returned to my DIY roots my senior year of high school when I cut my own bangs for my Nicki Minaj Halloween costume. And in 2017, I walked into my local Dominican salon with plans to get my usual trim and got a piece-y fringe on a whim, which I sometimes styled with a center part. This year, I finally took the plunge and got full-on curtain bangs. And now, I've nailed down the easiest routine for styling them.
After dabbling in curtain bangs five years ago, I found myself telling friends, coworkers, my mom — basically anyone who would listen — that I wanted to give the style another try. This time though, instead of acting on impulse, I made a plan. I spent an entire month researching stylists, but by the time I was ready to make an appointment, the girls were booked and busy. I couldn't find any openings until two months out. Fortunately, my friend Shay recommended hairstylist, Renée Gadar, Aveda's global artistic director. Her work on her Instagram spoke for itself, and I made an appointment for a few weeks later so I could settle into the style before my upcoming vacation to Vegas.
Not going to lie, I was spooked when Gadar made her first few snips, but I'm absolutely living for my latest bangs era. In addition to my fringe, she cut three inches off my length, resulting in a layered, shag-like look, that I style into a cascade of curls and waves. Currently, the bangs fall just below my eyebrows and my goal is to grow them out to cheekbone length for a true lived-in finish.
While my hair care routine has remained largely the same, I've made a few additions to ensure my curtain bangs stay in tip-top shape. Ahead, my go-to products and how I use them when styling my fringe.