Should You Get A Bob? These Cuts All Point To "Yes"
There's a reason why it's timeless.
@taylorlashe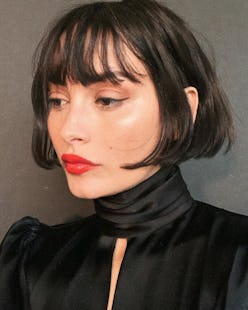 The bob is an anomaly of haircuts. Despite an instantaneous beauty trend cycle, the dramatic, eye-catching short cut continues to be more popular than ever season after season, year after year. What makes the bob so alluring is all of the possible variations, which can be tailored to enhance virtually any hair type. The cut can also be as high-maintenance or low-maintenance as you want, depending on how it's styled or if it's accessorized with bangs.
With so many options, deciding to take the plunge and get a bob is only part of the equation. If you're unsure which take on the cut to try, why not start with one of the handful of bobs that are currently flooding beauty mood boards? French bobs, curly bobs with bangs, and long bobs are just a few of the takes on the cut that continue to reign supreme in 2023.
To help narrow down all of the choices, TZR tapped top celebrity and editorial hairstylists for a rundown on the most popular types of bob haircuts. Ahead, their expert advice on choosing the right look and their best styling tips and tricks.
Blunt Bob
Straight, sharp, and strong are a few words that describe the blunt bob. "A blunt bob is a cut without layers cut into it and is a straight line at the ends," Rashunda Durham, stylist and Amika pro educator, says. "The bluntness of the ends will emphasize the jaw area and bring an intense and flattering look."
While this cut can be adapted to most hair types, celebrity hairstylist and T3 ambassador, Bridget Brager, says a blunt bob is particularly great for those with fine hair because it creates the illusion of density. "It gives the illusion that their hair is thick, especially with a hard/blunt edge," she adds.
Straight, wavy, or curly, there are a number of ways to style a blunt bob. However, if you're going for effortless texture, Brager suggests using a one-inch curling iron (she likes T3's Single Pass) to vertically create waves. "Don't try to curl the nape section of this haircut (below the ears down)," she says. "Keep it straight and curl above it to allow the blunt bob cut shine."
Durham also stresses the importance of getting routine trims to maintain the cut's precise finish.
Curly Bob
This cut is rooted in embracing your curl pattern and the volume that comes with it. While a curly bob can be as short as you want it to be, Brager says that "between the jawline and above the shoulders" are two sweet spots.
Styling a curly bob can be a little time-consuming, but the end result is worth it. To help maintain its shape, using products that help define curls and eliminate frizz is paramount. "Make sure you have a good leave-in or curl cream," Brager shares. "I like Rodan + Fields Define Plus Curl Cream because it hydrates and fights frizz. It's a lightweight formula that you can use on damp or dry hair and it's key to keeping curls shiny."
The Margot Tenenbaum
TBD on whether Hailey Bieber is a fan of Wes Anderson's cult-favorite film, The Royal Tenenbaums, but it's undeniable that her new choppy bob is reminiscent of Gwyneth Paltrow's beloved character, Margot Tenenbaum. "It just so gracefully sweeps the shoulders but has a dramatic effect because of its beautiful blunt line," Christopher Naselli, Biotera hairstylist ambassador, says. "It's also known as the 'boyfriend bob.'"
The Margot Tenenbaum cut is suitable for a range of textures, but Sarah Lund, Kevin.Murphy Style.Master says those with straight to wavy hair will like this style of bob because it's low maintenance for their hair types. "A sleek and shiny finish really sets off the blunt shape of this cut and keeps it really modern," Lund tells TZR. "I do recommend blow-drying hair with a product like Ever.Smooth by Kevin.Murphy to retain style memory for long-lasting, sleek results."
A-Line Bob
This striking cut features a noticeable angle forward. "To keep this bob looking modern, it's best kept with minimal layering and a stacked layer in the back should be avoided," Lund says of the A-line bob.
The beauty of the A-line bob is that it can be customized to suit any hair texture. "I love this cut on wavy, curly, and coily hair textures as it is very versatile in length, angle, and layers," Lund explains. "This gives a hairdresser the ability to personalize the best look for you."
To really show off the precision of an A-line bob, Naselli says to blow-out the hair. To enhance your natural texture, first prep hair with a mousse for volume (he likes Biotera's Styling Mousse). "Apply a generous amount of mousse or a curl-enhancing cream on damp hair and diffuse it in."
Layered Bob
A layered bob creates an optical illusion in both fine and thick hair. "A layered bob is a short haircut that has varying lengths cut within the middle section of the hair," Brager says. "You might see more framing or layers around the face in this haircut. It helps add volume to the hair, but it can also take away weight for hair that is thicker."
Good news for anyone whose in the market for a low-maintenance cut: This bob is extremely easy to maintain and style. "I love a good hair oil and texture spray when styling a layered bob," Brager shares. "It accentuates the effortlessness of this fun look. Also, I love letting a layered haircut dry naturally and scrunching a good [air dry] cream in as well."
A lightweight hair oil will nourish and enhance shine without weighing hair down. The Santa Lucia Styling Oil by Rôz is designed to smooth frizz, boost shine, and protect hair from heat damage and humidity without leaving any greasy residue.
Lob
Also known as a long bob, the lob typically falls closer to the collarbone rather than the jawline. "Instead of starting at the jawline like the classic bob, the lob cut starts between the top of the shoulders to your collarbone," Brager confirms. "It's typically cut square and blunt."
The lob is another cut that works across all hair types. "The lob makes all hair look thick and healthy, while the strong lines draw attention to bone structure and help frame the face," Durham says. "This bob is best for people that aren't sure they want the drastic short cut, but still want to make a statement and have some versatility."
Aside from regular trims to maintain the length, any style really goes with this bob. For a voluminous blowout, Brager suggests investing in a quality blow dryer and a giant round brush. This Aireluxe dryer from T3 has built-in temperature control to help prevent heat damage.
French Bob
Just like Parisian women's overall approach to beauty, the French bob is sophisticated yet laid-back. This bob is chin-length and is often worn with soft, wispy bangs and tousled texture, and works especially well on curly hair types. "A French bob looks best with texture and movement, so those with really wavy to tightly curled hair will love this look," Lund says. "This classic super chic haircut usually has a blunt line for enhancing your cheekbones, and soft layering to enhance texture and bring out definition to those with a soft wavy texture," Naselli adds.
Because texture is key when styling a French bob, Lund suggests diffusing your hair to bring out your waves or curls. "Diffusing is a great way to maintain or enhance the natural moment in the hair and finishing with a dry conditioner is nice to for a soft, moisturized," Lund tells TZR. "I would recommend Young.Again Dry Conditioner by Kevin.Murphy."
Sliced Bob
Despite its razor-sharp ends, the sliced bob is a universal, low-maintenance cut that complements a range of textures. "A sliced bob has the look of a one-length bob with a few subtle differences," Lund shares. "The sliced bob has a slight angle forward making it a touch longer in the front. The ends are 'sliced' or texturized to give a softer finish to the overall cut."
The technique of slicing the ends is helpful for those with thick hair. "The perfect cut for a variety of textures, the slicing technique is used to release weight without layering the hair," Naselli says. If you have fine hair, the cut can help create a clean, crisp line and the appearance of a single-length cut.
To add volume to the cut, Naselli suggests prepping hair with a mousse and/or using a texturizing spray. "I always tuck the sides back behind the ears to give the slightest bend while styling," he says. The Ouai's Texturizing Hair Spray adds volume and movement to hair without weighing it down or leaving it too gritty.