It's Official: Copper Is Still The Hair Color Of The Moment
A trending shade for everyone.
@wellahair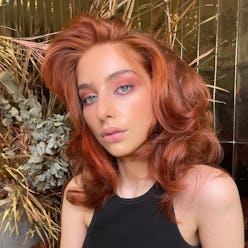 Changing your hair color can be an exciting event. And while there are no hard and fast rules that prevent blondes from going jet black or vice versa, selecting a shade that complements your skin tone is a fail-safe option. In some cases that may mean a hue that's warmer to bring out your complexion's golden undertones or one that's cooler to balance and neutralize redness in your skin. But when it comes to copper hair color, there's truly a shade for everyone. A natural blend of rich, earthy reds, vibrant oranges, and rust-colored browns, copper has the unique ability to bring out the best in nearly every complexion.
According to Natalie Rotger, hair colorist at Jenna Perry Hair Studio in New York City, "Copper offers a range of flattering options, whether that's a light strawberry blonde, auburn, or the hue at its truest penny-like shade." This also explains why its popularity has skyrocketed as of late, and so many dreamy images of copper hair have been flooding your FYP and Instagram feed. Versatility is a great thing when it comes to dyeing your hair, but if you've been contemplating making the shift to the rusty color, it's important to know it requires some upkeep. Aside from color-safe shampoos and the occasional hair mask, incorporating a hair gloss or glaze will keep your strands fresh.
Ahead, TZR spoke with three colorists for insight on the trending hair color and most importantly, their expert advice for maintaining your vivid copper hue at home.
Sun-Washed Copper
Sun-washed highlights, most recently worn by Beyoncé, are quickly becoming one of the hottest hair color trends of the season. But the look isn't just for blondes. It's also perfect for copper hair, thanks to its complementary golden streaks.
Against the russet base, these highlights lift the color in order to give the hair a halo-like glow. To best maintain a custom look like this, Constance English, elite stylist at Ursula Stephen The Salon in Brooklyn, recommends booking a gloss treatment once a month to keep your hair looking vibrant and shiny.
Monochromatic Highlights
Tonal highlights give this look a soft feel as each rich shade effortlessly blends into the next. "Copper hair does come with some high maintenance needs, but there are a few things you can do at home to help lengthen the life," says Justin Anderson, celebrity colorist and co-founder of dpHUE . His pro tip? Use clear-based styling products to prolong the color and always ensure to incorporate heat protectants when using hot tools.
Rooty Copper
On blondes, slightly grown-out roots gives the color a lived in feel and the same can be said when paired with copper. Leaving just a hint of your natural color at the crown keeps the look from appearing too overdone and fussy. Plus, a soft brown shade at the roots will seamlessly blend everything together for a look that is genuine and lively.
Moody Rust
Copper doesn't always have to be bright to be alluring. Those who love dark brunette hues can embrace the trend with a deep rust version that leans into moody chocolate tones. English tells TZR that a rich color can also be achieved without the use of bleach. This, as she notes, "makes it easy to switch up when you're ready for something new."
Copper Cherry
Accentuating the deep auburn tones of copper is another great way to enjoy the trend without having to lift your natural shade. But even with a darker variety, maintenance in-between salon appointments is crucial to ensure vibrancy. "You definitely need to adjust your hair care routine to include protecting products and stay away from anything that's clarifying or detoxing as those can strip away your new color," says Rotger.
Spiced Faux Locs
If you're not ready to fully commit to dyeing your natural hair, opt for a protective style created with colored hair such as this spice shade by Rebundle. Wrapped around a root braid or twist, these faux soft locs allow you to play around with brassy red color without risking any damage.
Fire Engine Copper
A vivacious shade of copper, such as this fiery option, will need extra attention to ensure that it stays vivid and bright. That said, over-washing — especially with the wrong type of shampoo — can cause your color to quickly fade. Instead, Anderson suggests using an alternative cleansing method, like dpHUE's ACV Hair Rinse, to clean your strands and keep your color intact.
Copper Penny
Although copper is generally thought of as having warm undertones, a cool-based shade gives a metallic effect that's likened to the chemical element itself. This can deliver a unique penny-esque color that oozes diamond-like shine. That said, you don't want it to look too metallic or to get brassy over time.
To keep your strands shining for the right reasons, English recommends swapping your typical shampoo and conditioners with color-safe options for added protection. She also notes that "incorporating a light serum will also add shimmer and seal in moisture to keep your hair looking and feeling healthy."
Copper Money Pieces
The face-framing highlight trend that ruled the early aughts feels fresher than ever when done with varying copper colors. In this style, the different shades are subtly layered to create intensity with the tendrils around the face adding a brightened look.
Gingerbread
Honey, ginger, and subtle strips of buttery blonde come together in this rendition of copper that showcase just how versatile the hair color can be. Instead of competing, the cool and warm undertones work in tandem to create a velvety smooth hue that can fit a range of complexions.
Copper Blonde
Looking for a way to shake up your blonde hair? Why not try a touch of copper? While this sun-lit color is bold, it instantly brightens the face.