These Are The 10 Major Makeup Trends Ruling Summer Looks
@nikki_makeup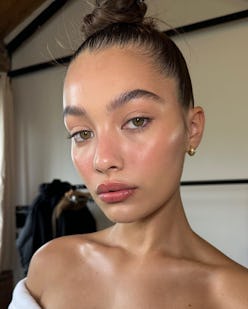 We may receive a portion of sales if you purchase a product through a link in this article.
Along with warmer weather and longer days, summer brings a multitude of new style inspiration, whether it's adding ombré highlights to your hair or stepping out of your outfit rut with white jeans. For beauty enthusiasts, it's also a fun time to test new makeup. The season's hazy sunny days will motivate you to step out of your box and dabble in seasonally-appropriate shades, like the TikTok-viral Haus Labs blush, or even revisit a retro look, like the cat eyes seen at this year's Met Gala. In fact, the biggest summer 2023 makeup trends are all about experimentation with bold color and finding new ways to utilize familiar products.
From blush to eyeliner, getting creative with how you apply various products is the key to nailing the season's top looks. And as celebrity makeup artist Beau Nelson tells TZR, many formulas offer a range of use. "I tend to make any lipstick into a lip and cheek product simply by diffusing it into the skin underneath of foundation," he says.
But even if you're not opting for a monochromatic look, you'll want to invest in a lineup of cream bronzer, blush, and highlighter this season, as flushed, sun-kissed skin is having a moment. "Obviously, as we get into the warmer months everyone wants to be tanned and have healthy-looking skin, and this includes a natural flush," says Nelson.
For a complete rundown on this summer's makeup trends, TZR chatted with top celebrity artists to guide you through each look, including what products you'll need to stock up on.
Juiced-Up Lips
Fact: Dewy skin begs for glistening lips and this summer the look is magnified with juicy colors that will enhance your natural lip color. The key to nailing this look is to choose glosses or balms that yield a glassy shine sans the stickiness. On your hunt for the perfect product, keep an eye out for formulas that include nourishing ingredients like natural oils or peptides, along with easy applicators that will allow for an effortless look in a quick swipe or two.
Long Lashes
Of the many trends that have surfaced on TikTok over the last few months, pronounced lashes is by far one of the most popular – and it shows no signs of slowing down. Whether created with viral mascaras or lash extension kits, the lengthy look will be extending into summer. If you're partial to a more natural lash, you can opt for products that subtly enhance them. But if your style is more on the maximalist side, try layering different formulas, a-la mascara cocktailing, to create a customized look.
Playful Eyeshadow
Much like spring, this summer's makeup colors are taking a cue from the elements of the season – especially when it comes to eyeshadow shades. Utilizing bright earthy hues like jade, sunny yellow, or peachy oranges, you can easily create a dreamy look while keeping your makeup routine low-maintenance and lightweight.
Monochromatic Color
From your eyes down to your lips, this season is all about using one color to create a tonal look. "I'm loving monochrome color faces because it's effortlessly cool and super easy to attain," says Nelson. He adds that monochromatic makeup can usually be achieved utilizing a single product. His top recommendation? A multitasking eyeshadow palette that can be used all over the face. "Bakeup Beauty makes these incredible little palettes, the pastel one, in particular, has beautiful pink, violet, and soft orange shades, perfect for lips, cheeks, and eyelids," he says.
Golden Hour Glow
Bronzers are the best way to get a gilded sun-kissed look without actually damaging your skin. This summer, Nelson predicts that the healthy golden glow will become even more popular thanks to diverse releases from big-name brands. "Pat McGrath's new bronzer collection and NARS bronzing creams are made for every skin tone which makes this look really accessible," he says.
Matte Makeup Is Still In
The 'cloud skin' trend that has been popularized on TikTok as of late might be the antithesis of glass skin, but according to celebrity makeup artist, Emily Gray, this modern take on matte makeup is right in tune with this season's top looks. "I'm starting to see a transition away from the hyper dewy, luminous trend toward a makeup look that is shine-free," she says.
The summer 2023 version is more wearable for both minimalists and maximalists because it focuses on oil control rather than coverage. And after a long stint of dewy complexions, it's time for a change, and it's one both the beauty set and celebrities are embracing. As Gray tells TZR, matte skin was even a big trend at the recent Met Gala carpet as seen on celebrities like Ashley Graham and Sydney Sweeney.
Realistic Skin
As noted above, 2023's matte makeup trend embraces the less-is-more approach for a look that's natural yet composed. But according to Nelson, this shift is just the beginning. "With more celebrities hopping on board the light makeup trend, it may be a sign that daily full-coverage looks are over," he says. In short, less foundation, and makeup, in general, are trending heavily for summer. "I'm happy to see people returning to healthy, believable, in-real-life skin."
Smoky Eyeliner
The smudgy eye looks that were seen on the Fall/Winter 2023 runways will also be a top trend this summer. Taking a cue from the cast of Daisy Jones & The Six, now's the time to lean into imperfectly lined eyes with deep brown and intense black shades. Gray says that when worn on both the top and bottom waterline, it makes all eye colors pop and serves as a great base for smoky brown eyeshadow.
Retro Brown Lipstick
Nineties lip looks, such as brown lipstick, is another summer trend, as evidenced on this year's Met Gala red carpet. "Thanks to TikTok, this look is becoming more and more popular with younger generations and is definitely on the radar for summer," says Nelson. Those who have lived through the trend's original years will recognize that this look can be worn in a range of finishes, including glossy, matte, and even frosted and metallic. In fact, the retro lip color has recently garnered celebrity approval from trendsetters like J.Lo and Lizzo.
Unlike nude shades that enhance natural lip tones, brown can be a tricky color to wear. A darker color can easily look dated, so if you're interested in revisiting the trend this season, Nelson suggests starting with a good liner in a deep shade and lipstick slightly lighter in color.
Draped Blush
Blush trends are highly seasonal because the product is meant to mimic a natural flush which can vary with changing temperatures. Gray says this season's biggest switch up is where the blush should be applied. "Instead of beginning on the apples, it's starting more up on the under eyes before draping down the cheeks," she says. To get the look, she suggests using powders or lightweight cream formulas that can easily be applied to the different areas of the cheek.