Thanks to 'Daisy Jones & The Six', These '70s Makeup Looks Will Make A Comeback
Plus, the exact products the cast wore.
Lacey Terrell/Prime Video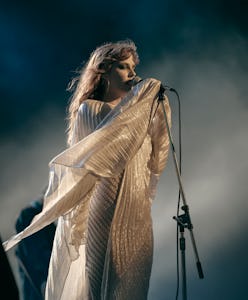 We may receive a portion of sales if you purchase a product through a link in this article.
Patti, Stevie, Janis. How do rockstars achieve mononymous status? Aside from leading countercultural musical movements and/or creating chart-topping hits, these legendary female rockstars have distinct personal styles that inspired the fashion and beauty trends of the '60s and '70s. So the stakes were high for Amazon's rock 'n' roll mini-series Daisy Jones & The Six, which chronicles the rise and fall of a fictional rock band, and is based off the best-selling novel of the same name. The show is chock-full of boho tops and bell-bottom jeans, but nailing the decade's effortless lived-in hair colors and glam glitter-tinged makeup moments were just, if not more, vital to transforming the cast into believable '70s musical icons.
For Daisy Jones' makeup department head Rebecca Watchel, the challenge was welcomed. The artist spent weeks of research in order to create the '70s rockstar makeup looks that brought the characters to life. Luckily, she was working with the all-star cast of Camila Morrone, Suki Waterhouse, and Riley Keough, the latter two have off-screen musical experience — Waterhouse released an album last year and Keough is Elvis' granddaughter. The makeup lead shares all of the secrets behind creating the cast's '70s rock idol makeup looks.
It All Started With Mood Boards
After reading the book, Watchel considered what looks bring each character to life while still complimenting the actor playing them. Then, she got to work and made mood boards to organize her makeup visions.
"I made mood boards for the top 12 cast [members] of their makeup journey through the show, from the mid-'60s through to the [band's] interviews in the '90s. I watched many documentaries on the music scene from that era, spent a lot of time online doing deep dives, and pulled ideas that I thought would be a good fit for each," Watchel tells TZR. "I wanted to make sure the looks had variety and reflected the different styles of the era, and that each character's personality was reflected in how their makeup/facial hair style was."
Daisy Jones' Look Is All Her Own
While frontwoman Daisy Jones (played by Keough) would fit in with the female rockstars of the '70s, her makeup looks in the show aren't direct references. Instead, Watchel tailored her makeup so the looks were unique to Jones, ensuring she's an icon in her own right.
"As many rockstars create a unique look, I wanted that for Daisy, too. From her description in the book, she is a free spirit, and I don't feel she really was a perfectionist with her makeup. I wanted her skin to look like her own and as if she was effortless in her natural glowing beauty," Watchel shares. "Up until she starts touring, she doesn't wear makeup. So when she's onstage, her look is a bit of a beautiful mess that she would have done herself. I took an eyeshadow shape and general style I liked from a 1975 Avon ad that I thought would suit Riley's eye shape well. It's a soft wash of color on the lid that pulls out to a cat-like shape. I used that same shape for all of her show looks and only switched up the colors and density of tones. I switched up her lip tone to an assortment of reds, which was popular at that time. In the late 70's, wearing a strong eye color and a strong lip was in fashion."
Karen Sirko's Look Has Punk Roots
Because keyboardist Karen Sirko (played by Waterhouse) comes from the UK, her makeup doesn't have the same LA hippie influence as the rest of the band. Instead, her look is rooted in early punk icons like Blondie frontwoman Debbie Harry.
"Suki's character, Karen, is different from the rest of the band and LA hippie scene. She comes from the UK, and I envisioned that she has her own style, much like Daisy does," Watchel explains. "But Karen is more influenced by early punk, classic Brigitte Bardot and Debbi Harry. She's also more organized and put together than Daisy. I think the two are a bit of polar opposites in personality. But that also can make for a great friendship."
Ahead, Watchel shares the key products she used on the set of Daisy Jones & The Six, along with which characters wore them.