Kylie Jenner's Bright Blush Is Like The 2023 Version Of A Statement Lip
@kyliejenner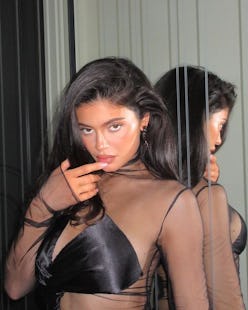 Even when taking the more low-key family members into consideration, the Kardashian-Jenner blended household isn't exactly what you'd call minimalist — imagine what their annual sprinter van bill alone totals. In a rather unexpected move, though, it's the youngest sister that's driving the biggest aesthetic change. Fans have noticed Kylie Jenner's increasingly minimalist approach to makeup, taking stock of the star's sharp 180 turn away from intense eyelash extensions, carved-out brows, and matte liquid lipsticks for a more pared-down feel.
What's especially interesting, though, is the timing of Jenner's newfound minimalism. In a just-released trailer for the new season of Hulu's The Kardashians series, Jenner is seen effectively calling out her sisters for "the beauty standards we're setting." Only the full episode will have all the necessary context, of course, but it feels like the dawn of a new age for America's most famous makeup mogul. At May 1's Met Gala, Jenner's subtle eye makeup and close-to-natural lip shade stood in stark contrast to the classically glam looks worn by sisters Kendall Jenner and Kim Kardashian. Then, just days later, Jenner seemed to double down on her commitment to softness when she debuted a blush-focused but otherwise relaxed makeup for a Jean Paul Gaultier event.
Two back-to-back minimalist moments by Jenner.
Dimitrios Kambouris/Getty Images Entertainment/Getty Images
Sure, at least a dozen products likely went into Jenner's "minimalist" makeup, but this is a semi-drastic shift for a star who built her billion-dollar empire on rainbow wigs and liner-lipstick combos in every shade — who could forget the "Skylie" era?
In the footage from the Kardashians trailer, Jenner not only tells her sisters to take stock of what they might be perpetuating, adding, "I don't want my daughter to do the things I did." At a different point in the video, she even says to a friend, "I wished I never touched anything to begin with."
Context is everything and exactly what she's referring to is just speculative until the first episode drops on May 25, but based on Jenner's newfound laid-back approach to cosmetics, it looks like she's entering the third season with a new commitment to her personal journey.