Mascara Cocktailing Is The Easy Hack For Achieving Your Dream Lashes
@sacheu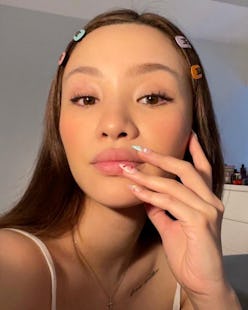 We may receive a portion of sales if you purchase a product through a link in this article.
Who doesn't love a good makeup hack, especially when it involves a staple such as mascara? Thanks to TikTok, standard mascara is getting a major upgrade with a simple layering trick consisting of two to three formulas to create lush-looking lashes. The viral trend is known as mascara cocktailing, and it amps up the benefits of each mascara applied — think extra volume, mega curling or supreme lengthening — for the ultimate customized lash.
While the technique is going viral on #beautytok, Celebrity makeup artist Jamie Greenberg says mascara cocktailing is nothing new and that makeup artists have been mixing and matching different mascaras in a single wear for years. "Now, [it's] making the rounds on TikTok, as these trends tend to do. Still, [it] is a great way to utilize multiple good products and reap their benefits."
Ahead, TZR shares everything there is to know about mascara cocktailing, including how to do the technique and the best mascaras to double up, of course, with the help of celebrity makeup artists who understand the technique inside and out.
What Is Mascara Cocktailing?
This buzzy technique is just what it sounds like: layering different mascara formulations ensconced with unique wands to create a desired lash-amplifying effect. The mix-and-match approach creates longer, fuller, or more voluminous eyelashes sans extensions, lash lifts, or false eyelashes. Charlie Riddle, celebrity makeup artist and global head of artistry at Stila Cosmetics, says mascara cocktailing is the trend du jour because it creates a dramatic effect and showcases just how different mascara formulas and brushes are.
Limiting the eyelashes to just one mascara isn't the end of the world, but doubling up means bigger the impact. Riddle compares the method to using a bronzer and contouring products to sculpt the face. "You could use one bronzer to shape the face, but adding another contour into the mix is what sculpts, defines, and shades the face. It's the same when mixing mascara formulas — you'll reap the maximum benefits of both."
The Right Way To Cocktail Your Mascaras
There's no need to reserve stacking your favorite mascaras for a special night out since the technique is easy to do and perfectly wearable for the day. The key to nailing the technique is picking the right mix of mascaras and applying them appropriately. Two formulas should suffice and create enough impact versus wearing each solo. "Start slow and add more product if you desire," Greenberg says. "If you're into spidery lashes, that's cool, too! Makeup is all about self-expression and whatever you find to be beautiful."
Rather than wearing two mascaras that provide the same benefit, like volumizing on top of volumizing, Riddle recommends pairing complementary formulas that target different lash concerns. "I like to use one for length, and another that curls or adds thickness to create the perfect cocktail."
Before applying mascara to the lashes, remove any residue or lingering makeup from the eyelashes, including eyelash glue from extensions and strips. Makeup artist Noel Jacoboni says the lash follicles are very delicate, just like the skin, so a makeup remover or oil-based cleanser like AvèneXeraCalm A.D Lipid-Replenishing Cleansing Oil that gently dissolves makeup without applying extra pressure to the lashes is best.
Next, swipe on lash primer, which Greenberg says is necessary when layering multiple mascaras. "Primer helps prevent clumping and keeps the lashes strong while prolonging the mascara's wear time. One that I love is Grande Cosmetics Primer Pre-Mascara Lengthener & Thickener." For days when you're short on time, apply a primer-infused mascara like RapidLash RapidGlam Lash Enhancing Macserum as the first step and build from there.
With the lashes curled and primed, it's time to pile on the different mascaras. Greenberg likes going in with a waterproof lengthening option first to give the lashes some curl and an even coat of product to work with. For shorter lashes, or if you're waterproof-mascara adverse, a lengthening or defining formula works well as the base layer to create lift, separation, and definition.
Before the first layer of mascara dries down, apply a curling one like YSL The Curler Lengthening and Curling Mascara or a volumizing option — Jacoboni's picks include L'Oréal Voluminous Mascara and MAC In Extreme Dimension 3D Black Lash Mascara. "The blackest black shade makes the lashes look long and full, whereas a brown color will lend more of a natural look." You can also apply layer number two with a skinny wand to get any spots near the root you may have missed.
One coat of volumizing mascara may not cut it, so brush a second coat onto the lashes to build up the effect until you've reached the desired lash length and fullness. Just be careful not to apply too much mascara, which can create a clumping effect. You can even use a spoolie brush to comb through the lashes for a cleaner look.
If you wear mascara on your bottom lashes, stick to one light coat. A super detailed thin wand like the one in Winky Lux The Detail Oriented Mascara gets into the outer corners of the lower lashes for a clean look. There's no need to double up on mascara on the lower lashes, which can make them look messy and spidery.
The Best Mascara Pairings
Not all mascaras are created equal. Still, even with plenty of trial and error, Greenberg says what works well for one person may not be the best combination for another. "Think about what mascara you already love, then specify if there's anything you wish it did better. For example, if a mascara lengthens, but you wish it lasted all day, add a waterproof and see if it works," she adds.
For Thicker Lashes
To thicken fine, short eyelashes, couple a buildable lengthening mascara like Essence Makeup's Lash Like a Boss Mascara with a thickening one such as Dior Diorshow 24H Buildable Volume Mascara. The combination creates length and then added thickness and volume. On the flip side, to give bone-straight eyelashes curl and lift at the root, pair a curling mascara with a volumizing one, and apply them in that order.
For Longer Lashes
For super-long, extension-like eyelashes, Greenberg likes mixing PUR Big Look Lengthening Mascara with Thrive Liquid Lash Extensions Mascara. "Both formulas are amazing and don't clump so they work well when layering."
For More Voluminous Lashes
When volume is the name of the game, Riddle recommends first applying Lancôme Définicils High Definition, which separates and defines, and finishing off the look with his favorite, Stila Cosmetics HUGE Extreme Lash Mascara. "It makes for ultimate volume."