I've Tried Dozens Of Mascaras & These 10 Products Give Me Long & Voluminous Lashes
Maggie Haddad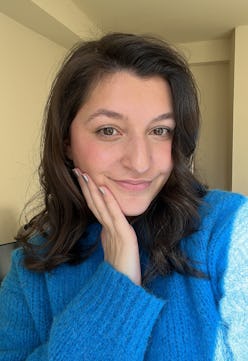 We may receive a portion of sales if you purchase a product through a link in this article.
Mascara was one of the first makeup products I ever used, and I can imagine that was probably the case for many other makeup-wearers. It was definitely the beauty product I was most excited to try, after growing up watching a myriad of on-screen characters with long, dramatic eyelashes gawk at themselves in their bathroom mirrors, angling their mascara wands and holding their mouths agape to avoid getting product on their faces. Not unsurprisingly, lengthening mascara is my must-have product as an adult.
It's a high-impact product that requires little effort effort to apply compared to say, eyeliner. Depending on how you like your lashes to look, mascara can be a 10-second process, or a multi-minute operation (I probably skew closer to the multi-minute end of things). I love a makeover moment, à la Mia Thermopolis in The Princess Diaries, so I leave mascara as the very last step in my makeup routine. That way, I back away from my mirror to fully admire my final makeup look.
When it comes to shopping for mascara, I turn to brands whose products I already love and use daily. I wear my Merit Beauty Bronze Balm and Flush Balm every day, so naturally, I trust that the mascara is great, too. Same goes for ILIA — the brand's under-eye brightener has fully replaced concealer in my daily routine, so unsurprisingly, I'm head over heels for their mascara. Brand loyalty aside, another important factor when mascara shopping is the wand. Different shapes cater to different needs — shorter bristles give you a more natural look, while thicker, denser designs create more volume. For day-to-day makeup, I look for longer bristles to add length, but for nighttime, I like to pack on the volume with a fluffier wand.
To aid in the search for your next mascara obsession, I've put together my top nine mascaras along with my go-to eyelash curler. From full-on volume to a barely-there natural look, keep scrolling to find the best one for your lash needs.