Jennifer Lopez's Makeup Look Will Make You Believe In Metallic Lipstick
@jlo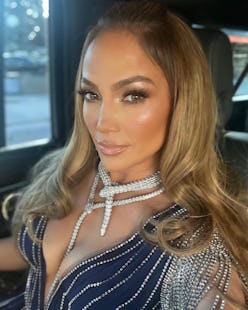 There's an oft-referenced saying that a celebrity is often "frozen" at the age they first became famous. It's impossible to know how true that necessarily is from a psychological standpoint, of course — though there does seem to be something about the aesthetics of that first year of fame. Jennifer Lopez's enduring relevance through multiple decades is enough to prove her commitment to growth, but even she is still loyal to some of the '90s greatest beauty hits. Jennifer Lopez's metallic nude lipstick, for example, happens to be main component of many all-time looks from the star, both past and present.
The frosty throwback showed up once again on the star in behind-the-scenes shots of a project shared to her Instagram. From her perch in the drivers' seat of a glammed-out golf cart, Lopez is photographed in a sleek, high, ballerina bun, blue-toned gray nails, and a silky greige Brunello Cucinelli dress. Captioning the photo set "Delola life outfit check" in reference to her just-launched cocktail line, Lopez's look is both sophisticated and easy-breezy — lip color included. Applied by celebrity makeup artist Rokael Lizama, Lopez's pale, metallic-glazed lip stands in excellent contrast to the deep, sultry smokiness of her eyeshadow, liner, and lashes.
Cool-toned brown liner helps define Lopez's lips, creating a 3-D effect thanks to some strategic shading in the corners. The creamy nude shade that makes up the bulk of the look almost calls to mind the beyond polarizing "concealer lips" trend of the 2000s — but while that called for dabbing face makeup on the lips just to top it off with a clear gloss, Lopez's take is significantly more refined. The metallic glaze feels at once like a nod to yesteryear as well as a current trend, too. Frosted finish lipsticks have been popping up everywhere lately, spotted on everyone from Lizzo to Lady Gaga to Kendall Jenner — and has proven to be a universal hit.
The secret is in the shades chosen, not necessarily the finish itself. By opting for a next-to-nude shade and then slicking some metallic shine overtop, the finish plays beautifully off natural skin tones while lending an opulent element to the entire look — nail it with a designated frosty gloss, or just take a page out of the DIY chrome nails playbook and simply dab some loose metallic shimmer directly on your lips.