The Met Gala's Best Makeup Trend Was Made For High-Fashion Cat Ladies
Noam Galai/GA/The Hollywood Reporter/Getty Images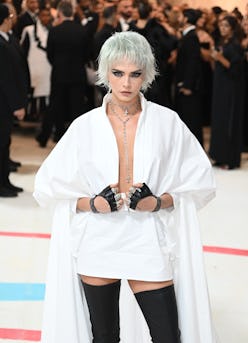 While the general celebrity spectating is always the best part of Met Gala Monday, don't forget to take some mental notes, too — the carpet-covered museum steps is where many of the season's most notable fashion and beauty crazes come to life. The cat-eye makeup at the 2023 Met Gala is much an homage as it is a jumpstart on a long-brewing trend, a sultry, smoky representation of Karl Lagerfeld's favorite things and motifs. Many of the best moments at the fundraiser so far have been overt homages to the Karl Lagerfeld: A Line Of Beauty theme, ranging from some highly personal reimagining of his signature look to literal recreations of the man himself. Perhaps his favorite take, though, might be the smoky feline makeup that doubles as a nod to his beloved pet cat, Choupette.
Once declared by Lagerfeld to be "the most famous cat in the world", the legendary designer churned out countless tributes to the now-11-year-old Birman cat who, with her fluffy white fur and discerning stare, felt like an extension of her owner. At the Met Gala, not only have cat-eyes already been spotted on celebrities like Anne Hathaway, Stephanie Hsu, Cara Delevingne, Lizzo, but plenty are heightening the Lagerfeld of it all by adding in dark, smoky shades. A trademark of some of his biggest shows, the high-fashion drama was referenced by more than a few A-list makeup artists on May 1. Ahead, some of the best cat-eye looks of the night, surely all Choupette-approved.
Cara Delevingne
As one of Lagerfeld's friends and muses, everyone was waiting on Delevingne's take on the theme. In a deconstructed version of the designer's signature look right down to the hair, her execution is flawless — including the strong, smoky cat-eye liner that features a sharp inner wing. Makeup artist Hung Vanngo used false eyelashes from Ardell Beauty to lift the ends even further.
Lizzo
A more traditional take on elongated liner, Lizzo's cat-eye is comprised of a thin, swooping wing peaking out just past her fluttery lashes. There, it meets with her temple-sweeping blush for a seamless effect. Celebrity makeup artist Alexx Mayo used Charlotte Tilbury makeup — including, fittingly, the Feline Flick Liquid Eyeliner — to bring it the look to life.
Stephanie Hsu
Talk about a work of art — every element of Hsu's ultra-dramatic cat-eye makeup just draws you in. There's the initial sweep of extended eyeliner, the pops of white over it that make the edges look all the sharper, the stiletto points in the inner corners, and an extra arc of liner just below her eyebrow. It's a tall order, but of course she nails it beautifully.
Anne Hathaway
Hathaway is one star who never sacrifices her beloved beauty staples for a theme, but somehow manages to always appropriately incorporate it. For the Met Gala, Hathaway was another who went for a defined cat-eye, but did so in her beloved shades of soft brown.
Michelle Yeoh
So elegant she veers downright regal, trust Yeoh to offer one of the most sophisticated takes on the theme. Her inky black eyeliner traces her lashes, then flicks out and sweeps up at the ends to make a classic liquid cat-eye — courtesy of celebrity makeup artist Daniel Martin.
Keke Palmer
Palmer's Met Gala makeup is enough to make you grateful for the advent of red carpet events altogether. Her intense smokey eye makeup stands out against her otherwise-streamlined look, curling up at the ends for sultry cat-eye drama.
Aubrey Plaza
Behold, all the evidence as to why classic cat-eye liner is so enduring. Plaza's thin, flicked-out eyeliner and minimal mascara create one of the night's most strikingly feline makeup moments. The retro-inspired look was created by celebrity makeup artist Cathyanne Mac Allister using Pat McGrath Labs products.