Get A Jumpstart On Building Your Summer Beauty Arsenal With May's Best New Products
Isle Of Paradise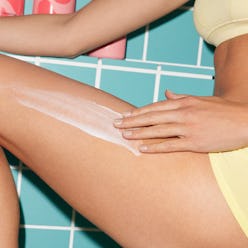 We may receive a portion of sales if you purchase a product through a link in this article.
Who needs May flowers when you could have a cabinet full of pre-summer beauty products instead? The month's just begun, but already, increasingly-packed calendars and climbing temperatures (not to mention the lifted moods they bring) suggest it's the ideal time to start transitioning hair, makeup, and skin care routines into more summer-friendly versions. As it happens, though, May's best new beauty products have the entire situation covered — head-to-toe, in fact.
The start of a fresh season always brings with it some of the year's best formulations, often especially designed to deal with heat- and sun-centric issues. This month's just-launched products make quick work of all sorts of summer dilemmas: KP bumps and strawberry legs, split ends, dull skin, and makeup that won't slide around the second you start to sweat. It all starts in the shower with Isle Of Paradise's just-released body care collection, complete with exfoliants, hydrating washes, and targeted treatments all designed to make users feel their most confident while baring skin this summer. Meanwhile, humidity-exacerbated frizz (and, let's be real, hair sweat) meets its match with an alluring, luxe hair perfume scent from SACHAJUAN. And while everyone else is dealing with migrating makeup, incredibly lifelike falsies by Velour and a buildable serum foundation from French favorite Rituel de Filles are designed to hang on all day.
Ahead, explore the very best of May beauty.
May 2023 Skin Care Launches
Best New Mask
Best New Cleanser
Best New Moisturizer
Best New Face Oil
Best New Serum
Best New Lip Balm
May 2023 Hair Launches
Best New Curl Creme
Best New Wave Spray
Best New Scalp Treatment
Best New Conditioner
Best New Hair Perfume
Best New Hair Mask
May 2023 Makeup Launches
Best New Mascara
Best New Brow Pencil
Best New Blush
Best New Eyeshadow Palette
Best New Brow Gel
Best New Foundation
Best New Eyeliner
Best New False Eyelashes
May 2023 Body & Nail Launches
Best New Nail Polish
Best New Body Sunscreen
Best New Body Exfoliant