Only Kendall Jenner Could Resurrect This Polarizing '80s Beauty Trend
@maryphillips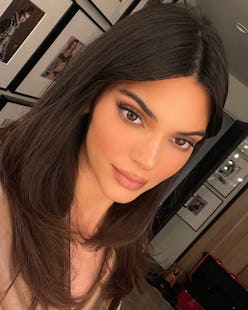 There are few trends, regardless of absurdity, that Kendall Jenner can't spark — it was just months ago that she sent the internet into a tailspin over her pants-less winter looks, triggering a full-on wave of copycats. It makes sense then that Jenner would be the person to resurrect yet another retro beauty craze, but who could have seen this one coming? In a few glamorous selfies snapped on a trip to Paris, Kendall Jenner's frosted lipstick stands as a sophisticated complement to her pared-down, black-on-black ensemble. With the matte makeup movement still raging on, could an especially shimmery lip look be the new cheekbone highlighter?
The pop of glistening nude is the only bit of shine in Jenner's otherwise all-matte (and extremely chic) makeup. Her look, created by celebrity makeup artist Mary Phillips, features a sculpted complexion and defined, elongated lashes, but it's clear that all the emphasis is on her frosted, shimmer-enhanced lipstick. The shade is just north of a true nude, deepened with pink tones and surely outlined using Phillips' signature over-lined lip liner technique. Interestingly, Jenner's nails are buffed and manicured but left notably bare — it's just part of the low-key French-girl look so beloved by Jenner and her famous sisters while abroad.
The frosted lip look reigned supreme through the '70s, '80s, and even much of the '90s, with brown-toned and baby pink shades among the trend's most popular colors. While plenty of other throwback beauty motifs have seen a resurgence in recent years, metallic frosted lipstick has been a bit slower to catch on. That said, the celebrities who have tried it out — think perennial tastemakers like Lizzo and Lady Gaga — make an excellent case for bringing the look back.
If you don't have a tube of frosted lipstick around already, the look is easy enough to recreate with what you do have on hand. For a more true-to-form version, mash up your favorite lipstick with a bit of loose highlighter powder and apply. To up the intensity, try patting a shimmery highlighter right over top the whole thing — so instantly '80s.