An Expert Guide To Applying Bronzer On Dark Skin Tones
A sun-kissed glow is just a few swipes away.
@gezellerenee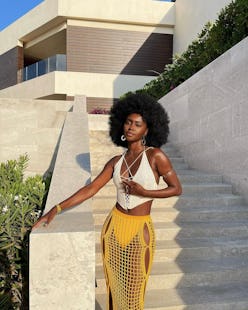 We may receive a portion of sales if you purchase a product through a link in this article.
If you've ever glanced at an image of Jennifer Lopez, either on the red carpet or on Instagram, you've probably admired her gorgeously bronzed skin. As the queen of glowy glam, her signature makeup has inspired legions of fans chasing a similar sun-kissed look, aptly known as the "JLo glow." Needless to say, that golden, glistening complexion, which is achieved through the use of bronzers, is iconic. But how does one with a deep skin tone achieve it? Luckily, applying bronzer on dark skin tones can be easy with the correct product shade and proper technique.
"Bronzers for brown and deep [skin tones] are essential for creating dimension and depth," says celebrity makeup artist Yolonda Frederick. With clients like makeup chameleons Ciara and Chlöe Bailey, Frederick notes that using the right type of bronzer is vital to emphasize the facial features of darker complexions. For too long, the products available were lacking in shade range, catering more to lighter skin tones. But just as foundation, concealer, and even pressed powder offerings have expanded, so has the category of bronzers.
So if you've ever found yourself wondering exactly how to perfect a sun-lit glow on your darker skin tone, consider this your foolproof guide. Ahead, TZR tapped two celebrity makeup artists for their expertise, application tips, and top products to achieve the perfect luminous look — just in time for summer.
The Benefits Of Using Bronzer On Dark Skin
While contouring techniques are making a comeback with the return of matte makeup, bronzing is the ideal way to enhance the shadows naturally occurring in melanated skin. Celebrity makeup artist Ernesto Casillas, who counts ebony beauties like Ryan Destiny, and queen Naomi Campbell as clients, tells TZR that deeper skin tones have a lot of existing richness that is often lost after applying foundation. "A full-coverage base is meant to yield a flat look, but on medium-to-deep tones, it can read dull. Bronzer brings those dimensions and warmth back to the face," he says. Additionally, it can be used to sculpt and add further definition to particular areas of the face.
Selecting Your Perfect Bronzer Shade
Obviously one of the most crucial steps of your glow-up journey is finding the right product. But that doesn't mean it has to be a chore. Use your undertones as a guide, as the bronzer itself needs to complement your overall complexion. Skin tones generally fall into one of three categories: warm, neutral, and cool. Your complexion's undertones can range from golden, olive, peach, and tan.
As a general rule of thumb, cool and warm shades play well together because their contrast best allows you to balance your complexion. "If you have a neutral undertone, look for a warmer hue as that will work best," says Frederick. The same principle applies to those with warmer undertones, who should be searching for cool-toned products. If you fall into the olive or golden group, Casillas suggests using a warm golden bronzer for light makeup days and a neutral-to-warm shade for full-coverage looks. He also warns to steer clear from using gold-toned foundation, concealer, and bronzer together as it can read too sallow.
For deeper skin, Casillas opts for red-toned products to give a nice warming look. "I tend to look for bronzers that are rich and don't have any white pigments in it," he says. To determine this, swatch a small amount of the color on your hand to see if it appears chalky.
Powder vs. Cream Bronzer
With many brands now offering more extensive shades in both powder and cream formulations, the choice between the two can be difficult. But as Frederick states, the first consideration should be your skin type. "If you're on the oilier side you'll want to go with a powder, while someone with drier skin would better benefit from a cream-based bronzer," she says. However, that doesn't mean that you have to stick only to those guidelines. Just as is the case with other base products, cream formulas can add sheen and create a dewy finish.
Where To Apply Bronzer
According to Frederick, bronzer should always be placed around the perimeter of the face, including a little on the neck and ears, to best accent the facial features. "After foundation, sweep the bronzer on the outside first using circular strokes with a soft-bristled brush to keep the product from looking patchy," she says.
In a similar fashion, Casillas also suggests placing the bronzer along the cheekbones, temples, and along jawline. "I recommend starting with a formula that's buildable because it's easy to blend so you can add a little at a time in order to create the perfect glow for your complexion," he says.
The Best Bronzers For Dark Skin Tones