Messy, Smudgy Eyeliner Is The Runaway Beauty Trend Of NYFW F/W '23
Grunge-inspired looks are back.
@charlieriddle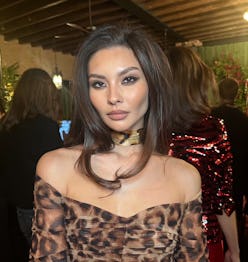 Cat eye eyeliner is a timeless makeup look, but it's not exactly easy to master. If it was, there wouldn't be nearly 37 million search results when one googles "cat eye tutorial". The good news for anyone who struggles to keep a steady hand or can't draw even wings when attempting a cat eye is that grunge-inspired eyeliner is going to be everywhere in six months. Smudgy eyeliner looks keep popping up on the runways of New York Fashion Week's Fall/Winter 2023 fashion shows, a surefire sign that messy, lived-in eye makeup will be the dominant trend in the tail end of the year.
This (nearly) effortless eye makeup look is a welcome reprieve from the pristine "clean girl" aesthetic and Y2K-inspired trends that have dominated TikTok for the past few years. And the beauty of smudgy eyeliner is that it can be as bold as one wants it to be. Models at L'Agence wore soft, lived-in messy eyeliner whereas at Prabal Gurung, models wore grungy kohl-rimmed eyes, some with splashes of vibrant colors, such as turquoise and fuchsia.
Ahead, TZR shares a rundown of the smudgy eyeliner trend seen all over NYFW F/W '23, plus some of the exact products top makeup artists relied on to achieve the looks.
Jason Wu
Models walk the Jason Wu F/W '23 runway. JP Yim/Getty Images Entertainment/Getty Images
A model getting their makeup done backstage at Jason Wu F/W '23. Courtesy of Erin Lukas
Lead makeup artist Diane Kendal ran with designer Jason Wu's cue for a "cinematic feel" when crafting the show's hazy smoky eyes, complete with smudged-out liner care of Jason Wu Beauty's Jason Wu Beauty's The Kitty Dual Eye Liner (which includes both a liquid and a pencil) and the Flora 25 Eyeshadow Palette.
"I always use the pencil first to get the shape and then once you have the shape and the contour, it's easy to put the eyeshadow on top to set it and give it more depth," Kendal told TZR backstage.
Prabal Gurung
A model walks the Prabal Gurung F/W '23 show. Rodin Banica/WWD/Getty Images
A model backstage at Prabal Gurung F/W '23. Courtesy of KISS
No two makeup looks at Prabal Gurung were the same, as each model wore a unique look tailored to herself and the clothes she was wearing. However, punk was the universal theme lead makeup artist Sil Bruinsma referenced when designing the looks with MAC products. While all models wore a variation of smudgy black eyeliner on their upper and lower lash lines, some had graphic blocks of fuchsia and turquoise pigment added to their eyes or dashes of gold sprinkled around the eye area.
Sandy Liang
A model backstage at Sandy Liang F/W '23. Courtesy of Ilia Beauty
The final beauty look at Sandy Liang F/W '23.Courtesy of Ilia Beauty
Set to a soundtrack featuring Hole's "Doll Parts", the Sandy Liang show explored the dichotomy of being sweet but tough. Lead makeup artist Marcelo Gutierrez took a similar approach with the makeup look, telling TZR backstage that the inspiration was "sweet but psycho."
He gave the models subtle smudgy eyeliner on the upper and lower lash lines with Ilia Beauty's Clean Line Gel Liner and Clean Line Liquid Liner. To illuminate the eyes, Gutierrez applied The Multistick in Cosmic Dancer to the inner corners of the eye and around the orbital bone, then brushed shades from The Necessary Palette in Cool Nudes on the lids. "Do the liner, squeeze your eyes really hard, then apply some more, then squeeze hard again," the artist says of lining the waterline for a lived-in look. "Then with a Q-tip, soften the edges and it will look like you've been wearing it overnight."
Alice + Olivia
A model's smudgy eye makeup at Alice + Olivia F/W '23. Dimitrios Kambouris/Getty Images Entertainment/Getty Images
The entire beauty look at Alice + Olivia F/W '23.Randy Brooke/WireImage/Getty Images
"Grunge glam" probably seems like an oxymoron, but there's truly no better adjective to describe the dark smudgy smoky eyes and eyeliner looks the models wore at Alice + Olivia, which were created using Too Faced products.
L'Agence
Smudgy tightline eyeliner and a shag at L'Agence. Courtesy of Charlie Riddle
A model poses at L'Agence's presentation. Courtesy of Charlie Riddle
While any dermatologist would wag their finger at sleeping in your eyeliner, there is an element of cool to morning-after tightline eyeliner. Luckily, it's possible to achieve a similar look — without potentially irritating skin. At L'Agence's F/W '23 presentation, Stila Global Head of Artistry, Charlie Riddle, created a lived-in eyeliner look using Stila's aptly named Smudge Pots and Stay All Day ArtiStix Micro Liner, a gel formula with an ultra-fine tip that's perfect for tightlining the eye. Soft blush and a matte nude lip rounded out the effortless, sultry makeup.
PatBo
The smudgy eye look at PatBo.Albert Urso/Getty Images Entertainment/Getty Images
A model walks the PatBo runway. Albert Urso/Getty Images Entertainment/Getty Images
With '90s party girls as the inspiration for PatBo's F/W '23 collection, thick, grungy kohl-rimmed eyes are truly no better makeup option to drive the theme home. A super slick glossy lip kept the eyes in focus.
Given the number of takes on this eyeliner look popping up at NYFW, it will inevitably be a major trend in six months.