Matte Makeup Is Suddenly Popular Again
But it looks nothing like it did in 2016.
@aliandreeamakeup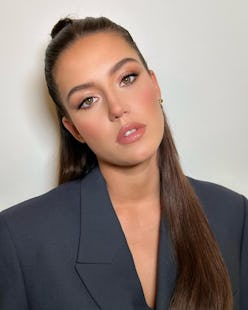 We may receive a portion of sales if you purchase a product through a link in this article.
In fashion, many popular looks are cyclical. In fact, it's expected for timeless silhouettes to resurface every few years, or era-defining accessories like the clogs and skinny belts of the '60s to make their way into closets today. However, when a beauty trend makes a "comeback," it's generally an evolved version, modernized to fit current fashion. Take the French manicure and the many variations that have kept it relevant over decades. Most recently, matte makeup — a look that centers around full coverage foundations, kooky contour methods, and chalky powders to rid the skin of any luminosity — has returned for its new epoch. Yet in an ocean of dewy, glowy, and glassy skin goals, the reinvented matte makeup trend is being embraced by the beauty set.
During the early days of YouTube, beauty influencers' tutorials dubbed shine as the enemy of flawless makeup, and contouring as essential. The technique of creating a flat-colored base in order to position shadows and highlights perfectly was one many celebrity makeup artists had relied on for years. But in the aughts, circa 2014 to 2016, social media and celebrities like Kim Kardashian made it a commercial (and an industry) standard.
Ahead, celebrity makeup artists Jamie Greenberg and Allan Avendaño, share their thoughts on how matte makeup has transformed to fit today's desired beauty looks and how to achieve it at home.
The "Matt-e-volution"
Over the last decade, subtle makeup has been defined by styles such as '"90s soft glam," and "natural matte" which thrived on tutorial platforms like YouTube. So it comes as no surprise that 2023 version of matte made its debut on TikTok. "What used to be called matte is now being rebranded and promoted on the app as 'cloud skin' — a shine-free, smooth canvas of the skin and eye area," says Greenberg.
There is, however, one major element that sets it apart from its predecessor and showcases how well it has adapted to current times. "The difference this time around is that the intention not to make your face appear lackluster and ashen, but to instead show off your skin with minimal shine for a finish that is more organic than contrived," says Greenberg. Think of it as the happy medium to blurring effects of pore-minimizing primers topped with softening foundations and powders.
Today's matte makeup style is for someone who embraces their natural look yet prefers a subtle, refined glow. "These days, I believe matte is just another way of saying even toned or the opposite of overly highlighted skin," says Avendaño. "And while both are beautiful, it's nice to be able to have a choice."
Finding Its Stride
As trends tend to do, matte makeup fizzled out with radiance taking precedence in recent years. But here's where things get tricky. Once muted finishes disappeared, luminosity became more than an alternative: It completely took over and ushered in the healthy, moist skin that is so widely desired. From serum-focused foundations to pinky nude lips, authentic-looking skin is thriving. So where does that leave matte makeup?
"In many ways, the matte finish is timeless because it's versatile enough for everyone to wear and can be used on all skin types," says Greenberg. She continues, telling TZR that despite the hold dewy looks have on the beauty industry, there is longevity for 2023's matte makeup especially, heading into summer. "Everyday users will benefit from this style because it's not as overwhelming as the past rendition," says Greenberg.
It also has a softer appearance that is more suitable for fans of the equally popular "clean girl" and minimalist looks. "Skin-centric makeup nourishes your skin but also aids in barrier protection to provide the best possible base for makeup to adhere to," says Avendaño.
What's more, a matte finish can carry your makeup from day to night. "I think people are ready for a change from the overly dewy finishes we've been seeing for the last few years. This shift feels a bit more polished and classic," says Avendaño. "I think back to how glamorous old Hollywood starlets looked with porcelain smooth complexions and it's not hard to see why that naturally seamless look is preferred today."
How To Get The *New* Matte Makeup Look
If going back to matte seems appealing, it's important to note that the process has changed a lot since 2016. "Things aren't over done, there's no use of excessive highlighter in the form of strobing, or super powdered faces as before," says Avendaño. Instead, the focus is normal, everyday skin that begins with a good routine and a natural-looking base.
Per Avendaño's suggestion, the Hyper Real skin care collection by MAC and a mattifying balm, such as Veil's AutoMatte, is a great place to start before applying your foundation. "This is used like a powder but gives skin a velvet appearance and oil-free finish," he says. Next, you'll want to apply a breathable full-coverage foundation that provides a finish that borders radiant and soft matte, such as Yves Saint Laurent's All Hours Foundation.
Contouring and highlighting is still a paramount step, but gravitating towards softer shine-free products is key. " Westmore's 3-in-1 Pore Mattifying Bronzer is ideal for blurring pores and keeping shine at bay while the LYS Higher Standard Satin Matte Cream Blush delivers high-pigment and satin smooth texture, says Greenberg. As expected, today's matte look should be set with powder to lock everything in and further reduce shine. Greenberg recommends the PUR 4-in-1 Pressed Mineral Powder Foundation with its skin care ingredients that help improve tone and added SPF.
Shop Matte Makeup Products