These Slicked-Back Hairstyles Are A Breath Of Fresh Air For Natural Hair
@kristina.manners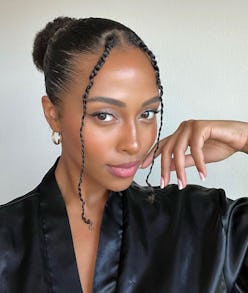 When thinking of a protective hairstyle, braids of all sorts are probably the first things to come to mind. Sure, they are forever trendy and do an excellent job of keeping everything tucked away, but they're not the only option people rely on for protection. In fact, when taking a break from braids and twists, many naturals turn to slicked-back hairstyles for their daily look. Smoothed and sleek, they are the perfect way to keep curls and coils tied back, away from the face and, most importantly, hydrated and moisturized. While the style may be having a major moment on the runways and TikTok now, it has been a longstanding staple for curly girls and it continues to evolve.
From modernized renditions of the classic ponytail and bun to the popularized 'pinappleling' technique, slicked-back hairstyles have come a long way. Today there are tons of ways to rock the smoothed look. Regardless of which style you choose, the right products are essential to keeping your ringlets secured and your edges laid. Once you've gathered your tools and prepped your hair with a leave-in conditioner, turn your attention to the below list of looks. From nostalgic Y2K styles to seductive ponytails there's truly an option for everyone.
Sleek Pineapple
For natural curls the pineapple technique serves two main functions: protection and style. Although it's commonly used in conjunction with a silk scarf to safeguard curls while sleeping, it also makes for a beautiful hairstyle especially if you're short on time. Another big benefit of this particular style is that allows for little tension at the roots which helps decrease the risk of breakage. Unlike many of the other looks on this list, the pineapple doesn't need to pull the hair tightly to keep it secured. In fact, the best way to achieve it is to flip your head upside down and use a soft scrunchie to loosely place the hair in a ponytail, allowing the curls to fall naturally.
Half-Up Top Bun
This half-up and half-down style offers the best of both style worlds. A sleek top bun lends a classic feel while the curls left loose in the back add carefree vibes. However, if you're looking for a way to add a bit more style to your look, try sprinkling in some hair jewels throughout your hair.
Braided Low Ponytail
There's absolutely no denying the commanding look of a braided ponytail a-la Sade. For naturals, this style is easy to pull off and can stay well intact for several days. To begin smooth your hair back into a tight low ponytail then use braiding hair to create your desired length. Middle parts are classic but a side part is also a nice option for a different look.
Y2K Messy Bun
It's pretty obvious that Y2K styles are going to be sticking around for a while. But whether you're a major fan or subscribe to just a few of the decade's top trends, it's not hard to love this retro look. Inspired by the spiky claw-clip hairstyles that ruled the era, it features slicked-back hair and face-framing tendrils that are flattering regardless of age.
Full Ponytail
A super sleek low ponytail can be extremely elegant. But with the addition of length and volume from a few textured extensions, the look reaches another level of sophistication.
Side Ponytail & Barrette
Hair accessories are a fun way to amp up your hairstyle and show off your personality. If you're searching for a quick update to your go-to look, take a cue from the fall/winter 2023 runways and pop a barrette or two into your slicked-back style.
Double Braided Ponytail
The in-between period of blow-drying and straightening can be difficult to navigate. But this polished double-braided pony makes it a lot easier. The no-fuss look has been trending on TikTok and is even easier to recreate at home.
Blown Out Ponytail
Another stylish and sophisticated way to wear your blown out curls is to simply brush the hair back and tightly secure it with a slim hair tie. For the crown, you'll want to make use of a conditioning gel to keep fly aways at bay while a lightweight oil will help keep the ends nourished and minimize frizz.
High Puff
Unlike the pineapple style, a puff relies on tightly securing the hair atop the head with the help of sturdy gels and a wide band-like tie. To nail the look, smooth your hair into position and fluff curls into the desired shape. If there happens to be a few coils springing loose, as they tend to do, use a couple of bobby pins to tuck them back in place.
Low Bun
You'll never go wrong with a slicked-back bun. Whether you choose a low placement or like to stick to something mid-height, the style will always be timeless and chic.