10 Of Pat McGrath's Most Memorable Runway Beauty Looks
Francois G. Durand/WireImage/Getty Images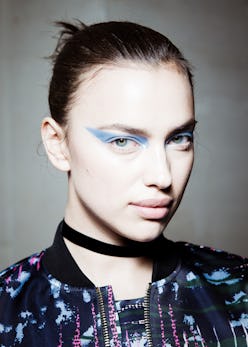 Behind the whimsy and glamour of every fashion show is a highly-curated beauty look designed to complement the clothes as they make their way down the runway. Some are subtle, allowing the outfits to take center focus, while others have show-stopping appeal and become forever immortalized in fashion history. Chances are those magical moments were created by Pat McGrath. As one of the most prolific makeup artists in the industry, the appointed Dame has been creating works of art backstage and has amassed an incredible portfolio over the past two decades. But McGrath's most iconic makeup moments have been more than impactful on the runway, as they have also influenced many of the industry's top trends.
From Alexander McQueen, Louis Vuitton, Givenchy, and Prada, it's hard to think of a runway show where she hasn't been at the helm of beauty looks. Though her skill is as diverse as the designers she works with, she is best known for bold and over-the-top creations. Many of them teeter the line between ready-to-wear looks and avant-garde and theatrical makeup. To say that her work tells a story would be an understatement. Instead, as the Spring/Summer 2024 shows begin to take off, why not look back with admiration and awe?
Ahead, 10 of Pat McGrath's most influential runway beauty looks that made her the "Mother" of makeup.
Christian Dior Couture Spring/Summer 2004
McGrath's history with Christian Dior runs deep as she has dreamed up some unbelievable makeup concepts for the couture shows over the years. At the S/S 2004 show, McGrath drew inspiration from creative director John Galliano's work, inspired by his travels around Egypt, and developed a series of ancient Cleopatra-esque gilded looks. Here, the eyes were the focus — the lids drenched in gold and blue glitter that extended into an exaggerated stark black eyebrow. Extra voluminous lashes in a matching gold hue added the finishing touches to this memorable look.
John Galliano Fall/Winter 2007
Similar to the lace and sheaths of chiffon that floated down the runway, McGrath's makeup look is a tale of romance and 1920s glamour. Think watercolor paintings and era-defining bobs. On the makeup front, McGrath painted the face with bursts of citrus and cool blue shades while keeping the brows pencil-thin squiggles. She finished the artistic look with a berry lip color, which highlighted each of the model's natural cupid's bow.
Christian Dior Couture Fall/Winter 2011
For the couture F/W 2011 show, McGrath developed a range of makeup looks that featured dramatic eyes. One notable one featured angular blocks of bold colors placed above the brow to mimic the geometrical elements on the garments. Though this was major, it was the celestial faces that stole the show. Adorned with sequin lids and miniature crystals that swooped upwards, overlapping with the coifed hairstyles, this look is engrained into runway beauty history. The cherry on top? The perfectly painted ruby lips set against matte skin.
Balenciaga Fall/Winter 2010
For Balenciaga's F/W 2010 show, McGrath created a barely-there makeup look with an icy vibe. On several of the models, the artist chose to bleach the brows before dying them Easter egg colors plucked from the collection. Needless to say, the final look was a flawless display of "Mother's" skillset and creativity.
Stella McCartney Fall/Winter 2012
Sometimes just a touch of that McGrath magic is needed for the makeup look to pop. For example, the electric blue mascara seen at Stella McCartney F/W 2012 show. Though her namesake makeup brand had yet to launch, McGrath's cobalt-colored lashes would be seen on street style stars and fashion girls alike, before making its way back to the runway.
Givenchy Fall/Winter 2015
To fully embrace Riccardo Tisci's Victorian aesthetic, McGrath got creative and looked to precious gemstones to decorate the face. You heard right. With extreme precision, pearls, rubies, and emeralds were artfully placed under the eyes and around the nose and mouth. Paired with coils of slicked baby hair and exaggerated face piercings, the resulting look was extravagant, three-dimensional and beyond opulent.
Prada Spring/Summer 2016
Sublimely perfect skin, radiantly highlighted cheekbones and gold lips were the stars at Prada during Milan's S/S 2016 fashion show. The look may have been pared down but it has remained iconic thanks to its simplicity and illuminating appeal.
Atelier Versace Couture Fall/Winter 2016
No doubt about it, McGrath is the queen of grandiose makeup, but she's also supremely talented at subtle and sleek. For Versace Couture F/W 2016, the legend put her signature luminous skin to the forefront and accented it with fine details like ice blue graphic eyes and crimson-glittered lips.
Valentino Couture Spring/Summer 2019
Ethereal, airy, delicate, and feminine are all words that describe McGrath's feathered lash look seen at Valentino Couture's S/S 19 show. With a base of kohl-black-rimmed eyes, the look took flight with feather extensions that resembled more quill than falsies. Each of the dainty lashes was delicately placed on the lash lines with tweezers to give the effect of colorful plumage that fluttered with each blink and step on the runway.
Like many of McGrath's looks the eyes were the star of the show, but in keeping with the softness of Valentino's floral-themed collection, she kept the rest of the face natural and finished with a pink glossy lip.
Marc Jacobs Fall 2020
True, a striking red lip and winged cat eye aren't as over the top as some of the others on this list. But the sheer volume of makeup looks McGrath drummed up for Marc Jacobs' F/W 2020 show was extremely impressive. With a whopping total of 90 looks, her inspiration stemmed from two of the most basic makeup items found in most people's drawers: black eyeliner and red lipstick. "It's a real modern take on beauty, and the fact that we take everything past, present, and future — that's kind of what makes beauty today," as she previously told TZR.