Boho Braids Are Back & Better Than Ever
A new era for the protective style.
@chrissy_dastine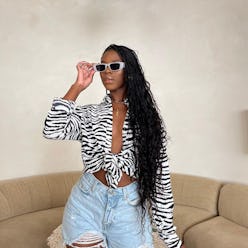 Much more than a protective style, knotless braids have become a style statement completely in a lane of their own. Whether it's jumbo braids with slick edges, French curled, or micro-mini, the simple braiding technique has brought a range of styles coveted by celebrities and popularized by social media. However as some trending looks come and go, some looks, such as bohemian (boho) braids, have stood the test of time, by taking a more re-inventive approach to viral longevity.
While boho braids have been around since the early 2000s — think Beyoncé back in her Destiny's Child days or Alicia Keys circa 2009 — they've recently made a comeback with a new twist. Today's styles have free-flowing dantiy tendrils attached to the braids for a wet and wavy look that is root to tip. With the ringlets dispersed throughout the braids, the effect is ethereal and likened to a mermaid. And the eye-catching look has taken off on social media at lightning speed.
Taking a quick look through Instagram, TikTok, or your surroundings and you'll likely notice one or more heads sporting this now viral look. So, just how did these new boho braids resurface and take over as the latest in-demand style?
LA-based braider Vanese Williams, known by Youxvanese on social media, tells TZR it likely began with actress and fashion darling, Zoë Kravitz. "Four years ago, boho braids just weren't as popular as say jumbo knotless styles," she says. In 2017, Kravitz made waves as a yoga-loving stepmom in HBO's hit Big Little Lies sporting her soon-to-be signature boho braids. Following its ending, she then starred in the Hulu series High Fidelity, and again, captivated the internet with her look.
"Zoë really set the tone for the style to make its way back to the mainstream," Williams says. And with that revival, the braider has seen a shift to today's version of bohemian braids.
The New Boho Braids
Unlike the OG style, the new look relies heavily on knotless braids. While the free-flowing hair previously began mid-braid to create the illusion of a full head of wavy hair, today's style features a full length braid with wavy ends and loose tendrils placed throughout. The result is a cascading blend of braids and curls that resembles natural beach waves and braids.
What Kind Of Hair Is Used For Boho Braids?
Boho braids require a particular type of hair in order to achieve the desired look. For longevity and overall effect, Williams suggests using two different types of hair: a weft of human hair with a wavy texture for the tendrils and a curly or wavy textured hair meant for braiding. Though more affordable, synthetic hair tends to tangle easily and requires more work to maintain the curls. "You want the braids to look breezy, natural, and light, and human hair gives you all of that without having to worry about the hair getting matted and messy," she says.
How To Maintain Boho Braids At Home
If you do choose to go with synthetic hair, Williams advises against getting the braids wet and staying away from chemicals such as chlorine and bleach. "The other really important thing with synthetic hair is keeping the braids separated to avoid them from tangling," she says. For human hair, the maintenance is more dependent on the curl pattern of the hair. Curlier hair will require you to detangle more regularly than a body wave texture, which can maintain its pattern with a regular moisturizing routine.
How Long Do Boho Braids Last?
Despite the loose tendrils, boho braids can last up to six weeks with the right upkeep. Keeping them moisturized and covered at night as recommended by New York-based braider Shamicka Williams is the best way to maintain the look. Whether using a homemade mixture of conditioner and water or a refreshing spray, it's important to moisturize the actual braids themselves. Remember that since the tendrils are (likely) human hair, they should be treated as such. And for longer styles, use a large bonnet to ensure the braids, curls and all, are completely covered at night.