The Summer 2023 Hair Color Trends Celebrity Stylists Are Endorsing
@jennaperryhair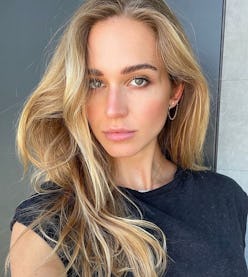 Something about the changing seasons and warmer weather brings the feeling of renewal to the surface. Whether it's wearing vibrant blush or bringing the drama with a bold haircut, summertime just feels appropriate for debuting a new look. Fortunately, the rest of the beauty set is eager to provide ample inspiration for your next hair transformation. The summer 2023 hair color trends are all about shimmering undertones, highlights and lowlights that glisten in the sun, and upkeep that's simple to manage in-between salon visits.
In preparation for the season ahead, celebrity colorist and L'Oréal Paris creative director of style and color, Jonathan Colombini, has noticed his clients opting for lighter shades with golden tones. However, this season it's not the expected bleach blonde people typically gravitate towards. "Balayage is pretty standard come summer but this time around it's softer and user-friendly for those DIY-ing [their color] with box dye." He ensures that traditional highlighting techniques will also be big for summer in addition to the sweeping methods used for balayage.
Brunettes and reds are also trending as moody winter shades are being lightened to prepare for the sun-filled days ahead. Whichever route you choose, maintaining your hair's health should be a priority. The key this summer is to enliven strands with glossy hues while prolonging the wear. "Using [hair care] products with the right ingredients, such as argan oil, will help restore the pH balance and intensify shine, bringing dull hair back to life," notes Colombini.
Ahead, TZR spoke with two celebrity hairstylists for their predictions on the top summer 2023 hair color trends, along with tips on how to maintain them. Read on to find your new shade.
Ginger Hazel
Contrary to popular belief, brunettes can also be a good starting point for those who want to transition to more saturated hues like red or copper. If you're not ready to fully leap into an intensely bright shade, opt for a subtle shift with a ginger hazel color. The foundation of this look lies in its warm cocoa base that is cooly accented with copper at the crown and flowing throughout the strands.
While easily more manageable than vivid reds or blondes, a color change like this still requires some at-home maintenance. Cycling a gloss into your hair care routine can not only help prolong the color, but will keep it looking shiny and healthy. "For brunettes, I like to recommend the L'Oréal Paris One Step In-Shower Toning Gloss to ensure support," says Colombini.
Balayage
There's no denying that summer is the season for highlights. But this year, balayage looks are breaking free from the bleach blonde and ash streaks that previously reigned supreme. With a more natural approach, balayage is signified by tones of soft sable and honey blonde that transition seamlessly from brunette roots.
This summer, you can also get salon-quality balayage at home, another big difference from past years, which required a salon appointment with a hefty bill. If you're going the DIY route, Colombini, recommends using the L'Oréal Paris Superior Preferences Balayage Kit. "Unlike other home highlighting kits, this one comes with a special applicator designed to replicate the patterns of the free-hand technique and a toning mask for the most natural effect," he says.
Golden Brunette
Lowlights are also making a strong return this season with rich brown shades leading the way. The perfect mix of deep earthy tones and California cool, this trend is an easy way for brunettes to update their color with very little maintenance. The beauty of lowlights is the subtle enhancement they provide, so you'll want to lean into the muddled look. For softer results, celebrity colorist Matt Rez suggests diluting a color depositing mask — such as those from Moroccan Oil — with conditioner before applying it to the hair.
Sunset Red
If you're looking for something dramatic, this tonal color that mimics the melded tones of a sunset should do the trick. With a vibrant dye job like this one, it's best to have scheduled salon visits to keep your strands healthy and prevent them from drying out. "Summer wear and tear — between the sun and swimming — can quickly fade salon color, so it's important to make refresh appointments in between general visits to keep it looking fresh," says Rez
Wheat Brown Streaks
Let's get one thing straight — these aren't the stripe highlights from the early 2000s. This season, the streaking method is modernized with a washed wheat color that's more organic than contrived. Rez tells TZR that with summer just around the corner, it's no surprise this ashen gold tone — which he achieves through his Midlight Technique — has been popping up more frequently. "It's the perfect tweak for warm brunettes and even dusky blondes, thanks to the cool reflecting effect of the streaks."
Copper Penny
You may have noticed natural hair tones taking precedence this year, but that doesn't mean they can't be refreshed with a summer glow. If your natural hair is on the deeper side, this copper penny color may be just the hue to revive your strands. "A color-depositing mask works well here too because it gives you the flexibility to play with fun shades without the commitment or long-term effects of permanent dye," says Rez.
Sun-Kissed Tips
Think of this as the lemon juice highlights you'd DIY back in middle or high school, only this time they're much more expertly placed. The idea is to give the body soft streaks of lightened color while drawing focus to the ends of the hair. "This 'tips' technique is becoming a sought-after summer look for blondes because of its beachy feel," says Colombini. With just the bottom-most strands dyed, this look requires little upkeep aside from the use of color-preserving shampoos and conditioning treatments such as Pureology's Hydrate Shampoo and Vegamour's HYDR-8 Deep Moisture Repair Hair Mask.
Butter Blonde
Regardless of the season, blonde pretty much always holds a spot as one of the hottest hair trends. That said, this summer's version is all about dimension and buttery gold tones. "Imagine the color of frozen butter and a stick fresh from the fridge come together in blended ribbons," says Rez. With the addition of toffee undertones, the result is anything but one dimensional.
He continues, telling TZR that the overall look is a collective one that reads blonde when the three shades join seamlessly. With such a unified mix, butter blonde can also effortlessly work on a range of hair lengths and textures. As with any bleached style, the hair needs to be regularly moisturized with conditioners and oils post coloring to avoid dryness and damage.