This New Liquid Matte Lipstick Truly Doesn't Flake Or Crack
Charlotte Tilbury has done it again.
Courtesy of Erin Lukas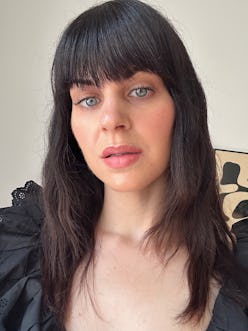 We may receive a portion of sales if you purchase a product through a link in this article.
In our series Trial Run, TZR editors and writers put the buzziest new beauty products to the test and share their honest reviews. This week, TZR editors test Charlotte Tilbury's Airbrush Flawless Lip Blur.
What makes a beauty product go viral? Some may argue sleek packaging, a gimmick, an innovative formula, or a combination of all of the above are what makes thousands of TikTok views translate to stock shortages at beauty retailers. But there's a certain tier of brands whose products are guaranteed to become modern-day cult-classics online based on reputation alone. One such example is Charlotte Tilbury, a celebrity makeup artist whose namesake line of color cosmetics and skin care oozes as much glamour as the A-listers she makes up for red carpet appearances. While a handful of Tilbury's products have transcended virility, becoming staples in makeup bags across the globe, none are as iconic as her lipsticks. So when the brand announced its latest launch, the Airbrush Flawless Lip Blur, a liquid matte lipstick that offers a lived-in, airbrushed finish, beauty editors' ears naturally perked up.
In true Charlotte Tilbury fashion, the formula breaks stereotypes associated with the product category. This liquid matte lipstick features innovative ingredients to deliver long-lasting pigmented, shine-free color that doesn't flake, fade, or crease with wear. Even better, Lip Blur comes in some of the brand's most beloved shades, such as Pillow Talk, Pillow Talk Medium, and Walk of No Shame.
With very hectic schedules and high standards when it comes to lipsticks, TZR editors put Charlotte Tilbury's Airbrush Flawless Lip Blur to the test to see if the product's blurred matte lip holds up throughout our days. Ahead, four editors share their honest thoughts on the buzzy new launch.
Fast Facts
Price: $35 each
Size: 10 mL
Clean/Cruelty-Free: Cruelty-free
Best For: Anyone who like matte lipstick
Ingredient Highlights: Hyaluronic acid, powder blur technology, film-forming resin
What We Like: Lightweight; pigmented; doesn't get flaky or dry
What We Don't Like: Nothing! (Really)
Rating: 5/5
How TZR Keeps Score: 1/5: Making a return; 2/5: Keeping as a backup; 3/5: Finishing to the last drop; 4/5: Recommending to my group texts; 5/5: Already on auto-replenish
The Formula
As the latest addition to the brand's Airbrush Flawless franchise, which includes a full-coverage foundation, bronzer, finishing powder, and setting spray, Lip Blur dispels the myth that all matte liquid lip products are drying and flaky. Charlotte Tilbury has achieved this feat by injecting the formula with hydrating hyaluronic acid so lips stay smooth for up to 24 hours. They've also included an innovative powder blur technology to deliver a comfortable matte finish and a film-forming resin for a smooth, airbrushed effect.
The eight-shade lineup consists of the core colors that commonly make up a lipstick wardrobe: nude, pink, and red. Charlotte Tilbury has even included some of its fan favorites, such as Pillow Talk, Pillow Talk Medium, and Walk of No Shame, so fans of these colors can wear various lip styles without deviating from their signature shades.
Our Experiences & Results
Kathy Lee, Editor In Chief, Wearing Walk Of No Shame Blur
"I'm wearing the Walk of No Shame Blur, which by just looking at the tube is closest to a dark rose color. At first application, I was nervous at how pigmented it was, not because of the color payoff but due to my lack of steady hand. After pressing my lips together a few times, I realized it's quite forgiving and blended nicely across my lips. I didn't have to hurry and even it out quickly, as I've had to do with some stains I've used in the past that dry and lock in the color quickly. This felt creamy and pillowy, and settled onto my lips smoothly like second skin."
Erin Lukas, Deputy Beauty Editor, Wearing Pillow Talk Blur
"I am easily influenced by any beauty product that promises an effortlessly cool, lived-in finish, so of course, Airbrush Flawless Lip Blur in the brand's famous pink-nude Pillow Talk shade was makeup catnip for me. While I've tried a number of liquid stains or balms that aim to create a worn, blurred finish, all of them have fallen short because the color either went on streaky or the formula dried out my lips. This liquid matte product is as light and fluffy as the coconut cream in my favorite guilty pleasure Erewhon smoothie and it stays that smooth on my lips throughout the day — and the color doesn't fade. As for application, I used the corresponding Pillow Talk Lip Cheat lip liner to create blurred edges, then swiped on Lip Blur with the diamond-shaped applicator to fill in my lips. To finish things off, I tapped it in with my fingertip to fully unlock that covetable worn, lived-in look."
Jessica Fields, Beauty Writer, Wearing Honey Blur
"When it comes to matte lipstick, I prefer a liquid formula to a stick because they tend to feel more hydrating when applied. But sometimes that hydrated feeling doesn't last and gives way to cracks and creases in the lip color throughout the day. With that in mind, I was looking forward to trying out the Airbrush Flawless Lip Blur formula because it promises to deliver a powder-matte finish. I chose the color Honey Blur, a rose-toned pinky brown, and was immediately impressed with the intensity of the pigment when swatched on my hand. Even before putting it on my lips, I could see that the formula was going to stand up to its light-as-air claims due to the whipped texture. Once I did apply it, I was happy that the consistency felt creamy. The diamond shape applicator also adds to the ease of application, and even allows you to skip using lip liner. Most importantly, the color payoff was also consistent with the swatch and felt comfortable on my lips as the day went on. Even better: It stayed put through breakfast and coffee."
Amanda Ross, Beauty Editor, Wearing Rose Blur
"When I opened this lipstick, the sweet, marshmallowy scent and matte finish instantly took me back to summer 2016 in the best way. But instead of the cakey, drying formulas of yesteryear (isn't it wild that 2016 is a throwback already), this formula is incredibly soft and lightweight and doesn't crack or feather. It's comfortable on the lips, never settling into fine lines or flaking off in random patches. I legitimately thought I was done with matte lipsticks of all sorts after the massive liquid lipstick craze faded, but this Charlotte Tilbury formula has made me a believer again."
Is Charlotte Tilbury's Airbrush Flawless Lip Blur Worth It?
If you're someone who loves the look of matte lipstick but can't handle the stress of needing to reapply a traditional formula throughout the day or deal with flaking or smudging, this product is for you. The mousse-like texture and diamond-shaped applicator make it just as effortless to apply as the final product looks on your lips. The caveat? It'll be a struggle to narrow down which shade to buy.