Emma Watson's Ladylike Hair Bow At The Prada Fashion Show Is The Only Accessory She Needs
Jean Catuffe/GC Images/Getty Images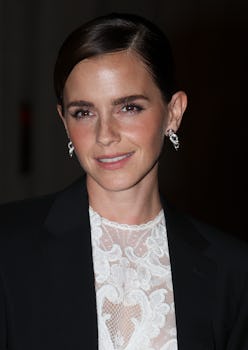 Emma Watson's spent the past few years experimenting with the edgiest looks of her entire career. Once synonymous with a distinctly British brand of classic, polished romance — her aesthetic impact on Tumblr is rivaled only by the Alexa Chung types — she's now firmly broken the mold and demonstrated her impressive versatility thanks to a slew of daring decisions: a choppy mullet, a goth-glam hair color, a levitating dress. But even amid her out-of-the-box moves, she still likes to return to her very glamorous wheelhouse. Watson's hair bow at the Prada Spring/Summer 2024 Ready-to-Wear show in Milan is as true to form as it gets for the young star. It's a little retro and more than a bit ladylike, but her youthful styling makes the entire look feel so fresh and spirited.
The satin bow, which is large, black, and structured enough for the loops to stand up on their own, was affixed to Watson's half ponytail somewhere between the crown of her head and the base. Both the styling and position are equally important here, and they're worth noting. First of all, the looser, bouncy nature of her blowout, rather than a more formal or sleek style, makes the bow feel cutesy, but not prim or overly precious — that's key.
Arnold Jerocki/GC Images/Getty Images
Arnold Jerocki/GC Images/Getty Images
And by placing the bow a little lower on the head, it feels a little more mature and not so schoolyard. Of course, her free-flowing, side-parted bangs help infuse some casual energy into the look, too. While it's as yet unclear which celebrity hairstylist is behind the look, their choices here are unassailable.
To get Watson's dreamy look at home, follow her lead and seek out (or make) a bow with long, trailing ends and possibly even some underwire for nailing the perfect shape. A half ponytail like Watson's is an ideal in-between style for testing the accessory out, too. When in doubt, err on the side of less-than-perfect structure — so much of the charm is in looking at least a bit dashed off.