The 6 Biggest Fall 2023 Makeup Trends Put Nostalgia Front & Center
From brown lips to smudgy liner.
@taniellejaimua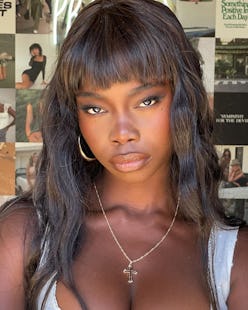 We may receive a portion of sales if you purchase a product through a link in this article.
The comedown from three months of long, hazy days of summer revelry can be tough to swallow. For those who worship the sun, the onset of brisk temps, piling on layers, and the rollout of pumpkin-scented candles, soaps, et al is enough to seriously look into relocating to a tropical locale. The silver lining is you can avoid a seasonal rut, as far as your beauty routine is concerned. Along with a low-maintenance haircut and color refresh, you can carry your carefree summer mindset through the end of the year with the effortless fall 2023 makeup trends. Time-effective and nearly effortless, some of the season's biggest looks are subtle takes on previous viral trends that will enhance your natural features without looking like you tried too hard. Think latte makeup consisting of warm, brown tones, and DIY versions of semi-permanent treatments like lash extensions.
But those who are into bold, glamorous looks aren't getting left out of the mix. On the opposite end of the spectrum, abstract, artistic eyeshadow is also having a moment. And then there's the smudgy, graphic eyeliner born out of the '80s and '90s goth and punk scenes.
Ahead, three top makeup artists share a complete rundown of the six biggest fall 2023 makeup trends. Plus, a few key products for mastering each look.
Latte Makeup
Delicious food will continue to inspire beauty trends come fall. At least, as far as eye makeup is concerned. Kirin Bhatty, a New York City-based celebrity makeup artist, predicts summer's 'latte makeup' is still going to be popular as the temperatures dip. And, hey, it's fitting since many switch back to hot coffee as soon as summer comes to a close.
Characterized by warm shades of brown on the eyes, this universal look will lean stronger for fall, with deeper tones taking center stage. "We've seen this really have a moment this summer, and I think this will continue on into the fall — employing more espressos and chocolate hues into the mix," the makeup artist shares. "I recommend mixing mattes and shimmers to get a soft focus effect."
Post-Summer Glow
For a year-round golden-hour glow, try contouring with self tanner. Not only will you always look like you just got back from vacation, you'll be able to shave minutes off of your daily makeup routine until your tan wears off. "As of late, I am seeing makeup enthusiasts utilizing tanner for semi-permanent contour," says Melinda Solares, Sephora beauty director. "This technique can speed up your beauty routine if you regularly contour or can simply add a bit of extra glow and definition to your features."
To achieve a natural finish, Solares suggests prepping the skin with a light layer of moisturizer. Then, use a dense blending brush to apply the self tanner to "the cheek contours, upper forehead, eyelids for color correction, the corner of the outer eye, up the temple for a lifting effect, nose, jaw line, and, finally, blend down the neck."
Abstract Eyes
Think of this fall's abstract bedazzled eye makeup as the looks Euphoria characters would move on to once they graduate high school. "Cool appliqués and splatters of color on the eyes create an art school take on eye makeup," Daniel Martin, a New York City-based celebrity makeup artist says of the trend. If you're looking for inspiration, the kaleidoscopic eye look was seen on the Giambattista Valli (seen above) and Vivienne Westwood Fall/Winter 2023 runways.
While you can go all in with decals or foils, a shimmery eyeshadow palette can also be used to create your own painterly eye makeup.
'90s Brown Lipstick
If bold red or vampy oxblood isn't your vibe, why not try a '90s-inspired brown lip instead? The color is an anomaly shade because it suits all skin tones — simply tweak the undertone to find your perfect match. "Invest in a few nude-toned liners so you can embrace the trend with multiple shades," Bhatty says, noting that she loves the Tower 28 liners. "After liner, use either a gloss or a lipstick to finish."
Undetectable Enhancements
The reality is it takes some effort to look like you put in zero effort. And that's where no-makeup makeup comes into play. The key to mastering a subtle, natural look is using products that offer subtle results to enhance your natural features. "In 2022, we saw lash extensions, lip blushing, and brightening eye drops make a huge impact on trending beauty looks," Solares shares. "This year, the beauty scene has taken those sometimes time-consuming (and expensive) beauty enhancements and created new ways of bringing the look to life."
Think lip stains that offer a wash of color that doesn't get flakey, DIY lash extensions for achieving a customized look, and applying white eyeliner to the lower waterline or inner corners to make the eyes appear brighter and more alert.
Misfit Glam
Despite being a classic makeup look, cat-eye eyeliner is tough to master. Luckily, one of this fall's biggest trends involves drawing outside the lines. "[This trend is] taking '80s and '90s goth and making it more contemporary with unstructured eyeliner, smudgy eyeshadows, and deep dark lips," Martin shares.
If you don't want to go full-on goth glam, opt for a swipe of lip balm or oil and keep the full focus on the eyes. Add Chanel (above) or Thom Browne's Fall/Winter 2023 makeup to your mood board.