This "Ugly" Hair Color Trend From 2002 Is Making A Comeback
These 9 styles are back for a refresh.
Robin Platzer/Twin Images/Hulton Archive/Getty Images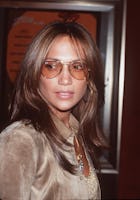 It may feel like it was just yesterday when you were rocking side bangs, piecey layers, and streaky highlights. And although it was two decades ago that hairstyles from the early 2000s were really in their prime, they're already starting to recirculate (Dua Lipa's chunky highlights, anyone?). While you might consider your dramatic side bang from 2004 to be nothing more than a cringeworthy memory — many of these styles are back, baby, and being looked at in a fresh new light.
When you think of the looks that stick out most from the years of butterfly necklaces and Bath & Body roll-on glitter, styles like intentionally unblended highlights, half-up hair bumps, and layers on layers are probably the first that come to mind. And courtesy of several celebrities, some are beginning to creep their way back in.
Stars like Dua Lipa, Jennifer Lopez, and Kim Kardashian adopted streaky highlights this year during quarantine, which can easily be attributed to the likes of Kelly Clarkson, and even Lopez's early aughts self. And the kinds of layers that have been seen on Selena Gomez and Meghan Markle as of late could be found on celebrities like Britney Spears and Brenda Song just a decade or two back.
Ahead, you'll find a roundup of the best hairstyles from the time when pink hair dye wasn't a common trend, but rather a super *edgy* statement and layers were a-plenty.