Winter's Top Nail Color Trends Are Borrowing Shades Straight From The Runway
Spoiler alert: Gray is in.
@amyle.nails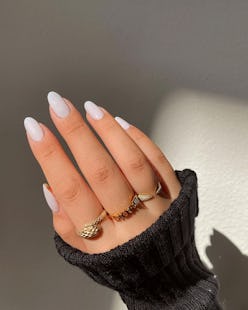 We may receive a portion of sales if you purchase a product through a link in this article.
From spring to summer to fall, there's an anticipation of what each season will bring. When winter rolls around, the excitement turns cold. Frigid mornings, icy walkways, and, loads of layers aren't exactly the most enticing elements. But if there's one thing to look forward to while enjoying the warmth of a fire or your apartment's space heater, it's a new manicure. While the frosty air outside may be keeping you indoors, it's also a good incentive to ditch the neon and bright hues from the months prior. Fortunately, the winter 2023 nail colors are full of shades and finishes that make the transition seamless.
Much like the season itself, winter's manicure trends are embracing moody hues with cool undertones. Think gray-blue polishes reminiscent of the crisp sky and dark midnight shades. But there's also room for vibrant manicures, with much of the inspiration stemming from fashion month. "The fall/winter 2023 runways also brought lots of inspiration," says Jin Soon Choi, editorial manicurist and founder of JINsoon. From bright pops of cherry to metallic finishes seen at Chanel and Loewe during Paris Fashion Week, the shows laid the groundwork for some of the top looks.
Choi also notes that softer nail shapes will be more favorable this time of year as they have a natural look and allow the colors to shine. Ahead, TZR tapped three industry experts for the manicure shades that will dominate winter and the best polishes to achieve them at home.
Burgundy
Deep manicure colors are a natural choice as fall begins to fade. While the year's recent trends have provided lots of options, burgundy remains a staple for the months ahead. "Reds are forever timeless, but the key is finding the right shade that complements both the time of year and skin tone," says Choi.
Despite falling under the umbrella of the classic shade, burgundy has a melancholic temperament that's perfect for winter. It also has a range that makes it versatile and easy for anyone to wear. From wine-stained claret to oxblood, Thea Green, founder of Nails.INC, tells TZR that you can expect to see this bold color everywhere from now until the new year.
Cherry Red
However, if you prefer a more lively option, bright reds are still a go-to this season. "A vibrant pop of color never goes out of style, and this year, it's all about cherry," says Green. Not too bright and certainly not dull, this look relies on a creamy polish to deliver a statement-making manicure.
"The best thing about red is that it suits both traditional and modern styles," adds Choi. She explains that when painted on long or almond shapes, the color has a glamorous look. But when paired with shorter square shapes, the manicure feels more contemporary and chic.
Coffee Brown
The nail community's love for coffee house-inspired manicures is clearly not slowing down anytime soon. According to New York city-based celebrity manicurist and educator, Julie Kandalec warm browns and tans are still very much on trend for winter. "Think of these colors as a richer version of the quiet luxury aesthetic that's been so popular," she says. The one difference this season? Kandalec notes that you'll be seeing the hue paired with a lot more short to medium-length nails instead of extra-long extensions.
Icy Gray
To fully lean into winter's chill, try opting for blue-gray polishes with icy undertones. While the shade may not be surprising, Green notes it's on track to become one of the season's top trends. There's also the sartorial appeal that makes it even more enticing as the color was seen all over the F/W 2023 runways, like at Proenza Schouler and Molly Goddard.
Solid manicures in this particular hue are sure to bring in more than a few compliments. But blue-gray is also a nice option for DIY nail art. "It's a fun one to experiment with, whether you're using tools or going freehand," says Green. If you're new to creating designs, she recommends starting with an easy pattern like swirls, polka dots, or even hearts.
Snow White
The phrase "winter whites" has never been more fitting. "The shade is no longer limited to summer," says Choi. With a range of polishes that vary in opacity and finish, it's easy for everyone to wear this unapologetic hue. If minimalist is more your vibe, opt for a milky version that's semi-sheer and natural. On the other hand, if daring is more your cup of tea, a fresh cloud-like shade will be more fitting.
No matter which way you choose to go, Choi states that you can't go wrong with white nails this season. But if you're still on the fence, she suggests trying one with a pearlescent finish. Not only will it complement any skin tone, but it's also in line with the popular oyster nail trend.
Midnight Blue
As one of the breakout nail colors from fall, navy blue has been a favorite choice for celebrities and the creator community. As expected, Choi notes it will continue to hold the internet's interest as winter begins. "The deep hue feels especially rich and stylish during the colder months," she says. Think glossy polishes in midnight blue with flecks of obsidian. "These shades instantly give your manicure an edgy, cool touch that works well with the season," says Choi.
Chrome Finishes
With Hailey Bieber's viral glazed donut looks and Jennifer Lopez's equally beloved vanilla chrome set, it should come as no surprise that this style is a strong contender this winter. "I think people are beginning to realize how versatile and fun the finish can be. Whether you're using a topcoat or a chrome polish there are endless possibilities," says Kandalec.
Instead of Barbie and candy colors, Green tells TZR that metallic shades, especially silver, are top of the list. "You can easily experiment and introduce a polish into a simple design if you're not ready for a full set," she says. These colors also work well with any nail shape or length so you can customize it to fit your personal style.