The Viral 'Hot Chocolate Manicure' Is Fall's Sweetest Nail Trend
@nailsbyalsn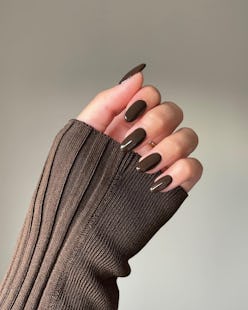 In case you haven't noticed, the internet is consumed with seasonal manicures inspired by cafes and coffee beverages. While java-colored polishes were all the rage late summer and early fall, going into winter, the attention is firmly on hot chocolate nails. You heard right — that steaming cup of cocoa you look forward to when the temperatures drops is also next season's hottest (pun intended) nail shade. Thinking back on all of autumn's biggest beauty trends so far, it's not hard to see why, too. Much like burgundy or navy, rich shades of brown lend themselves well to moody manicures — but, crucially, they're a stunning neutral color that fits right in alongside the quiet luxury aesthetic.
Maybe you've noticed an uptick in decadent brown polishes on the market, or spotted the shade on celebrities like Rihanna and Lily Collins. Whatever the case, you might find yourself in need of some cocoa inspo. Luckily, the creator community has loads to offer for every manicure aesthetic. Like to keep things short and sweet? Try a simple solid color in a creamy milk chocolate shade. For the bold, there are all sorts of designs and even even edgy matte options, perfect for pairing with all those vampy fall lipsticks.
Ahead, TZR pulled the top hot chocolate nail looks from Instagram to get your creative juices flowing. Scroll through to find a new favorite inspired by the yummy beverage.
Monochrome French
Hot cocoa comes in a range of shades — especially if you're loading your mug with marshmallows — so why shouldn't your manicure? With this monochromatic French, every chocolate color is yours for the taking. However, if you want the look to really pop, try creating a gradient design with deep tips. From lightest to darkest, this look is as eye-catching as it is cozy.
Chocolate Mocha
If you're taking a break from your extensions, consider this shiny mocha shade. The deep brown is the perfect way to make your nails stand out. The best part about this manicure overall, though, is how easy it is to create at home. Just two coats of polish followed by an extra-shiny top coat is all you need for a glossy finish.
Cocoa Cinnamon
Looking for a way to spice up your look? Why not add a touch of cinnamon? Much like the drink itself, a cocoa-inspired manicure can also benefit from the ingredient's earthy undertones, transforming from deep brown to shades like burnt orange, clove, and sienna. For this look, choose a polish formula that's buildable and not too opaque. After all, you want your nails to have a rich consistency that shows off just uniqueness of the polish color.
Swiss Miss
The classic powdered beverage has a creamy hue that's as delicious as it is nostalgic, and this manicure is all about leaning into those simple elements. Falling somewhere between mocha and beige, it's the perfect color for those who prefer a minimalist look. To get it just right, opt for a sheer polish that will give a the shade a lighter feel, even with two coats of polish.
Milk Chocolate
Much like nude nails, a cocoa color can complement all complexions. Take this warm chocolate shade, for example. The buttery-smooth texture gives it an alluring milky look thats hard to resist. Even with minimal shine, its simplicity is sure to turn heads wherever you go.
Dark Chocolate Almonds
Is there anything better than almonds covered in dark chocolate? Bitter and delightful, these deep nails are an excellent alternative to a true black. Not only do they have the same level of shine, but they also have a distinctly moody vibe that's timely for the season. Sure, the shade can be worn on any nail shape, but when paired with the popular almond style, they're the perfect blend between vampy and naturally chic.
Mixed Media
The beauty of this color trend is that it can easily be blended with all sorts of designs for an artistic look. The key is to mix in a few different styles among your solid-polished nails. This option includes a classic French tip and graphic swirls of vanilla and chocolate shades. It's all about mixing things up and getting creative, whether you choose just a couple different designs or a whole handful or pattern. Just be sure to choose a milk chocolate shade to give it those all-important hot cocoa vibes.
Marshmallow Topping
Marshmallows are the ultimate cocoa topping. You can embrace the sweet treat by adding a polish in the powdery hue to your manicure. But for a more creative approach, try doing a design that mimics a melting marshmallow. Using the cloud-like white color, lightly paint the tip of your nail and blend in shades of brown for a ombré effect.
Matte & Bold
Fall is the best time to wear matte finishes. For a bold approach, try matching your nails to your shine-free lipstick. Not only is the combo seasonally appropriate, but it also has a trendy monochrome effect. Pro tip: keep the rest of your makeup look clean to emphasize the dramatic pairing.
Melted Chocolate
Think of this 3D manicure as an ode to the delectable treat. With melted blobs and bubbles, it has an appealing textural element that's hard to deny. But to cinch this look, you need the right shade. Opt for a rich brown that's naturally glossy when the light reflects it. Then finish with a quick-drying top coat for maximum shine.