Dark, Moody Nail Colors Instantly Make Any Outfit Look Fall-Ready — Here's Proof
@lightslacquer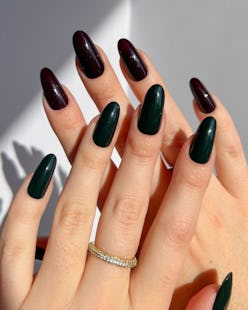 Despite the unseasonably warm temperatures and muggy humidity outside, fall is officially here. For the fashion set, the shift brings an onset of cozy knits, leather jackets, and the long-awaited return of boots. But for beauty enthusiasts, autumn is all about channeling the moody vibes of the season through makeup and manicures. For example, a matte smoky eye paired with a vampy lip can instantly make you look fall-ready. Coincidentally, the same can be said about dark nail polish. In just a few coats, you can create an aesthetic that delivers a delightful yet sultrily sinister effect.
While it's true that each season brings its own crop of complementing colors, the hues of fall are exceptionally compelling. Despite their melancholy appearance, they inject a dose of style into the most basic of outfits, making them feel fresh, crisp, and clean. But beyond that, a dark manicure, whether in navy, black, or a rich, earthy green, has a commanding power. Take classically prim French trips — they feel daring and sleek when created with a deep-toned polish.
Yes, there's something extra special and appealing about dark nails when the colder months are on the horizon. For this exact reason, TZR's created a curated collection of the best ways to wear them this season. See every look below.
Matte Forest Green
There's a reason the French manicure is so beloved. For starters, it's adaptable to any nail shape or length. But the design also lends itself to so many style preferences, like the micro-thin version or half-moon shapes perfect for minimalists. Though there have been many variations on the classic design, this deep forest green (so dark it's nearly black) version tops the list for its autumnal feel. Aside from the glossy tip, the entire nail is kept shine-free, which further adds to its moody appeal.
Burgundy Aura Nails
Summertime aura nails feel even more enchanting when created with darker polish colors. Instead of bright and vibrant, this version utilizes bold hues with similar undertones. By nature, the design is meant to blend the individual shades using an ombré technique. But when burgundy, ruby, and black come together as they do here, the look is bewitching in the best possible way.
Mauve
Mauve may not be the first hue you think of when it comes to moody manicures. However, it should be on your radar for a few reasons, starting with its very definition. Described as a moderate purple, violet, or lilac, it has a muted glassy appearance that feels distinctly ghostly. That alone makes it a wonderful alternate shade for those who don't want to go too dark.
Negative Space
If cool nail art is your go-to choice over a solid color, you'll love this contemporary design. It features a sleek coat of onyx that's divided smack down the center with a translucent strip. But if black seems too bold for your taste, you can still embrace this mod look with another dark color. It's also very easy to recreate at home, so you can save yourself a trip to the salon – and a few extra coins.
Dark Chocolate
You may have noticed brown nail looks (latte and chocolate milk nails anyone?) creeping onto your FYP lately. Or maybe you've recently spotted one or more of your favorite celebrities sporting a chocolatey shade on Instagram. Regardless of the origin, it's pretty clear that the rich color is going to be sticking around for a while. To give the hue a moody makeover, go for a creamy cocoa polish and finish with a glossy topcoat.
Scarlet Beetle
Sometimes simple just won't do. For those times when you need a manicure that's truly sensational, consider this scarab-inspired manicure. Created with a sparkling ruby shade that stops just above the lunula, it features a sharp black line that runs through the nail, giving it the appearance of a bejeweled beetle. Whether you're in the throes of planning your Halloween ensemble or are just feeling festive, this artistic manicure will turn more than a few heads for all the right reasons.
Violet Chrome
Sure, violet can be bright and bold, but there's something delightfully witchy about a chrome version. Catching the light from different angles, this interesting polish delivers a multi-dimensional look in just a few swipes. However, if you want to get the full effect, you should opt for a fresh set of long nails. Then, take things a step further and go for the coffin shape. A large nail bed just means more canvas to show off the trippy, color-changing polish.
Oxblood
Not too long ago, the internet crowned burgundy as the nail color to watch. While a deep red polish is certainly fall-ready, oxblood offers a much more vampy look and feel. Falling somewhere between brick red and wine, it delivers a sleek manicure that's flattering on any skin tone. And let's not forget the macabre vibe that makes it an ideal shade for Halloween.
Midnight Moon
Much like the French manicure, chrome is extremely versatile and fitting for a range of personal styles. Even if you're part of the tiny percentile that didn't fall head over heels for Hailey Bieber's many viral versions, this midnight option is sure to wow you. An artful blend of ebony and purple chrome, it's alluring from every angle. Just be sure to give it a high-gloss finish for maximum appeal.
Muddled Moss
Just like the season itself, this manicure fully embraces the earthy hues that arise once summer has ended. In it, muted moss-green comes together with a hint of brown to evoke the colors of the forest floor. While many dark polishes work well on a range of nail lengths, this combination requires a bit of length to optimize its subtle gradient. A coffin extension gives a nice squared off look, but a stiletto shape is also a solid choice that allows the shades to really shine.