Molly Goddard Presents The "Grown-Up" Way To Wear Pink Leopard Print
The childhood pattern is surprisingly chic.
Ben Broomfield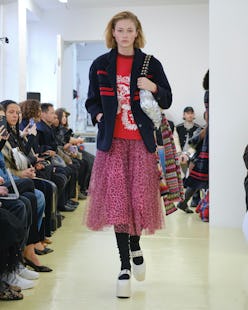 At one point or another, you've likely reminisced about your childhood outfits and perhaps even cringed at the fashion faux pas or two you made as a teen. Like you, Molly Goddard has also revisited these treasured moments from her own past, but instead chose to leverage them as design inspiration for her Fall/Winter 2023 collection, which showed on Feb. 18 at London Fashion Week. "This [lineup] is an ode to fashion," Goddard said in the show notes. "We reminisced about pieces we'd owned as kids and teenagers — leopard print jeans we'd bought at Gap kids in Whiteleys, screen print sporty knitwear from Portobello..."
Indeed, all the aforementioned style nostalgia was present in her 31-piece collection. Models walked the runway in prep-inspired wool coats that resembled classic Ralph Lauren, a brand Goddard is fond of, while the embellishments on the shoes and shirred ruched bags were inspired by a Gap Kids belt she once shared with her sister Alice Goddard, who styled the show. These looks gave the designer's longtime fans a glimpse into what she loved as a child, albeit now with a wearable twist that made them read more sophisticated and grown-up.
In perusing the latest presentation, one might notice Goddard's restraint in flooding her seasonal lineup with brand trademarks like her voluminous, tulle candy-colored gowns. "What I found the biggest challenge ... was not doing the thing that actually comes to me easiest, which is like a big, bright, colorful, enormous showstopper," said the designer to Vogue on the day of her show. Instead of sending out an abundance of translucent dresses in poppy hues, as she did in her Spring/Summer 2023 collection, Goddard incorporated several more neutral-based looks into the show.
However, Goddard's experimentation with the unexpected doesn't mean she completely abandoned her brand's classic design codes. The designer seamlessly incorporated color and maximalist elements into several runway looks that see-sawed between whimsical and overtly preppy. In one ensemble, for instance, a frothy full-length leopard-print skirt was paired with a beige sweater, while in another moment, a traditional Fair Isle jumper was layered underneath a gray, wool blazer over a playful, cherry-red skirt — with highlighter-yellow flats adding an additional colorful detail to the overall ensemble.
Since Goddard's personal fashion nostalgia served as the mood board for her fall collection, it made sense, too, that she'd want to show in a more intimate, sentimental setting. The designer invited her guests to see up close and personal where she works her creative magic. Thus, fashion week attendees sat inside her studio, located in Bethnal Green, London, while models emerged a few feet away from the label's atelier in the new ready-to-wear line.
"The space is basic, stripped back to the bare minimum, the perfect setting for a collection that isn't about drama or optics, but wearability and the joy of dressing," said Goddard in the show notes. Given the bells and whistles that normally accompany a runway show's destination, for Goddard to simply host a show inside her own studio space, it felt both refreshing and comforting. Without all the extra noise, too, everyone was able to attentively take in Goddard's thoughtful collection of nostalgia reimagined.
Ahead, find some of TZR's favorite looks from Goddard's Fall/Winter 2023 lineup that showcased her ability to create pieces that push and pull between past and present.