These Latte Nail Looks Will Jumpstart Your Fall Manicures
@lightslacquer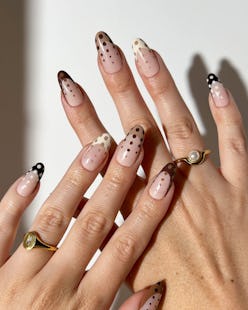 It seems like the entire beauty set is obsessed with coffeehouse beverages. First, there was the latte makeup movement which went viral on Instagram and TikTok, characterized by bronzy brown tones, creamy matte eyeshadows, and toasted neutral lip shades. Then there was the espresso hair color craze, rooted in rich, chocolatey tones that make it very timely for fall. This time around, the internet has shifted its focus to manicures with the arrival of latte nails. Similar to the makeup trend still going strong on social media, this look is also inspired by the toffee hues created when bitter espresso meets warm milk. However, the manicure version offers much more variation with a ton of room for customization.
For example, those who like simple, solid manicures can lean into the trend with a range of coffee-colored polishes, while nail art lovers can embrace their creative side with contemporary designs and patterns. If your afternoons are spent dreaming about cozy cafés filled with aromas of dark roast, the glossy espresso bean manicure was made for you. Or maybe you're one of the many who love all things pumpkin spice — you can now incorporate into your manicure. Regardless of how you plan to adopt the look, you'll find this trend is a particularly easy to wear, especially as the weather transitions fully into fall.
Ahead, a few of the best latte nail ideas the internet has to offer. Scroll through to find your favorite, then recreate it with your own twist.
Iced Latte Tips
From buttery caramel to creamy vanilla, actual lattes range in flavor and color. Luckily, you can embrace them all with this tonal manicure. A unique twist on French tips, it features a gradient of iced latte shades that lay perfectly against a natural nude base. While the color scheme may feel bare, the asymmetrical placement of the tips keep this look fresh and modern.
Pumpkin Spice
Whether you love pumpkin spice flavors or can't wait for the PSL season to end, there's no denying their reign over the fall season. Get into the spirit with a pumpkin-colored manicure. To get the latte look just right, opt for a polish that falls somewhere between a frosted and muted orange. When in doubt, grab one with a yellow-brown undertone.
Espresso Bean
Every good espresso drink begins with the bean — they're roasted to perfection and have some impressive shine thanks to the natural oils released during the process. While this nail trend usually focuses on the creamy aspect of the beverage, a deep, dark espresso polish and glossy top coat are a nice way to change things up. As a bonus, the shade looks even better on short nails.
Mocha Swirl
If you love to top your drink with swirls of chocolate sauce and dustings of cocoa powder, this is the manicure for you. The contemporary design captures all of the elements that make a mocha latte delicious without appearing too busy or kitschy. Set against a base of marbled cream and brown shades, this unique design offers a refined and artistic look.
Invisible French Manicure
Like any good nail trend, the latte look can easily be incorporated into other popular designs. Take this option that utilizes a toffee-colored polish to create an invisible French Manicure. The key to making this barely-there design pop is choosing a base shade neutral and very opaque. When paired with the thin golden-brown lines, the final look is effortlessly stunning.
Triple Shot Of Espresso
Some days, you just need an extra boost of caffeine to jolt you back to life. Turns out, that double — or in this case triple — shot can also perk your manicure up, too. Take a cue from this mixed nail look that features a deep espresso brown shade on three fingers and cream colors on the other two. To really take this look to the next level, use a contrasting polish to lightly line the base of your painted tips.
Café Con Leche
Shades of cream softly blend with sandy brown to give this manicure a frothy look that rivals any café beverage. While it may look like a work of art, this design is actually quite easy to achieve at home. Start by painting the nail with a base of beige or off-white, then add in a few swirls of tan polish with a fine-tipped paintbrush. Finally, top with a layer of sheer neutral polish for a milky finish.
Cappuccino Ombré
True coffee drinkers know it's a fine line dividing a latte from a cappuccino. With additional layers of airy foam mixed with espresso, the latter has a weightless feel and look. This airbrushed ombré design delicately blends a milk-colored polish with nude to create a similar aesthetic. Though this elegant manicure can be done on any nail shape or length, long extensions will give you a bit more space to show off the beautiful gradient.
Espresso French Tips
True, there are many interesting ways to wear a French manicure these days. From micro-fine lines to double ombré variations, there really is something out there for every style preference. However, for those still loyal the OG design, this take offers a nice balance between contemporary and classic. Using dark brown colors and both matte and glossy finishes, it has a contrasting look that sure to turn more than a few heads.
Contemporary Polka Dots
The beauty of the latte trend is that it's color-focused, which really allows you to get creative. This look, for example, features a range of coffee-inspired shades on the tips of the nail for a stylish take on the timeless design — but it's the dotted nail art that makes this final look special. It's also incredibly easy to do at home. With a simple dotting tool, plus various nail polishes, you'll be well on your way to recreating this artsy manicure.