Burgundy Is The New Black & These 10 Nail Looks Prove It
Classic yet never boring.
@welovecoco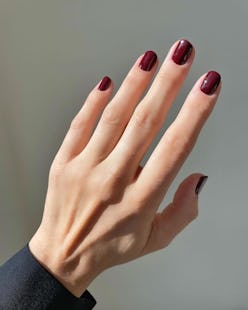 Burgundy might just be the unsung hero of fall's unofficial color palette. Whether it's seen on the latest it-pair of knee boots, a chic leather tote bag, or swiped on lips for a moody makeup look, the hue is undeniably cool come autumn. That same sentiment rings true for manicures and it's easy to see why. Take a quick scroll through Instagram or TikTok and you'll probably notice a number of burgundy nail ideas on your explore page. This is because the shade has range and versatility. As a universal color, it's as ideal for seasonal designs as it is for solid sets.
But perhaps what makes this shade most alluring is the variety of undertones to play with, which span deep wine and berry to dark chocolate and even a touch of espresso. Whether your go-to manicure style features extensions in unique shapes or simply your natural length, this sultry hue can easily fit the bill. It's no secret that fall is the time to embrace vampy color palettes but if you're looking to switch things up from typical black or brown nails, burgundy may be just the shift you need.
Ahead, 10 of the very best burgundy nail ideas to inspire your next fall manicure. From glossy tips to intricate nail art designs, finding a look that fits your style is easier than you think.
Burgundy French Tips
Changing up the tips of a French manicure has proven to be the easiest way to update this classic design. While black may be the top trending color, wine-stained shades are another option that's perfect for fall. If you're selecting a polish that skews more berry than deep brown or black, be sure to keep your base polish fairly neutral and close to your natural nail color. This will keep the design looking fresh and well groomed.
Short & Sweet
Though burgundy hues are alluring on long extensions, the shade is undeniably stunning on shorter nails. With a natural length, opting for a gel manicure instead of basic nail polish will ensure that your set stays shiny and chip-free for several weeks.
Gothic Gradient
Not sure how to lean into the goth nail trend? Look no further than this gradient design that effortlessly fades black polish into burgundy. Similar to the way dark lipliners can be used to create a contoured look, these two hues come together to form a blended design that's as vampy as it is elegant.
Glitter Nails
You don't need a slick glossy solid color to make a statement. In fact, with just a subtle touch of sparkle, you can quickly give this shade a bewitching twist.
Completely Matte
Matte nails feel just as fall-ready as moody nail polish colors and can even be paired together to create an extra vampy look. If you consider yourself a manicure maximalist, try opting for a full set of extensions featuring matte burgundy.
Burgundy Brown
There's something so satisfying about a fresh set of glossy, opaque nails – especially when they're painted a rich burgundy. If you prefer your manicures to be more vampy than berry, a deep cool-toned polish a-la OPI's Lincoln Park After Dark is the way to go.
Gemstone Accents
Gemstones of any kind are a quick and easy way to zhuzh up a manicure. But if you really want to step out of the box, matching your jewels to your nail polish color is the way to go. Just take a cue from this diamond-adorned set that features a ruby at the center of the nail.
Contrasting French Manicure
While there's no shortage of French manicure inspiration floating around the internet, it's refreshing to see a contrasting design such as this one take center stage. Against a matte burgundy base, the glossy tips have a unique look that reads elegant and interesting.
Bejeweled Ombré
If you didn't get a chance to try this eye-catching design during its heyday, don't worry. This fall is the perfect time to do so. The artistic blend of burgundy, purple, and plum paired with the ombré technique make this nail design a great option for those who like to take their manicures to the max.
Watercolor Swirls
Nude nails provide the perfect base for a range of nail art. For a simple design that's also elegant, try creating burgundy swirls beginning at the tip of the nail and cascading downward. And to completely nail the look, opt for a pinky nude as it will best complement the red undertones of burgundy.