The Proenza Schouler Woman Is Complex, Passionate, & Also A Dreamer
She's juggling the world and her place in it — with a killer wardrobe.
Photo by Giovanni Giannoni/WWD via Getty Images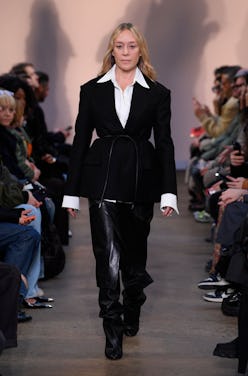 Sometimes you just want to see clothes on the runway that look good, fit well, and excite you to the point that you purchase the pants, the dress, or the blazer six months from now. No theatrics, esoteric concept, or heavily styled looks — just clothes you want to wear IRL. That simple and relatable desire for "real world" clothes is easy to understand in theory yet difficult to achieve in execution. Proenza Schouler's Fall/Winter 2023 collection shown at the Chelsea Factory in New York City on Feb. 11 was just that — and more.
Through a series of fictional journal entries written by author Ottessa Moshfegh, composed by musician Arca, and narrated by actor Chloë Sevigny, who also opened the runway modeling the first look, the show served as a window to a woman's mind and emotions — thoughts, worries, and dreams while navigating her place in the modern world and the relationships with those close to her. It's not hard to relate with the anxiety caused by a constantly busy schedule and an all too fast-paced lifestyle. And with that leaves little to no time or mental space to calculate one's wardrobe equation, especially every day.
Photo by Giovanni Giannoni/WWD via Getty Images
The 40 looks Lazaro Hernandez and Jack McCollough designed for this season is a solution to this predicament. Framed as "a day in the life of this woman told 40 different ways," according to the show notes, the collection offers an outfit for every commitment on your social and work calendar. From the soft tailoring of the menswear-inspired suit, which comes in grey and navy, to the crinkled metallic column dress, the collection spans your 9-to-5 commitments to special occasions. In other words, it truly delivers a complete wardrobe.
Which, of course, includes the downtime, too (the earliest hit of the brand was the tie-dye T-shirt, after all). A notable item was the asymmetrical charcoal knitwear with slight voluminous sleeves which then tapers to the wrists, an everyday piece that feels special and stylish. But some may gravitate more to the fuzzy, boucle hoodie that is luxe and cozy — both pieces equally worth the investment.
Photo by Giovanni Giannoni/WWD via Getty Images
If you love the recent maxi skirt trend, you'll be happy to know that there were plenty here, too. But not the constricted version of past seasons. This iteration allows movement and ease with split panels and layers of fabric peeking through with every step. It frees the woman to move as she pleases.
Wherever she is going, a roomy, supple bag and slouchy boots are ideal companions, and Hernandez and McCollough delivered. Large totes in neutral tones for the laptop, gym gear, and makeup, or if you're traveling light, folded over and carried as a clutch as seen on the runway.
Overall, what can be said for these covetable pieces is that they simplify a woman's life but not her look — each special in detail and restraint, and offering versatility. Perhaps this purpose or, better yet mission, is best summed up by the design duo: "We do what we do because of our love for the women in our lives." And it shows.