Navy Is The Chicest Dark Nail Color For Fall – These Are The 10 Manicures To Try
@raelondonnails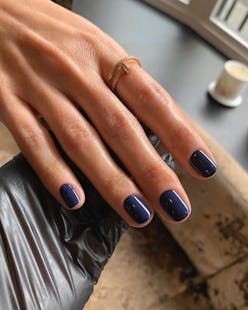 Manicure trends come and go pretty often. In fact, the last few months alone brought a wide range of quiet luxury looks and kitschy designs alike. While there will always be a time and place for natural shades and cool nail art, it seems navy manicures are currently leading the pack. Similar to deep burgundy and earthy browns, the intense blue shade has always been a go-to for fall thanks to its moody feeling, and this year is no different. As one of the top-predicted polish colors for the season, navy nail ideas are making waves all over social media with little signs of dying out.
Unlike other nail trends that focus specifically on one element, this type of manicure lets you embrace a range of different designs. Like 3D textures or sparkling finishes? What about an ideal canvas for drawn-on designs? There's a navy blue nail look for you. Of course, two simple coats of lacquer in the rich shade and a high-gloss topper will always be classy in an effortless, minimalist way. But with so many interesting ways to wear the color, you'll never be without options.
Ahead, the best navy manicure ideas the internet has to offer. Find your new personal favorite look by checking out the inspiration below.
Glossy Square Nails
There's something about lengthy nails with extreme shine that feels both classy and trendy. Plus, with long square nail shapes making a major comeback, this sleek set is absolute no-brainer.
Marble Accents
Spoiler alert: two accent nails are way better than one, especially when they feature artful marbling. Using a creamy white polish, create a few swirls on the designated nails and finish with a small nail jewel to really amp up the glamour.
Floral Applique
Ombré is a cool technique that has many variations — but this manicure, which features a royal navy color blended with a baby pink base and floral appliqué, is in a lane of its own.
Starry Night
This unique design is as eye-catching as it is detailed. With hand-painted gold stars, it reads more like a work of art than a simple nail look.
Short & Squoval
Yes, squoval nails are popular again. But if you're hesitant about reliving this trend, opt for a simple navy manicure that's rich and opaque. Don't forget to finish with a glossy top coat for a patent leather-like shine.
Holographic
If you loved the glazed donut trend and Jennifer Lopez's vanilla chrome nails, you'll get a kick out of this holographic look. By blending light layers of navy and a pearlescent purple polish, you can quickly achieve this alluring effect in no time.
Matte Color Gradient
This French "dipped" manicure, which features varying hues ranging from navy, cobalt, and robin's egg blue, is a modern approach to the traditional design. For even more of an edge, add a final layer of clear, matte polish to each nail.
Half-Moons
Ready to hop onto the half-moon trend? Let this deep navy set be your guide. For this design, you want to ensure that your base shade is as close to your natural nail color as possible to mimic the semi-circular shape at the base of the nail.
Diamond Sparkle
Diamonds make everything better, but they sparkle even more when set against a deep lapis background. Just a light dusting on a nail or two is all that's needed to create this elegant-looking manicure.
Inkwell Blue
Short nails are the perfect canvas for a deep, inky navy blue. To make the color stand out for the right reasons, be sure to have your technician pay extra attention to your cuticles and remove any residual polish left behind.