Oyster Nails Are The Latest Development In The Mermaid Trend
@kimkimnails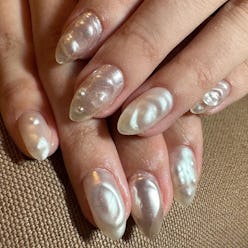 Nail trends draw inspiration from many different sources. Take the watermelon tips that reference summer's favorite fruit. Or the creamy milk bath designs that stemmed from a photography technique popularized on Pinterest. Then there's the recent bow nail art which is likely linked to Barbiecore. The latest oyster nail trend, however, may have a variety of possible origins. Perhaps it was the blockbuster movie The Little Mermaid, which sparked the fashion and beauty set's love for marine colors and iridescent finishes. The glazed donut look, made popular by one Hailey Bieber, is another good guess. Regardless of the source, it's clear that this unique manicure is well on its way to viral fame.
As the name suggests, oyster nails are inspired by the deep sea species. But unlike many other popular trends, this manicure isn't one-dimensional — it's characterized by several elements. The first is the unique gem oysters produce. Some versions feature three-dimensional blobs that mimic the appearance of actual pearls and give a luxe feeling to the manicure. The rainbow of hues and pearlescent finishes inside the shell also play a role in the buzzy designs. From ocean blues to shimmering purples and grey, they add a striking effect and allow you to customize the look to your personal aesthetic.
Below, TZR gathered a few cool variations on the trend to help guide your new look. Whether you're ready to dive in head first or plan to test the waters, there's an oyster nail design you'll enjoy.
Chrome Accented
Chrome elements are nothing new to nail art and always bring a certain uniqueness to the design. For the oyster trend, the metallic polish adds a textural and visual effect that gives the final look a surreal appearance.
Translucent
Like any good beauty trend, oyster nails also have simple designs that are versatile enough for even the most minimalist nail preferences. For instance, take this translucent option that features pearl-like elements and an iridescent finish.
Sea Glass Pearls
Crystal blue water and pearls are a match made in heaven. As it turns out, they're also the perfect pairing for cool nail art. If you're not ready to say goodbye to mermaid colors and aesthetics, this is the manicure for you.
Rainbow Pearls
These dreamy nails are as mesmerizing as they are intricate. Basically, they're not for the timid. From the swirls of fuchsia, periwinkle, and copper colors to the pearls that decorate them, they are a true work of art.
Pearlescent Swirls
This variation focuses more on the defining characteristics of the pearl created inside the shell, such as its smooth appearance and round shape. The creamy swirls and pearlescent polish give it a mirroring effect while subtle blobs add texture and definition to the manicure.
Ombré Oyster
Oysters come in a range of tints that are enhanced by iridescence, which also gives you a lot to play with in terms of color. For those who prefer darker polishes, an ombré design featuring black and varying shades of silver can be a cool alternative to the traditional cream and pearl hues. This particular oyster design also leans into the gothcore looks that have been prevalent throughout the beauty space this year.
Extra Long Stiletto
While oyster nails are most often associated with a round, shell-like silhouette, any nail shape can pull off the look. Stiletto tips, for example, are popular for long extensions and make a good canvas for interesting nail art. Pairing them with this trend might be unexpected but also gives the design an edgy feel.
Aqua Pearls
The beauty of this design is that it lends itself well to creative expression. Take this artistic look that was inspired by the cool colors of marine life and organic shapes found in nature.
Grey Glitter
From the shimmering grey polish to the medley of stone-colored polishes, this design truly showcases just how beautiful an oyster shell can be. Even better? The look is sure to start a conversation wherever you, and your nails, go.
Chrome & Pearls
Is there anything better than two nail trends combined to make a completely new look? Taking the best elements of chrome accents and pearly 3D shapes, this manicure is sophisticated and chic.