Jennifer Lopez's Vanilla Chrome Nails Are The Natural Evolution Of This Manicure Trend
@jlo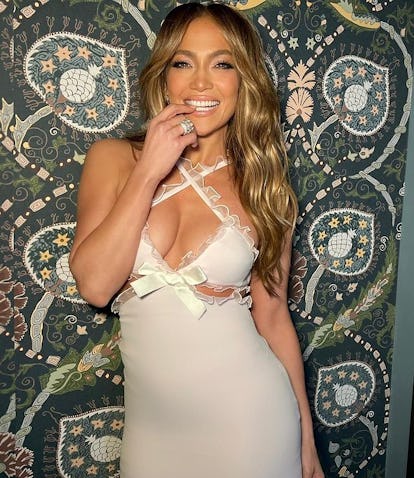 Jennifer Lopez reigns over an especially glamorous cluster of celebrities, but even among their stylish ranks, she still stands out. Actually, one of her greatest (off-stage) skills might just be her ability to elevate and glitz-ify even the most straightforward styles for makeup, nails, and hair — you could truly write an entire dissertation on J.Lo's dressed-up ponytails alone and it wouldn't cover half of them. Her latest move brings some of that trademark J.Lo glow to a new manicure, one that happens to be seriously trending for early summer. Lopez's vanilla chrome nails transform what would otherwise be a minimalist look, made so much more dramatic by some strategically-placed shine.
The look appeared on celebrity manicurist Tom Bachik's Instagram feed first, appropriately captioned, "Flawless Sunday manicure." In the photo, Bachik holds Lopez's hand up, each long nail carefully filed into a very of-the-moment coffin shape. It's the milky, pearlescent polish coating her nails, though, that really has fans gushing in the comment section. Notably, more color is concentrated towards the tips of the nails, creating a very soft French manicure approximation. If you're not into the harsh lines of traditional French tips but love the timeless sophistication, this subtle, sparkling take is absolutely the move.
A single glance around your nearest nail salon is enough to confirm that, indeed, the chrome nail trend as a whole continues to rage on. First popularized by celebrity nail artist Zola Ganzorigt and her high-profile client, Hailey Bieber, the technique uses shimmery, reflective powder rubbed into gel, dip, or lacquer manicures for a metallic chrome finish. Even classic, pared-down neutrals — like the soft off-whites used for vanilla nails — feel significantly more exciting with a dusting of chrome powder. Lopez herself has a documented penchant for chrome nails, especially with natural-looking polish colors. She's worn metallic, sparkle-dusted beiges and nudey-pinks to several of her most major event lately, including a nearly translucent look for the premiere of husband Ben Affleck's new movie, Air.
If the soft-girl aesthetic is at all appealing to you right now, a vanilla chrome manicure is a smart place to start. Dainty and versatile enough to pair with the lightest warm-weather fabrics but still so distinctly fun, they've almost managed to do the impossible: usurp those classic summer brights.